Island fling! Why you should go island-hopping in Argyll
With 23 inhabited islands and a comprehensive ferry network connecting them, Argyll & The Isles is the perfect place for an island-hopping adventure. From Coll and Tiree in the far north west of Argyll to Bute in the south, Argyll's islands are as strikingly beautiful as they are diverse. What's more, the ferry journeys that take you to them can be a big part of the pleasure of the trip. You'll see stunning seascapes and wildlife galore as you travel from island to island. And don't forget that bikes go free on ferries, so you can leave your car behind as you explore Argyll's islands. Not sure where to start? Here are five Argyll island clusters that each make a great mini island -hopping adventure.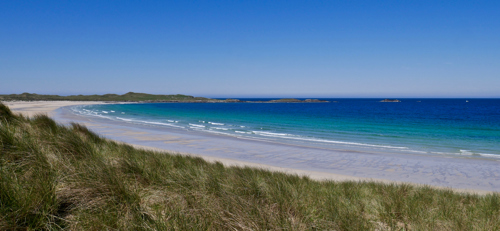 The Isle of Coll.
Top 5 Island Hopping Adventures
Coll & Tiree
Sandy bays, turquoise water and whitewashed cottages: the remote islands of Coll and Tiree are simply stunning. The CalMac ferry to these western-most isles of the Inner Hebrides sails from Oban. The journey to Coll takes 2 hours 30 minutes. As you roll off the ferry at Arinagour on Coll you might notice the complete lack of street lights. This is a great place for stargazing! The ferry from Coll to Tiree takes around another hour. Tiree is famed for its sandy beaches and is a surfers' paradise. CalMac's Island Hopscotch® 19 is the best way to combine a visit to Coll and Tiree.
The Coll Hotel is an award-winning accommodation on the Isle of Coll.
Isle of Mull
The ferry to Craignure on Mull also sails from Oban and takes around 40 minutes. Mull is a fascinating island to explore. It has it all, from the towering peak of Ben More to ancient castles, sparkling sands and some fabulous places to eat and drink. Highlights include the picturesque fishing port of Tobermory, Duart Castle and the white-tailed eagles at Loch Frisa. From Mull there's a number of smaller islands that you can reach by boat, including Ulva, Iona and Staffa.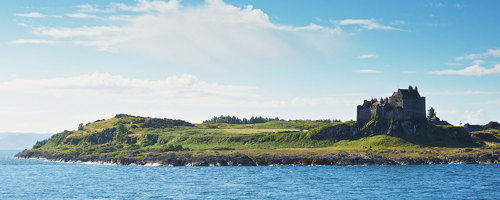 Duart Castle, spotted from the Oban ferry.
Isle of Iona, Ulva & Staffa
Head to the Ross of Mull to catch the ferry to Iona. This tiny island, a cradle of Christianity in Great Britain, is a place of pilgrimage for many. The ruins of the medieval abbey, established by St Columba when he arrived here from Ireland in his coracle in 563, and the medieval nunnery are utterly absorbing. You can explore the rest of the island on foot, including the stunning sandy bays at its northern tip.

The tiny island of Ulva sits just off the west coast of Mull. The little ferry runs on demand from Ulva Ferry and drops you at The Boathouse, a fantastic tearoom serving up local shellfish. Work up an appetite with a stroll around the island.
The island of Staffa lies five miles southwest of Mull. There isn't a ferry service, but a number of tour operators offer boat trips. Impossibly dramatic and romantic, this uninhabited island is best known for its magnificent basalt columns and spectacular sea caves. The most famous of these is Fingal's Cave, also known as An Uamh Binn (Cave of Melody), which inspired Mendelssohn's Hebrides Overture. Boat trips sail from both Fionnphort and Ulva Ferry.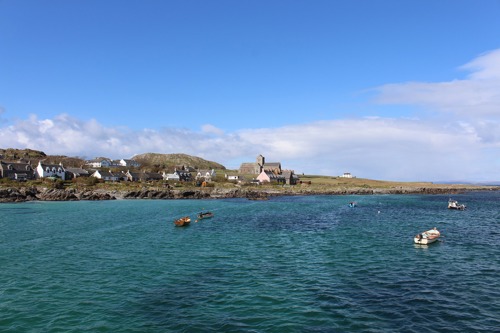 The Isle of Iona is also known for its stunning beaches.
Lismore & Kerrera
Beautiful Kerrera is Oban's closest island neighbour and can be seen from most parts of the town. The ferry journey from Oban to Kerrera takes just a few minutes. The island is a walkers' and cyclists' paradise, with quiet roads, stunning scenery and a dramatic ruined castle. Lismore is another nearby island that's well worth the short ferry journey, with wildlife, fascinating historical sites and glorious views. It's only ten miles long, so easily explored by bike. Book a trip with Explore Lismore to learn even more about the island whilst enjoying a day on paddleboards and delicious food.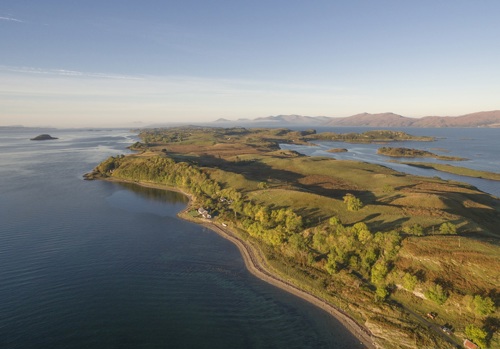 The beautiful Isle of Lismore
Islay, Jura, Colonsay, Oronsay & Gigha
Islay is known as the 'Queen of the Hebrides', and is renowned for its natural beauty, bird watching opportunities and peaty malt whiskies. The CalMac ferry to Islay sails from Kennacraig on Kintyre and lands at Port Ellen or Port Askaig. Neighbouring Jura couldn't be more different. It's mountainous, wild and sparsely populated. The island is also home to the historic Isle of Jura distillery, which is well worth a visit. To get to Jura catch the car ferry from Port Askaig on Islay to Feolin on Jura. The other option is to catch the Jura Passenger Ferry from Tayvallich in mid Argyll directly to Craighouse on Jura. It runs from Easter until the end of September. Vehicles are not accommodated on this route.

And if you're on Islay, why not hop on the ferry to visit the 'Jewels of the Hebrides' Colonsay and Oronsay? At roughly 10 miles long by two miles wide it's a compact island grouping. The walks on the islands are spectacular. During the summer, a CalMac ferry service runs from Port Askaig on Islay to Colonsay on Wednesdays and Saturdays. This enables you to island hop between Islay and Colonsay. 

Gigha is just a 20-minute CalMac ferry journey from Tayinloan on Kintyre. It may be small - just seven miles long by a mile and a half wide – but it packs a big punch. Step ashore and you'll discover white sandy bays, azure waters and stunning views. Don't miss The Boathouse for incredible seafood by the beach.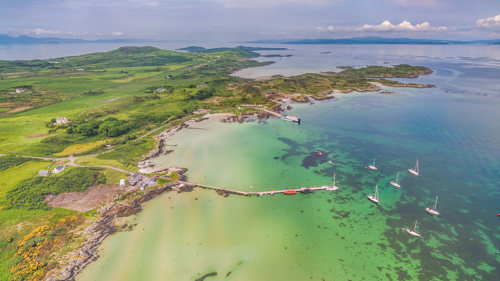 The Isle of Gigha is a must visit for all island lovers.
Easedale, Seil & Luing
This cluster of Slate Islands makes for a fabulous trip. The Isle of Seil lies some 12 miles south of Oban and is separated from the mainland by a sea channel which is spanned by the humpback Clachan Bridge, also known as the 'Bridge over the Atlantic'. From Seil you can catch the small passenger-only ferry to Easdale, which lies about 200 metres off the coast. Head to the Puffer Bar & Restaurant for great seafood. To discover a new perspective on the Atlantic islands of Argyll, take the three-minute ferry crossing to the Island of Luing from North Cuan on the southerly tip of Seil. As well as abundant wildlife and stunning views to Mull, Scarba, the Garvellachs, you'll find the Atlantic Islands Centre which tells the story of these diverse and fascinating Atlantic isles. Easdale also hosts the annual Stone Skimming World Championships.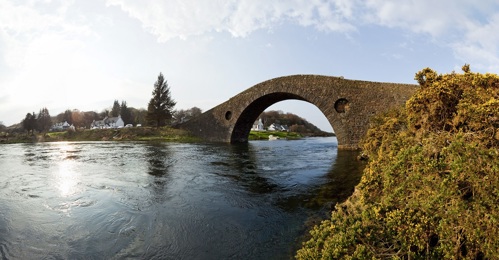 Head over the famous Bridge over the Atlantic on your way to the Isle of Seil.