Why no horse riding fan should miss a visit to Argyll & the Isles
One of the best ways to discover Argyll is on horseback. With over 3,700 kilometres of coastline, fabulous forests, ancient trails and vast tracts of open countryside, Argyll really is a rider's paradise. Saddle up and follow local trails and off-road tracks or ride further afield to explore those off-the-beaten-track places. What could be more exhilarating than cantering along a deserted beach or riding across open moorland and hill? Whether you want a pony trek for the kids or a week-long horse riding adventure, Argyll offers it all with plenty of riding centres catering to all abilities. Here are five ways to enjoy horse riding in Argyll and the Isles.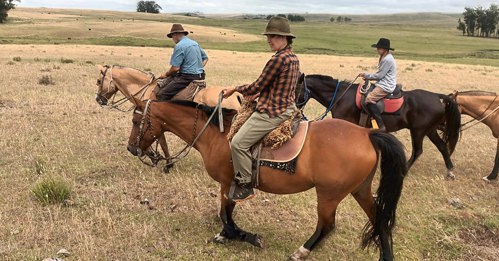 5 Horse Riding Holidays in Argyll & the Isles
1. The call of the wild
Wilder Ways will take you on an unforgettable riding journey through some of the lesser-known parts of Argyll. Owners Nikki and Cara have been exploring the west coast of Scotland on horseback for years and Wilder Ways was born from their love of these adventures. There's an action-packed calendar of events in locations across Argyll, from half-day rides to week-long all-inclusive riding holidays. Customers can bring their own horse and there's even the opportunity to sleep out under the stars. 
2. Island hopping
Discover the island of Bute on horseback with Ardbrannan Riding Centre. Located just two miles from Rothesay town centre and in the heart of stunning Argyll countryside, Ardbrannan has horses and ponies to suit all levels of rider. Treks last from half an hour to three hours and include the use of a purpose-built bridle path right next to the facility. Private and group lessons are available. Or how about heading out to the Hebridean island of Islay? Ballivicar Farm, located in the south of the island of Islay neat Port Ellen, offers pony trekking for all levels of riders. It's an unbeatable way to explore the area and enjoy the jaw-dropping views. Islay Pony Trekking, based at Sanaigmore Farm in the north west of Islay, is another option. The views from the trekking routes are cracking, with Oronsay, Colonsay, Mull, Skye and Jura all visible on a clear day.
3. A Fyne adventure
Argyll Adventure is based just south of Inveraray on the shore of Loch Fyne. Loch and forest trails surround the riding centre, giving you the opportunity to explore one of the most beautiful parts of Argyll on horseback. Pony rides for beginners, scenic treks and fast rides for experienced riders are all part of the offering. The 20-minute pony ride along Loch Fyne is a terrific introduction to horse riding, while accomplished riders will love the two-hour gallop over trickier terrain.
4. Canter in Kintyre
Looking for a completely unique horse riding experience? Then Active Kintyre is for you! It's set up to create 'pick and mix' active holidays in Kintyre, offering a whole host of activities. Combine horse riding with bird watching, foraging for shellfish, green woodworking and more.
5. Go west!
Bring out your inner pioneer at Lunga Riding Stables. This ranch-style stables offers Western trail riding experiences. Choose English or Western tack and ride along forest tracks, by the shore or, if you're a more experience rider, on open hill. The stables are in a lovely location in Lunga Estate overlooking Craobh Have and the Sound of Jura with views across the Firth of Lorne.
Blaze a trail
There are thousands of miles of bridleways and trails criss-crossing Argyll which provide fantastic riding in stunning scenery on varied terrain. Adventurous riders can explore sections of the Kintyre Way, the Loch Lomond & Cowal Way, the John Muir Way, Fearnoch Forest, the West Island Way on Bute and the West Loch Lomond Cycle Route.

Header image: trekking with Wilder Ways.