5 reasons to visit Campbeltown Picture House
Campbeltown Picture House, which opened in 1913, was one of Scotland's first purpose-built cinemas. Today it is the oldest cinema in Scotland to have remained in continuous use for its original purpose. It's a magnificent building that's been described as 'Cinema Paradiso in the west of Scotland". In 2017 it was returned to its former glory after a £3.5m restoration and now offers a modern cinema, café and exhibition space. That same year it was voted as one of Scotland's six 'Hidden Gems' as part of Dig It! 2017 campaign. Have you discovered Campbeltown Picture House yet? If not, here are five reasons why you should!
An atmospheric icon
The Picture House was designed in Art Nouveau style by celebrated cinema designer Albert V Gardner, who studied at The Glasgow School of Art. In 1935 he modernised the cinema's interior following the "atmospheric" style which was popular at the time, creating a unique combination of Art Nouveau exterior and atmospheric interior.
Very few of these atmospheric cinemas survive with Campbeltown Picture House being the only example left in Scotland and one of only a handful in Europe. Atmospheric cinema interiors transported audiences to warmer climes, often the Mediterranean, with ceilings painted with starry skies or wispy floating clouds. Gardner gave Campbeltown Picture House a blue sky with moving white clouds projected across it, and two plasterwork buildings (known locally as the "wee houses") on either side of the screen. So when you see a film at the Picture House you feel as if you're in a Mediterranean courtyard.
A meticulous restoration
Campbeltown Picture House underwent a £3.5m restoration in 2017. The cinema's special features were carefully recreated by contemporary craftspeople. Among the elements of 1935 design that have been reinstated are the repainted ceiling, the colour scheme for the "wee houses", specially made art deco lights and the return of the historically popular 'love seats'.
The films
Restoration of the historic auditorium included modern heating, ventilation and seating, so you can enjoy a wide selection of films in comfort. Part of the restoration works also involved creating a second state-of-the-art cinema auditorium in the rear courtyard to complement the historic cinema. There's a great range of films on offer, from blockbusters to art house films and kids films. There are often live performances and special screening events too. Look out for SCOFF (Scottish Comedy Film Festival) which will take place from 14th to 19th November 2019.
The café and bar
How about a Kintyre Gin and Tonic before the film? The Picture House has a fabulous licensed café serving up lots of tasty treats and drinks. As well as cinema favourites such as sweet and salted popcorn, chocolates, nachos and juice, there's also a menu that changes daily and a range of locally made cakes and slices. You can take your goodies into the cinema or enjoy them in the bright seated area overlooking the loch. The café and bar opens about half an hour before the first film of the day. That's normally around 2pm on weekdays and midday on weekends and holidays.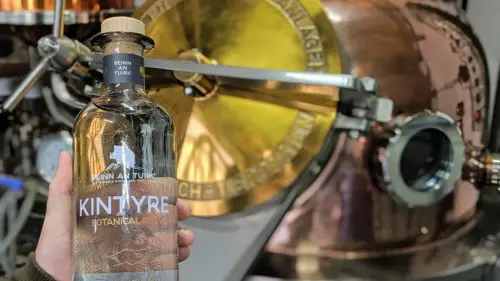 Dig deeper
The Picture House also contains a multi-purpose exhibition space and delivers a fascinating programme of heritage interpretation and education activities focused on the history of the Picture House, of cinema, and of Campbeltown's social and cultural life. And if you enjoy this, you might want to visit Campbeltown Heritage Centre. Housed in the Lorne Street Church dating from 1868, it provides a fascinating insight into the cultural, social and economic influences which have shaped the development of the town, including the key industries of agriculture, distilling, mining and military.
Find out more about things to see and do in Campbeltown.