Discover 9 great mountain bike trails in Cowal
If you love mountain biking, you're in for a treat on the Cowal Peninsula. This undiscovered part of Argyll, just a short distance from Glasgow, is home to some of Scotland's best cross country mountain biking trails. 
Gear up for a two-wheeled adventure in Cowal!
The Argyll Forest Park stretches across much of Cowal and provides a wild and rugged landscape that's ideal for mountain biking adventures. From accessible family rides to challenging circular routes, you'll find a mountain bike trail to suit you in Cowal.
Bishop's Glen
Members of the Cowal Mountain Bike Club have developed some great mountain biking trails in Bishop's Glen, a wooded, hilly area just behind Dunoon. You'll find flowing, natural single-track and some tricky technical descents to test your skills. Dunoon is just a short ferry trip from Gourock, and bikes go free on both Western Ferries and the passenger-only Argyll Ferries. Bishop's Glen is just a 10-minute cycle from the ferry terminal in Dunoon.
For more information about the various mountain biking trails in Dunoon, head to Action Argyll.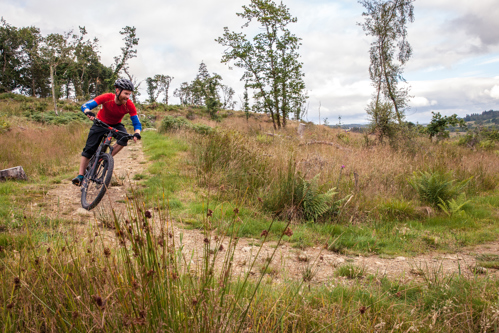 Corlarach Loop
The 20km Corlarach Loop takes you through Corlarach Forest. It's a great choice for a family ride, with undulating forest track, fabulous views and lots of wildlife to spot. You can start from Corlarach car park or Ardyne car park for the full-length loop. From Ardyne you can also access a shorter loop of 15.5 km. Please note there is currently logging traffic on this route so be aware of vehicles.
Cat Craig Loop
Ardgartan sits at the heart of Argyll Forest Park, offering world-class cross-country riding, as well as the opportunity to head off-road. This fantastic mountain biking destination is just one hour from Glasgow. The 8km Cat Craig loop takes its name from the Scottish wildcat that was famed for roaming the forest. This short route takes in some spectacular scenery. The loop winds along forest paths, opening up to give you stunning views over Loch Long. On the return journey, you'll get views of Glen Croe and the Cobbler.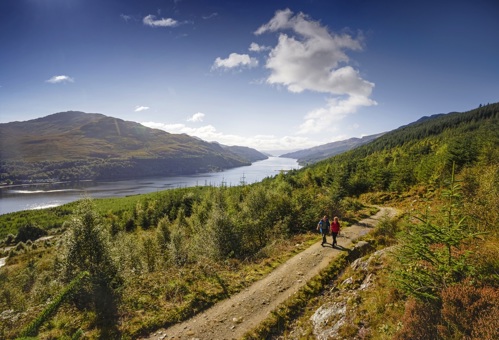 Ardgartan Peninsula Circuit
This 32km route is one for the fit and determined and requires serious stamina but offers a great day's off-road cycling. Starting out from the Ardgartan Visitor Centre, this is a challenging loop with lung-busting climbs and long fast descents. The mountain scenery and views of the Firth of Clyde are stunning.
Coilessan Glen loop
Also in Ardgartan, the 11km Coilessan Glen loop is a fairly easy trail that all the family can tackle. This route takes you along the shoreline and into woodland with a few climbs and descents. Start by following the trail south towards the farm at Coilessan and round by the loch shore. Then it's a climb in the shadow of Cnoc Coinnich before heading back down Coilessan Glen.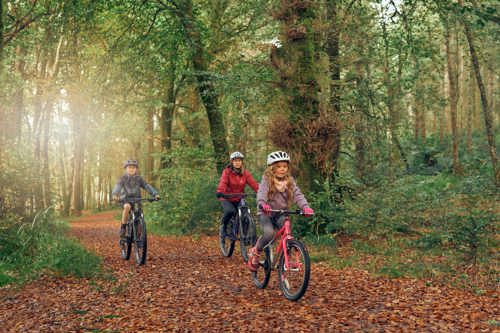 Glenshellish Loop
The 11km Glenshellish Loop in Glenbranter is a good introduction to off-road cycling. The route is mainly on forest track with gentle slopes. Kids will love splashing through the ford at the head of the glen – although it can be impassable after heavy rain. The ride downhill back towards Glenbranter will give you plenty of time to admire the views of Beinn Bheula and Beinn Laggan across the glen.
Loch Eck Loop
This 35km route is another one for those who fancy a challenge. This route takes you through the fabulous forests fringing Loch Eck. Most riders start and finish the loop at Glenbranter, heading clockwise by crossing the A815 and climbing up the forest track at Invernoaden. After a steep climb, you can look down on to Loch Eck, Dunoon and the Clyde, and west to Beinn Mhor.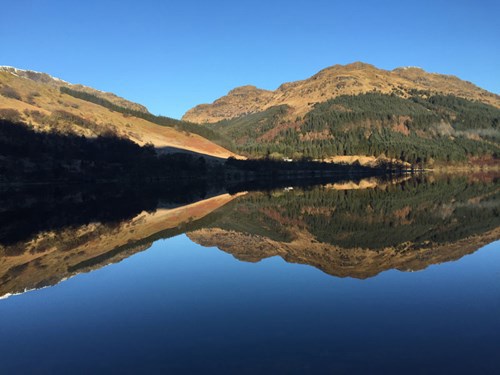 Portavadie
In the hills behind Portavadie on Argyll's Secret Coast, there's a whole network of forest tracks to explore on a bike. The routes aren't way-marked, but you'll have great fun blazing your own trail. There's a short circular route via Ascog loch that offers stunning scenery, a loch and a ruined castle. It's one that a family with older children could tackle. It's mainly forest track with a short section on a quiet country road that will bring you back down to Portavadie where well-earned refreshments await.
Loch Lomond and Cowal Way
It's possible to cycle along approximately 90% of the Loch Lomond and Cowal Way, a 57-mile route that starts at Portavadie on Loch Fyne and ends at Inveruglas on Loch Lomond. All the stiles along the route have recently been replaced with two-way swing gates. If you'd like to tackle a smaller section, try the Ardgartan to Inveruglas section. Another good route is the Glendaruel to Strachur section, which includes quiet farm roads and forest tracks.