Heritage and History in Helensburgh!
The seaside resort of Helensburgh is a wonderful place to explore. With elegant, broad, tree-lined avenues, piers, a promenade, shops and eateries galore, there's something for everyone to enjoy in this refined Scottish town. There's also a rich heritage to discover, from the town's notable residents to its world-class architecture. What's more, Helensburgh is easy to reach from the central belt of Scotland. The train from Glasgow takes just 40 minutes. So for a great day out, make your way to Helensburgh and discover the town's fascinating history and heritage.
Discover Helensburgh
Sir James Colquhoun founded Helensburgh at the end of the 18th century, naming the town after his wife. Its early success was closely tied to the ferry service linking Helensburgh to Greenock, which allowed wealthy Glasgow merchants, professionals and industrialists to live on the altogether more pleasant north side of the Clyde and commute to work. These prosperous folk built some truly stunning homes.
Hill House
Hill House, now in the care of the National Trust for Scotland, is without argument the finest. Designed for publishing magnate Walter Blackie, Hill House is universally regarded as Charles Rennie Mackintosh's finest domestic creation. The celebrated architect and his artist wife Margaret MacDonald designed almost everything to see here, from the building itself to its furniture and textiles. Perfectly restored, much of the house looks almost exactly as it did in 1904 and encompasses a visually arresting mix of Arts and Crafts, Art Nouveau, Scottish Baronial and Japonisme architecture and design – making for exquisite viewing. Look out for the 'Glasgow Rose', which can be found all through the house, one of the classic emblems associated with Mackintosh.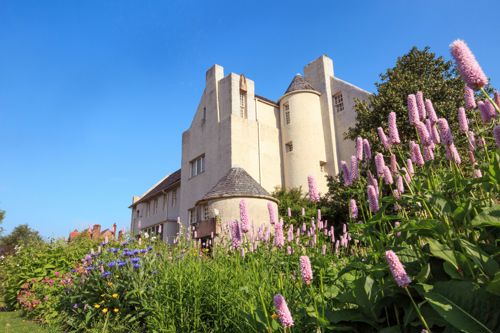 Architecture
Helensburgh's planned grid of leafy streets contains a huge range of other architectural attractions. The Helensburgh Architectural Trail is a great way to discover these gems, covering 25 buildings across the town centre, dating from 1853 to 2015.

If you fancy some cutting-edge arts served up in an historic building, then check out The Tower in Helensburgh. This digital arts centre is housed in a fabulous old building, designed in 1861 by William Spence, one of the country's best theatre architects at the time. It was carefully renovated and preserved before being fitted out with the very latest technology to bring you a 21st-century experience.

One of Helensburgh's most famous names is Henry Bell. He designed and built Europe's first commercial steamboat, the Comet, to bring customers from Glasgow to his hotel in Helensburgh. He also built a pier to get them ashore! It was his work that established Helensburgh as a holiday resort. There's an obelisk on Helensburgh's waterfront dedicated to Bell. Not far away is a statue commemorating another famous son of Helensburgh, John Logie Baird, one of the inventors of television.
Places to eat & drink
Helensburgh is packed with great places to eat, so when you're ready for some refreshments you're spoilt for choice. Look out for Helensburgh Market in the Square, which runs on the second and last Saturday of each month in Colquhoun Square. It's a feast for all the senses and a great place to pick up local produce and artisan fare. You'll find home-baking, seasonal vegetables, fresh meat and fish and local cheese.
Kilcreggan

And if you're interested in architecture it's well worth visiting the nearby village of Kilcreggan, which sits at the south end of the beautiful Rosneath peninsula. It too has a remarkable Victorian heritage and glorious architecture. Kilcreggan, along with neighbouring Cove, is thought to have the largest concentration of Alexander 'Greek' Thomson-attributed architecture outside Glasgow and Historic Scotland's website lists a remarkable total of 88 listed buildings in this small area.
Visit Helensburgh: Places to Eat, Drink & Stay
The coastal town Helensburgh is a lovely place to spend a day or two, with shops and eateries galore. Discover the town's fabulous restaurants, including Riva Restaurant for some authentic Italian and Mediterranean food right at the waterfront.
Places to Stay in Helensburgh
Riva is not only a fantastic restaurant but also a beautiful luxury boutique hotel right at the heart of Helensburgh. If you're looking for a self-catering option, head to Comet Apartments. A bit further afield, you'll find Mansefield House and Campbell Cottage, overlooking Loch Long & the Arrochar Alps.
Looking for something unique? Head to Lennox of Lomond for an unforgettable farm stay for you and the whole family. 
Alternatively, book a stay at Cameron House to truly escape it all. The five-star luxury hotel and spa offers a variety of lodges and rooms right at the bonnie bonnie banks of Loch Lomond.