Discover the work of Charles Rennie Mackintosh
Charles Rennie Mackintosh, Scotland's most celebrated architect, left a beautiful and lasting mark on Glasgow but you can also explore a fantastic collection of Mackintosh buildings, drawings and designs in Helensburgh - just a short train journey from Scotland's biggest city.
Follow the Charles Rennie Mackintosh Trail to discover magnificent work by Mackintosh, including The Hill House and Mackintosh Club.
The Hill House
Set high on a hill, overlooking the River Clyde, sits The Hill House, universally regarded as Charles Rennie Mackintosh's finest domestic creation. If you have a passion for design and architecture, you will love The Hill House. Working to a commission from publishing magnate Walter Blackie, the celebrated architect and his artist wife Margaret MacDonald created almost everything to see here, from the building itself to its furniture and textiles.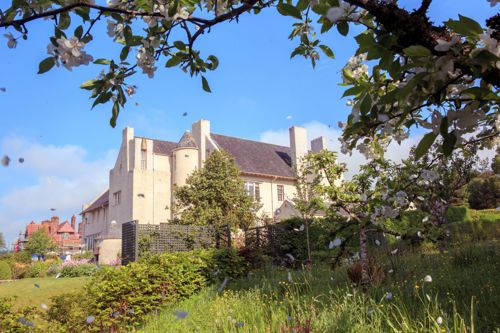 Perfectly restored, much of the house looks almost exactly as it did in 1904 and encompasses a visually arresting mix of Arts and Crafts, Art Nouveau, Scottish Baronial and Japonisme architecture and design – making for exquisite viewing. Look out for the 'Glasgow rose', which can be found all through the house, one of the classic emblems associated with Mackintosh. Don't miss Margaret Macdonald's sensual 'sleeping princess' gesso panel above the drawing room fireplace.
Outside you can wander round the beautiful garden, restored using plants that would have been available in the early 20th century.
Sadly, Mackintosh's experimental design, coupled with his trial of new materials, has meant that The Hill House now shows signs of serious deterioration. The Hill House is currently closed as National Trust For Scotland construct a 'box' around the building that will allow it to dry out and enable crucial conservation work. You can currently see some of the fantastic items from the Hill House on display at The Lighthouse in Glasgow.
Mackintosh Club
If The Hill House is one of Mackintosh's most famous buildings, less well known is Mackintosh Club in Helensburgh. It was designed in 1894 by a young Mackintosh, then only 25, and was his first complete commission.  This hidden gem was only recently re-discovered by Nicola and Bruce Jamieson from the architect firm Pure Green Space.  The upper floor, previously a billiard and committee room for the Helensburgh and Gareloch Conservative Association, had lain empty since the early 1970s. It is now reopened as a gallery and arts venue that celebrates the 'Glasgow Four' – Mackintosh, Herbert MacNair and artists Margaret and Frances MacDonald - with both permanent and visiting exhibitions. It's thought that Mackintosh Club was possibly a prototype for Mackintosh's designs for the famous studios in Glasgow School of Art.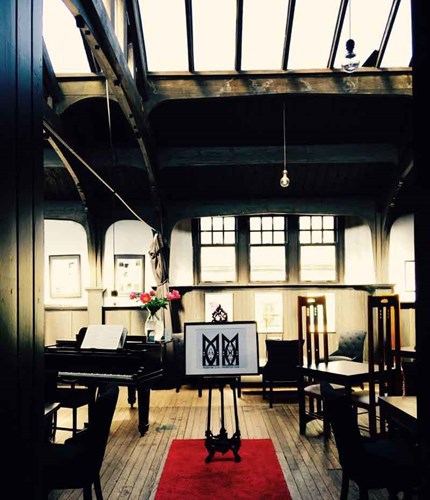 There are other architectural gems in Helensburgh too. The Helensburgh Architectural Trail is a great way to discover them. It covers 25 buildings across the town centre, dating from 1853 to 2015. You could also to a take a trip to the nearby village of Kilcreggan. It's thought to have the largest concentration of Alexander 'Greek' Thomson-attributed architecture outside Glasgow.
Visit Helensburgh: Places to Eat, Drink & Stay
The coastal town Helensburgh is a lovely place to spend a day or two, with shops and eateries galore. Discover the town's fabulous restaurants, including Riva Restaurant for some authentic Italian and Mediterranean food right at the waterfront.
Places to Stay in Helensburgh
Riva is not only a fantastic restaurant but also a beautiful luxury boutique hotel right at the heart of Helensburgh. If you're looking for a self-catering option, head to Comet Apartments. A bit further afield, you'll find Mansefield House and Campbell Cottage, overlooking Loch Long & the Arrochar Alps.
Looking for something unique? Head to Lennox of Lomond for an unforgettable farm stay for you and the whole family. 
Alternatively, book a stay at Cameron House to truly escape it all. The five-star luxury hotel and spa offers a variety of lodges and rooms right at the bonnie bonnie banks of Loch Lomond.