6 scenic walks on Mull and Iona
Mull and Iona are excellent islands for walking. Their landscapes are diverse, with forests, moors, hills, coastlines and glens to explore. And there's so much to see while you're out and about, from Mull's fascinating geology to Iona's beautiful beaches. Plus, there's all the wonderful wildlife to look out for. From woodland strolls to epic hill climbs, there's something for all walkers there. So, dust down those walking boots and try one of these walks on Mull and Iona.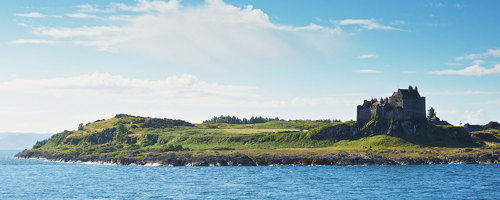 Aros Park
For a woodland wander, you can't beat Aros Park on the outskirts of Tobermory. You'll find lots of walking trails to explore, a waterfall to discover and an excellent play trail for kids. The views from the park are stunning, looking back to Tobermory and over the Sound of Mull to Ardnamurchan. On the edge of the site, there's a spectacular look-out at Alainn View. You can walk from Aros Park to Tobermory along the wooded shore of Tobermory Bay.
Calgary Bay Art in Nature Walk
This is a magical walk on Mull that all the family can tackle. Follow a short woodland sculpture trail to reach Calgary Bay. Situated in the north-west corner of the island, this beach is paradise, with beautiful white sands and shallow turquoise water. Start your walk at Calgary Farmhouse, home to a fantastic café and an art gallery. Follow the sculpture trail that winds through the woods and enjoy the sculptures by local artists. The exact artworks on display in the woods change over time; there are many paths and the precise route taken doesn't matter too much.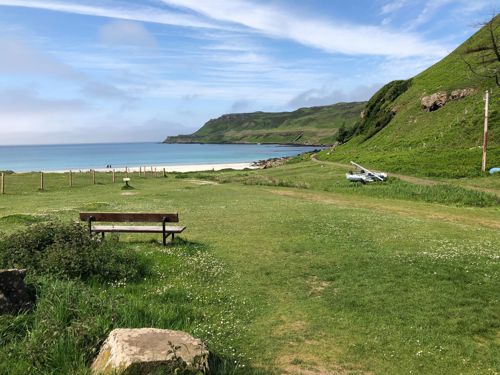 After leaving the woodland you'll soon reach the car park at Calgary Bay, where you can treat yourself to an ice cream sold from a kiosk made from un upturned boat! Stroll to the north end of the beach to see a stone pier originally built to allow puffers to bring supplies to and from the area.
Ben More
Ben More is a cracking hill walk. This rugged conical shaped mountain is the only Munro in the Inner Hebrides. It's a grand, rocky mountain and a fantastic viewpoint for scores of islands dotted around the Minches. From the summit on a clear day, the view encompasses the Sound of Mull, Staffa, Ulva, the Ross of Mull and Iona in the distance. There are a number of routes to the summit, but perhaps the most straightforward route starts from Dhiseig. Give yourself five to six hours to get to the top and back.  
Lochbuie to Carsaig
This coastal walk links the remote settlements of Carsaig and Lochbuie on the Ross of Mull. It's a wonderful route that follows the foot of the cliffs, with grassy pastures, woodland, a sea-stack, caves and waterfalls to explore. It's around five miles one way. You could either arrange transport at one end or head back the same route. It can be pretty rough going in some parts. At one point you need to scramble with the aid of a rope! Part of the walk is impassable at high tide. Look out for wild goats.
The walk to Carsaig Arches from Carsaig is an eight-mile round trip and you'll need about six hours. It's possibly one of Mull's finest walks, but one for experienced walkers only. Once you reach the arches themselves, you'll need to take extreme care. This section is very exposed and can feel quite intimidating. It's a great spot for watching watching sea birds, and seals are also often seen in the water.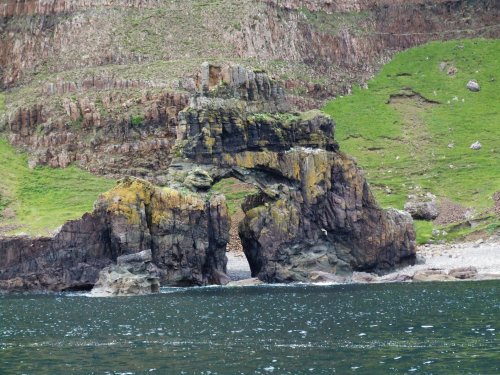 MacCulloch's Fossil Tree
Walk to the edge of the wilderness and discover a 50-million-year-old fossil tree! The Burg peninsula on the south west coast of Mull is a remote place that can only be reached on foot. Park at Tiroran Car Park and follow the rugged coastal trail for around five miles to enjoy archaeology, geology, wildlife and breathtaking views of Staffa and the Treshnish Isles. The path is rough and, in places, steep, so give yourself at least six hours for the round trip. You'll pass cairns, ruined townships, Burg bothy and spectacular sea cliffs along the way. There's a final descent to a beach via an iron ladder. Take extreme care here and bear in mind that dogs cannot descend the ladder. On the beach you'll see MacCulloch's Fossil Tree, the impression of a 50-million-year-old tree embedded in an old lava flow. Signs of other fossil trees can be seen in the beach below the path.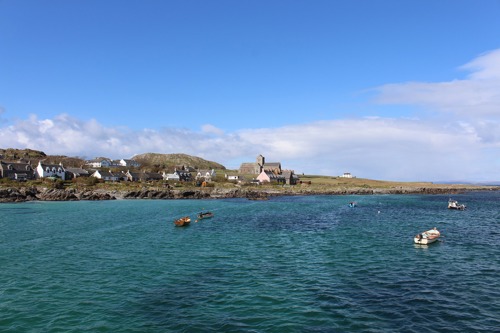 St Columba's Bay Iona
Iona is a wonderful island for walking. The passenger-only ferry drops you near Iona Abbey and from here you can easily explore the island on foot. One of the best walks is to St Columba's Bay at the south end of island. It's believed to be the place where St Columba and his fellow monks landed on Iona in 563. It's a glorious spot and you'll find richly coloured pebbles, including white and green Iona marble. See if you can find some 'St Columba's Tears', which are small teardrop shaped pebbles of pure translucent green. The walk is well trodden, and there's lots to see along the way, including the atmospheric Loch Staoineag. Columba's Bay is about two and a half miles from the ferry jetty. Some of it can be quite rough going and boggy underfoot, so it's best to wear walking boots. Why not pack a picnic and make it a whole day adventure?
Whilst on Mull: Places to Eat & Stay
The Isle of Mull has a fantastic variety of places to eat, drink and stay. The Ninth Wave Restuarant should be on the list of every foodie. The desitnation restaurant's approach is based on seasonality, using the croft's own home-grown produce, fresh-caught seafood and organic meats from the island. If you're looking for a sweet treat, make sure to drop by the Little Bespoke Bakery on your way to Tobermory.
For a unique place to stay, head to Treshnish Cottages located in the beautiful Haunn region of the island. Whether you'd like to stay at a cottage close to the farmhouse or in the more remote Shepherd's Hut, the peace and quiet at Treshnish will leave you feeling relaxed and recharged.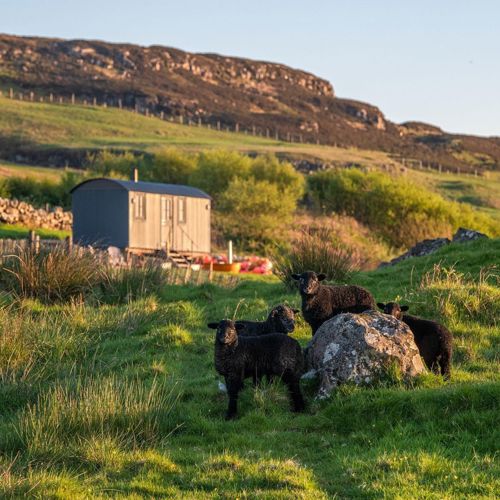 If you're in need of some sustenance after a day's walking, check out the Mull and Iona Food Trail for great places to eat great local produce.