Tour the Kintyre 66 with Robin McKelvie
If you've ever dreamt of driving America's Route 66 did you know that Scotland now has its very own 66-themed road trip? And the good news is that the new Kintyre 66 also boasts big skies, a musical soundtrack (provided by Paul McCartney; Andy Stewart if you prefer) and a States-size chance to cut loose and enjoy yourself. The K66 also weaves in whisky (gin too), sparkling islands, swathes of intoxicating history, a Gormley statue and lashings of world class local produce. Beat that Route 66!
Road Trip the Kintyre 66
I've been lucky as a travel writer to get to explore Kintyre many times and have a special place for it in my heart as my family hails from the area. On previous visits I've dipped in and out – what this new driving and cycling route does very well is to frame the Kintyre peninsula neatly in an easy to follow loop south and back from Tarbert. It's also designed to savour slowly rather than just box tick, with six 'spurs' designed to help you delve deeper into one of Scotland's most seriously underrated regions.
I kicked off with a slap up seafood lunch at Starfish in Tarbert, the taste of fresh locally landed shellfish still with me as I left the Islay ferry queues behind to enter an ancient world of marauding Vikings and mystical Celtic clans. I met a historian in Campbeltown who hailed Kintyre as the 'Cradle of Scotland' and it is indeed swathed with layers of history you can explore as you go. This adds real depth to the K66.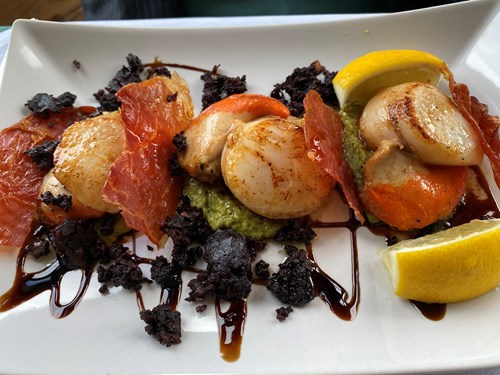 Visit the Isle of Gigha
Pushing south the road soon hugged the coast with lots of wee places where I could stop off and wander along the empty sands. This part of West Kintyre is also awash with great places to eat and stay you can see on the K66 page. At Tayinloan you can hop on one of those spurs to Gigha. I recommend you do. This gorgeous wee isle is seriously impressive, with the local community generating enough green energy to sell it back into the National Grid. There are sweeping sandy beaches, a golf course, great places to stay and the Boathouse, a waterfront restaurant where you can taste that very special halibut as you watch the seabirds.
Westport Beach
Pushing further south still I found the white sands of Westport Beach hard to resist; so I didn't. Get out the car and the magic of the K66 really comes alive. Atlantic sea salt tinged my nostrils as I hungrily devoured the fresh air that so many of us have dreamt about or sought in recent tough times. It felt life-affirming here as Kintyre so often does.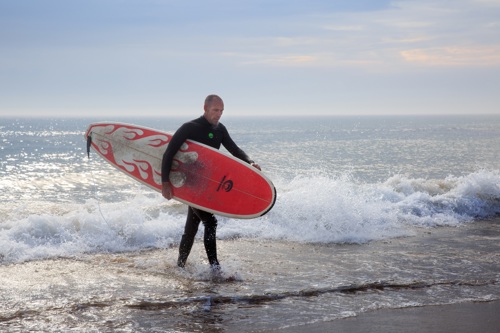 Discover Campbeltown: Whisky, Seafood & Music
I was torn for musical choice for the run down into Campbeltown. I could have gone for Andy Stewart's ditty, hoping to find Campbeltown Loch awash with whisky, but instead the dreamy mists of Paul McCartney's 'Mull of Kintyre' won over. Millions of people around the world have dreamt of discovering the oasis depicted so romantically by the ex-Beatle (who still owns farmland in Kintyre). To actually hear it here is a different experience altogether. Of course the reality of the landscape is even more impressive than any song.
As a kid I visited the largest town in Kintyre on the Waverley paddle steamer; it was a joy to return as an adult and stay overnight in Campbeltown. The most striking building is the brilliantly revamped Campbeltown Picture House, whose manager told me it was the 'most beautiful cinema in the world'. Dreamily gazing up at its painted sky ceiling and dramatic façade, it was hard to disagree.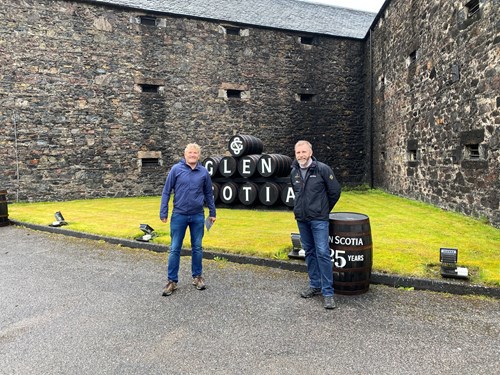 I also delved into the local foodie scene at supremely well stocked Kintyre Larder, alive with local meats, seafood, condiments, bakery, chocolates and much more. The Campbeltown Heritage Centre opens up the town's rich heritage and the Kintyre Smokehouse keeps foodie history alive with their world-class smoked fish, so good they supply Fortnum & Mason, and Ascot. Seafood was on the menu too at my hotel, The Ardshiel. Whisky too; lots of it. Over 1,500 bottles in their whisky bar where I met the team behind Watt Whisky, a local bottler who now offer tours and tastings. They reckon Campbeltown's whisky is heading for boom times again.
There are now a trio of Campbeltown distilleries. I toured glorious Glen Scotia, finding their lovely distillery manager on ebullient form. No wonder as their 25-year-year-old has just been named the world's best whisky. To taste Glen Scotia is to taste Campbeltown, to taste Kintyre. On this trip I didn't get time to venture down into glorious Southend and Machrihanish, a wild world where you can stroll empty beaches and make it out towards the mythical Mull of Kintyre. The K66 is a constant tease with so many wonderful options.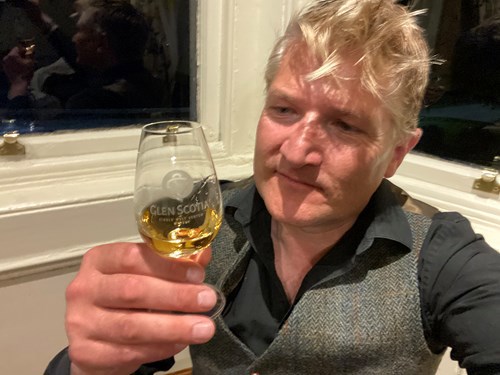 Curling back up the east coast I hit the Kilbrannan Sound, enjoying jaw-dropping views across to Arran and the verdant flora engendered by the warmth of the Gulf Stream. At Saddell Bay I parked up and yomped down to an old castle. From here it was a scramble across the beach and rocks to a remarkable sight. There standing surveying the scene was a figure (Grip), a metal sculpture forged by Gormley. It survived the threat of removal when the exhibition finished as a mystery benefactor stepped in to secure it. They must have loved the K66 and Kintyre as much me.
My overnight in East Kintyre was in Carradale where I was welcomed like an old friend at the Ashbank Hotel. The same welcome awaited at Carradales where I enjoyed a yet another glorious meal, alive with local produce; some just from the garden outside. This warm welcome was something I found all over the K66. I tried some of the tastebud tingling Kintyre Gin too. I managed to squeeze in a visit to the home of Kintyre Gin, Torrisdale Castle Estate, where a new café now tempts alongside gin tours and tastings.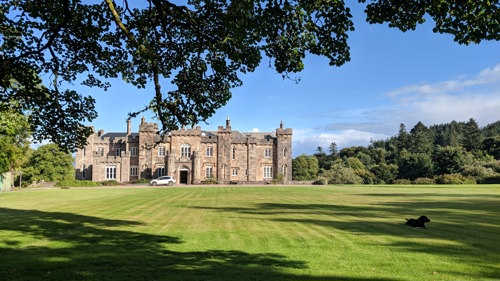 The Mull of Kintyre
As my adventure drew sadly to a close I played 'Mull of Kintyre' one last time as I nosed into Skipness. Here more boat-fresh seafood awaited at the Skipness Seafood Cabin. The family here used to live and work on Arran, but they saw sense and hopped back over to Kintyre! I left Kintyre as I arrived – with the taste of fresh seafood on my lips - but also a car crammed full of glorious memories of exploring a mythical land of big skies, swathed in history, where there are myriad things to see and do, eating and accommodation options too. I'll be back. After all, who needs Route 66 when you've got the Kintyre 66?
Plan your road trip to the K66 with our map.