Why the Isle of Bute is a beauty for wild swimming
The idyllic island of Bute is a wild swimmer's paradise, with clean, clear waters, wide, sheltered bays, accessible coastlines and stunning scenery. It's perfect for mild or wild swimming adventures. From the simple pleasures of paddling in the shallows to the enjoyment of swimming across a sandy bay to the challenge of exploring a stretch of wild coastline, Bute has something for all wild swimmers.
4 perfect wild swimming beaches on Bute
There's an active wild swimming scene, with the Bute Open Water Swimming Society promoting the island's open water opportunities.
If you would like to take the plunge and try wild swimming in Argyll, there's no better place than visiting these four popular bay's on Bute! 
1. Ettrick Bay
Ettrick Bay sits on the northwest coast of the island. It's a mile-long stretch of firm golden sand with stunning views over to the island of Arran. The water is wonderfully clear and there are daily water quality forecasts with regular water monitoring checks by SEPA. The facilities are great, with car parking, toilets and a picnic area. After your dip, head to the Ettrick Bay Tearoom for a hot drink and a mouth-watering cake. If you fancy a stroll after your wild swim, walk to the bird hide at the south end of the bay and train your binoculars on some of the many seabird species indigenous to the west coast.

2. St. Ninian's Bay 
Another favourite with wild swimmers in St Ninian's Bay. This small horseshoe-shaped south-facing bay, just a bit further south than Ettrick Bay, is protected by a spit of land called St Ninian's point. The tide goes out 0.3 miles then the sea bed slopes steeply. When the tide is in, this is an amazing shallow and enclosed bay. Though easily accessible, it's more remote than Ettrick Bay and you rarely see other beachgoers here. In 2014 Bute hosted the Global Open Water Swimming Conference and one of the highlights was an open water swim at St Ninian's Bay.
3. Scalpsie Bay
Further south is secluded Scalpsie Bay, which is a beautiful south-facing bay with incredible views of Arran and Kintyre. It's just a five-minute walk from the road along a sign-posted path. This tranquil beach is a great place to relax, soak up the scenery of Bute and enjoy a wild swim. It's also the place on Bute to spot seals. Head to Seal View viewpoint where you can watch the large colony of seals, both Common and Grey, on their rocky perches.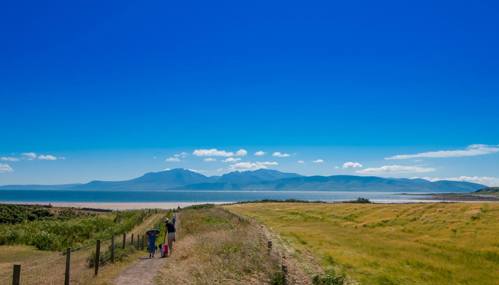 4. Kilchattan Bay
If you fancy a dip on the east coast, Kilchattan Bay is a good choice. A small settlement, also known as Kilchattan Bay, lines the shoreline, with a row of fishermen's houses, Victorian villas and an old stone pier. After your swim, it's just a short walk to the Kingarth Hotel, a traditional country inn and pub serving up delicious home-cooked food. From Kilchattan Bay, it's a short walk across the narrowest part of Bute to visit Stravanan Bay, a sandy beach on the west coast of the island, which is another good spot for an open water swim. It's a more exposed spot and there can be quite a swell here.
*Make sure you swim safely and review advice on the Outdoor Swimming Society's website.
Getting to Bute
Bute is considered the most accessible island off the west coast of Scotland. It's just 50 minutes away from Glasgow by road or rail, followed by a 35-minute CalMac ferry crossing from Wemyss Bay to Rothesay. Another CalMac ferry runs from Colintraive to Rhubodach, taking less than five minutes. 
Staying on Bute
There is a variety of accommodation available on Bute. Wether you'd like to stay in Rothensay town at Boat House Super Suite, enjoy the coastal views from Seaview Cottage or enjoy the luxurious space of the Coach House at Steward Hall - You'll find your perfect accommodation on Bute! 
Looking for something more unique? Stay at the Charcoal Huts in Bute Forest to truly immerse yourself in the quiet and peaceful woodland landscape. 
Visiting Bute? Discover more things to see & do whilst exploring the island.