Discover the Arduaine Gardens
Argyll & The Isles is home to some wonderful gardens. Arduaine Garden near Kilmartin must be one of the most magical. It's a hidden paradise, lying on the southern slope of a promontory that reaches out into the beautiful Loch Melfort. This oasis of green is protected by a shelterbelt – a fringe of windproof trees and shrubs – that keeps out the worst of the wind and is also blessed by a micro-climate that's moderated by the North Atlantic Drift.


Keen horticulturalists will be blown away (no pun intended!) by the dazzling display of plants from across the globe. Take a virtual tour around the world's temperate zones and enjoy the collection of rhododendrons, azaleas, magnolias, Blue Tibetan poppies, giant Himalayan lilies and Chatham Island forget-me-nots. Arduaine is well-known to rhododendron enthusiasts for its many different species and hybrids, many of which would fail to thrive in less favoured climatic conditions. April and May are particularly good months to see the rhododendrons and azaleas, but you'll find that there's something in flower every day of the year.

Arduaine is equally enchanting, however, for those who don't know their primulas from their poppies. The location is simply stunning, looking out across the Sound of Jura to the Hebridean islands of Scarba, Luing and Jura. You can spend many a happy hour strolling through the gardens, enjoying the peace and tranquility and drinking in the views.

There are two way-marked paths. One takes you round the Lower Garden and past the Heron Pond, just one of many ponds and watercourses where water-lilies and primulas grow. The longer walk takes you through the Woodland Garden to a viewpoint overlooking the islands to the west of Arduaine and north west to Mull before it zig-zags back down via the cliff path.

The garden was begun on a bare promontory in 1898 by James Arthur Campbell. The story goes that he saw the spot while sailing the west coast of Scotland with his wife looking for the right place to build a home and garden. Two succeeding generations of his family continued his work. In 1965 Arduaine House was sold and became Loch Melfort Hotel. The garden was bought by Edmund and Harry Wright in 1971 and gifted to the National Trust for Scotland in 1992.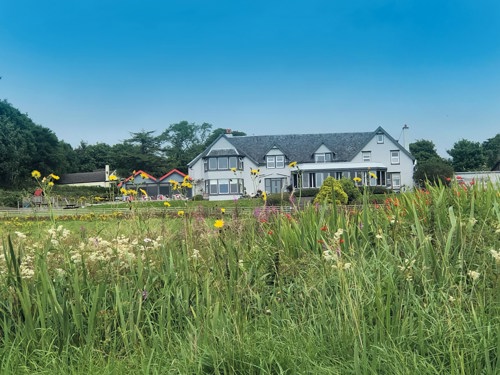 The Loch Melfort Hotel is just a short stroll away and is a lovely place to stop for refreshments after your tour of Arduaine Garden. If the beauty of this glorious garden inspires you, there's a small shop with a selection of goods and seeds from the garden for sale. Perhaps you can create your very own magical garden. Just add coastal views and a good dose of North Atlantic Drift!

Arduaine is four miles south of Kilmelford, midway between Oban and Lochgilphead in mid Argyll. It's a stunning part of Argyll and feels very much off the beaten track. If you visit, you'll also be well placed to explore the historic wonders of Kilmartin Glen.

Find out more about things to see and do in Craignish & Loch Melfort.