10 Reasons to Visit Oban
The bustling fishing port of Oban, unofficial capital of the West Highlands and gateway to the Western Isles, is a buzzing coastal town that's full of life. With ferries to the Hebrides coming and going, bars and streets packed with shops, pubs and cafés, it's a great place to spend a few days. And thanks to the new North Pier Pontoons, boats can now berth right at the heart of the town, allowing passengers to walk ashore and enjoy everything that's on offer. With a maximum of three days berthing you'll have plenty of time to explore. Still need persuading?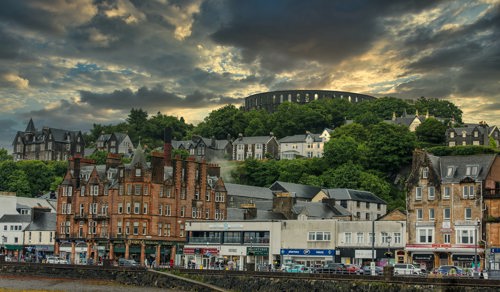 Discover Scotland's Seafood Capital
Step ashore at Oban, a lovely town to explore on foot, with most of the attractions within easy walking distance of North Pier. Or if you fancy exploring further afield, you can hire bikes both mountain and hybrid from Oban Cycles.
1. Try Scotland's best Seafood
Oban, known as 'Scotland's Seafood Capital,' is the place to sample Argyll's fresh seafood. From award-winning fine dining to family-friendly gastro pubs to the freshest fish and chips, there's something for all tastes and budgets. Eeusk is a multi-award-winning seafood restaurant that sits sits on Oban's North Pier overlooking Oban Bay. Tuck into a sensational seafood platter while you savour incredible views of the islands.
2. Visit Oban Distillery
Oban Distillery sits right at the heart of Oban, nestled beneath the steep cliffs that overlook the town. One of Scotland's oldest distillers of single malt scotch whisky is but a stone's throw from the sea. Take a tour of the the Oban Distillery and explore each part of the whisky-making process.
3. Relax at one of many wee cafés
Oban has some great wee cafés. Kick back with a fresh coffee, enjoy the views and watch the ferries to the Hebrides coming and going. Don't miss the Food From Argyll Café at the Ferry Terminal at Oban Pier. This former passenger area has been transformed into a fabulous space serving up local produce and Argyll's finest foods. Enjoy coffee, cakes, rolls, soups and hot dishes featuring Argyll produce as their key ingredient to eat in or take away.
4. Experience chocolate heaven
Oban Chocolate Company shop on Oban's Esplanade is a chocaholic's dream! You can choose from an incredible selection of hand-made chocolates. You can also watch mouth watering chocolates being hand made. Then relax and enjoy delicious hot chocolates, coffees and home baking in the lovely café.
5. Visit McCaig's Tower
Built in 1897 by local banker John Stuart McCaig, McCaig's Tower is a prominent landmark in Oban. The climb from the town centre to McCaig's Tower is well worth the effort. The view across Oban Bay to the Atlantic Islands is stunning.
6. Hit the golf course
Home to professional golfer Robert MacIntyre, Glencruitten Golf Course is James Braid's hidden gem nestling among the hills of Glencruitten Estate on the outskirts of Oban. This wildlife-rich parkland course lined with mature trees is fantastic to play, offering challenging golf and stunning views. Visitors are very welcome.
7. Visit local Castles
You'll find ruined castles and tower houses all along the coastline of Oban and Lorn, including Castle Stalker (Castle Aaaaaaargh from Monty Python's cult classic The Holy Grail) and Dunstaffnage Castle which sits on an immense rock overlooking the Firth of Lorn near Oban. Dunollie Castle is superbly situated, standing guard over Oban Bay and is easily accessed from Oban town centre. The museum, castle and grounds are great fun to explore.
8. Join a ceilidh
Oban has a vibrant cultural scene with regular ceilidhs at The View to give you a true insight to the fascinating music and culture of Scotland. 
9. Learn all about Oban's history
Oban's War and Peace Museum contains a fascinating collection of artefacts and photographs depicting the rich cultural history of the busy port town and its people. Find out about the fishing and maritime industries, the railways, road transport, and the strategic role played by Oban during the war years.
10. Get active
Atlantis Leisure Centre is a brilliant place to keep fit and have fun, with swimming, soft play, gym, football, tennis, fitness classes, archery and more on offer. There's also a café.
Whether you're travelling by kayak, yacht or power boat, make sure you make the most of the new pontoons and facilities at North Pier and come ashore to explore Oban. Already ashore? Many of the local wildlife-watching boat trips will operate from this new facility, so why not take a boat trip and discover the waters around Oban?
Places to Stay in Oban
Looking for a place to stay in Oban? The bustling town has many accommodations that cater to everyone's preferences. Here are some of our top recommendations for places to stay in and around Oban: