3 Beautiful Motorhome Sites (Aires) in Argyll & the Isles
Contrary to popular belief, you're not allowed to park a campervan or motorhome anywhere you like in Scotland. However, more and more landowners across Scotland are setting up overnight parking areas, also known as Aires, that allow you to truly experience the natural wonders of Argyll & the Isles from the comforts of your motorcaravan.
Here's all you need to know when spending the night at an Aires and a selection of the most beautiful motorcaravan overnight spots in Argyll & the Isles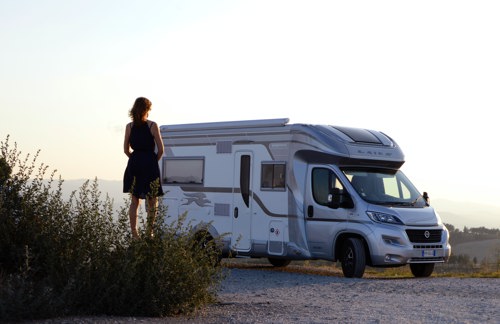 What are Aires stopovers?
The word 'aire' is short for the French term 'aire de service', which is essentially a low-cost camping area for self-contained motorhomes only. These sites are very common across Europe and are increasingly popping up across Scotland as well. 
These motorcaravan stopover sites are usually unmanned and payment is taken either by an honesty box or via a simple mobile payment system. Unlike formal campsites, the majority of Argyll's Aires motorhome sites work on a first-come, first-served basis with no pre-booking options available. Most sites do not provide onsite facilities such as toilets, showers or electric hook-ups, allowing you to enjoy your natural surroundings truly.  
6 Beautiful Motorhome Sites (Aires) in Argyll & the Isles
Argyll & the Isles is known for its remote, secluded, unspoiled, and wild places, making it a  dream destination to explore on your next motorhome holiday. Go island hopping, walk in the wilderness, breathe pure air, watch magnificent sunsets, and see starry skies that will take your breath away – all from the comfort of your motorhome.
Here are 3 overnight motorhome sites (Aires) in Argyll & the Isles: 
Carrick Farm 
Cologin Campervans 
Tiroran Aires
Castle View Aire at Carrick Farm
Safe, quiet overnight parking within stunning scenery.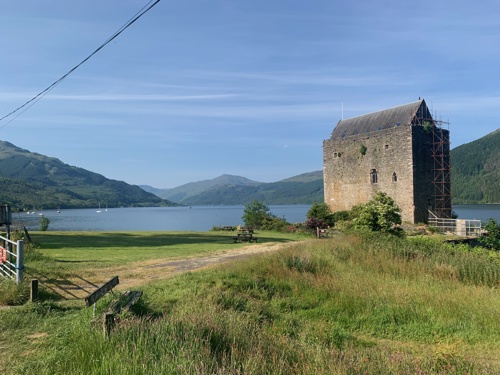 Castle View Aire is located in Carrick Castle, Lochgoilhead, a small village on the shores of Loch Goil, within the Loch Lomond and the Trossachs National Park. In this slice of paradise, it is the perfect place for you to relax and unwind. There are plenty of walks for all levels whether that be in the hills, within the ancient woodlands at Coromonachan or along the lochside. With Loch Goil Kayak Hire operating from the adjacent site, you can also get out on the water on kayaks, SUPs and canoes. 
Please note Castle View Aire is for the overnight parking of motorcaravans only there are no camping activities allowed such as awnings, tents, and fires. There is a drinking water tap on site and we can take dry rubbish up at the farm. 
Cologin Campervans Aire
Hard-standing Aire in historic Lerags Glen near Oban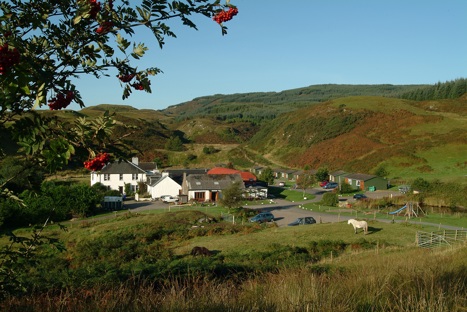 Cologin offers 4 motorhome sites on the grounds of their tranquil holiday farm site just a couple of miles south of the motorhome site, Aire Cologin makes a great touring base for a few nights at just £10 per van, per night. You can book one of the pitches online in advance - the others are available on a first-come, first-served basis. 
The site is dog-friendly. At present there is no wastewater disposal, electrical hitch-ups, or toilet facilities. Learn more about the motorhome site and advanced bookings here.
Tiroran Aires 
Quiet motorhome site near community forest on the Isle of Mull

The Tiroran Aires offers a very simple overnight motorhome site with five pitches. Located near the community-owned forest, the site is perfect for families seeking a nature adventure. The motorhome site is located close to Mull's iconic Fossil Tree, which can be accessed via a challenging yet beautiful coastal walk.
Whilst on Mull, make sure to visit Duart Castle, the 13-century fortress perched on a rocky outcrop. Tobermory is easily the most attractive fishing port on the west coast of Scotland, with a colourful harbour, iconic distillery, and many local food producers and independent shops. 
There are no facilities other than hardstanding for pitches. Learn more about this motorcaravan site here.
Respect. Protect. Enjoy.
Are you planning on exploring Argyll & the Isles with your motorhome? Here are a few tips to be considerate and respectful whilst travelling:
Know your limits – Learn your motorcaravan's height and width dimensions to avoid problems
Take your rubbish with you – the majority of Aires sites do not offer waste disposal. Please be mindful of this and make sure you take your rubbish with you.
Respect the locals – Argyll & the Isles is known for its spectacular wildlife. Whilst you try spotting our locals, please stay on designated paths and keep your distance.
Support local communities – For some this is an adventure, for others it's home. Be mindful of field entrances and support local businesses where you can!
Enjoy your vroom with a view! Looking for a fantastic Argyll roadtrip? Discover the Kintyre 66, a stunning route along Kintyre's coast.