3 Ways to Discover Crinan Canal
Every year nearly 2,000 boats make the journey along the nine miles of the historic Crinan Canal, which links Ardrishaig on Loch Fyne with Crinan on the west coast. But 'Britain's most beautiful shortcut' isn't just for boats. The towpath makes for a fabulous walk, jog or cycle ride too. Whether you're travelling by foot, bike or boat, here's why the Crinan Canal's for you!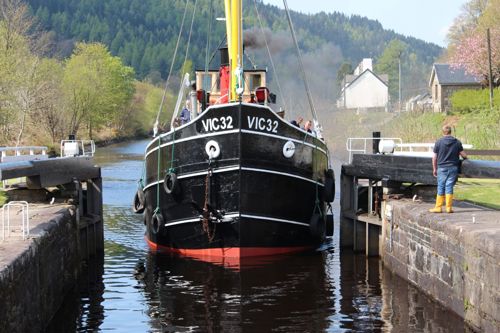 Crinan Canal on foot
This really is relaxed canal-side walking at its best among some of Scotland's most beautiful scenery. Walking the Crinan Canal towpath is something that the whole family could tackle in a day. The towpath is great for buggies and smaller children could use bikes to keep up with the adults. And if your hill walking days are behind you, it's a nice flat walk with no taxing ascents. It's also possible to tackle short sections of the way individually. Crinan to Bellanoch is 3.1km, Dunardry to Cairnbaan is 1.7km and Oakfield to Ardrishaig is 3.2km. Take a look at the Walk Highlands website for more details. The towpath is also popular with joggers. Go for a relaxed Sunday run or take part in the Crinan Puffer, an annual point-to-point running race alongside the canal. It has just taken place, so put it in your diary for next year.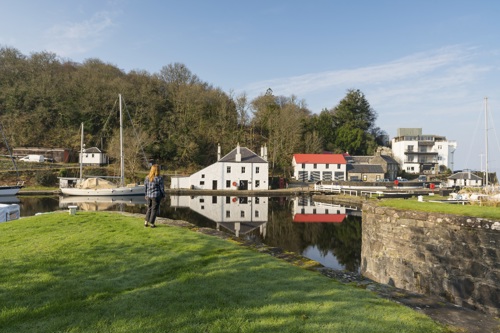 Crinan canal on a bike
Cycling along the Crinan Canal towpath on a sunny day must be one of life's great pleasures. You could easily do the round trip in a day, with plenty of time to take in the beautiful views, spot wildlife and enjoy a picnic along the way. Because it's flat and traffic-free, the towpath is perfect for a family ride. Kids will love stopping to watch the boats navigate the locks. You can pick up cycling gear, get bikes serviced and hire bikes at Crinan Cycles in Lochgilphead. The shop is just two minutes from access to the Crinan Canal towpath.
Paddle the Crinan Canal on a kayak
The Crinan Canal makes for an unforgettable day's paddling. The calm protected waters of the canal are perfect for kayaking beginners. Take advantage of the long uninterrupted stretches between locks 4 and 5 and locks 13 and 14. If you're a more experienced kayaker, you can join the Argyll Sea Kayak Trail at Crinan or Ardrishaig for a sea kayaking adventure along Argyll's beautiful coastline. The Crinan Canal is an incredible piece of engineering steeped in history. Opening in 1801, it provided a transport route between the West Coast and the industrial heartland of Scotland. Kayaking its length is an unbeatable way to get a feel for its intriguing history. As you paddle past harbours, locks and bridges you'll be treated to tantalising and atmospheric glimpses of the canal's past.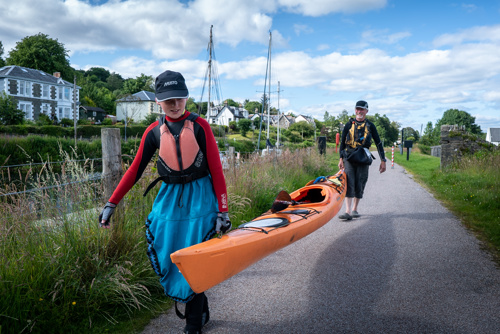 Sail the Crinan Canal on a boat
The Crinan Canal is popular with sailors, as it provides a route between the Clyde sailing grounds and the Western Isles, without having to sail around the exposed Mull of Kintyre. It takes around six hours to transit the Crinan Canal. It's a lovely, relaxed way to sail, so sit back and enjoy the scenery.
It's not just sailing boats that you'll find on the canal. In the past, Clyde puffers, small coal-fired cargo ships, used to steam up and down the canal delivering supplies. Today, you can take a trip up the canal onboard the Vic 32, a refurbished puffer. Charter the Vic 32 for a day trip or enjoy a free one-hour ride on Saturday 7th, Sunday 8th and Monday 9th July 2018. If you want to experience the 'wild raging seas' beyond Crinan, then try a boat trip with Venture West. They offer a number of trips from Crinan Harbour, including a visit to the famous Corryvreckan whirpool.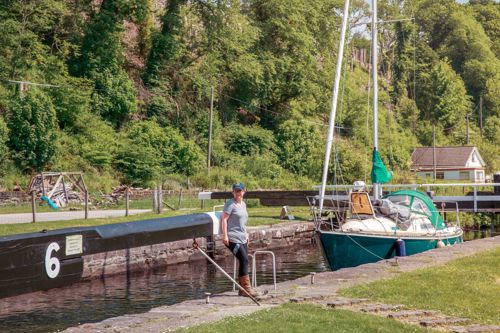 History of Crinan Canal
Whichever way you tackle the journey along the Crinan Canal you'll have opportunities to learn about both the canal's history and the fascinating landscape it passes through. There are plenty of detours and side trips you could take from the canal. Highlights include Moine Mhor National Nature Reserve, Dunadd, the hill fort, that was a stronghold of Dalriada, and Crinan Wood, a wonderful ancient Atlantic oakwood. The canal is also a haven for wildlife. Keep an eye out for herons and otters in and around the canal and dolphins as the canal enters the Sound of Jura at Crinan.
Discover Crinan: Places to eat, drink & stay
Eating and drinking along the Crinan Canal
There are some great places to eat and drink along the way. Starting at the canal's northern end, the Crinan Hotel offers everything from light snacks to quality gastro pub grub. The Crinan Coffee Shop, just a few yards away from the hotel, is a favourite haunt of many day visitors to Crinan. Part of the hotel, it offers a great range of fresh home baking and light lunches. The Cairnbaan Hotel at Lock 8 serves up locally sourced. The Grey Gull Hotel which backs onto the Crinan Canal at Ardrishaig has a restaurant which offers an à la carte menu. Located just a couple of minutes' walk from Lock 4 on the canal, it could hardly be handier!
Close to Crinan, Lucy's Adfern is a must stop for breakfast or lunch, offering delicious homemade food and baked goods, including cakes and sourdough loaves. After a long day of exploring the Loch Fyne region, make sure to visit Starfish Restaurant for some fresh seafood, best enjoyed with one of Fyne Ales's local brews!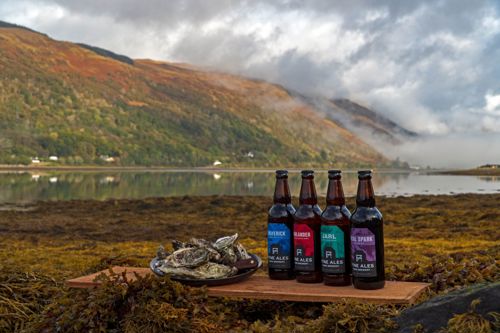 Stay in Crinan & Kilmartin
Close to Crinan and Kilmarting Glen, you'll find a 'home away from home' Ederline Estate, a working hill farm covering around 13'000 acres of stunning scenery. Achnashelloch Holiday Cottages & Farm Shop is another fantastic spot close by. Located in an ancient and secluded settlement dating back to 1479, the Stable Cottage sits on the edge of Loch Fyne and is the perfect cosy, romantic getaway.
On a budget? Conveniently located between Mid-Argyll and Kintyre, Argyll Backpackers is an amazing purpose-built hostel with stunning views across Loch Fyne.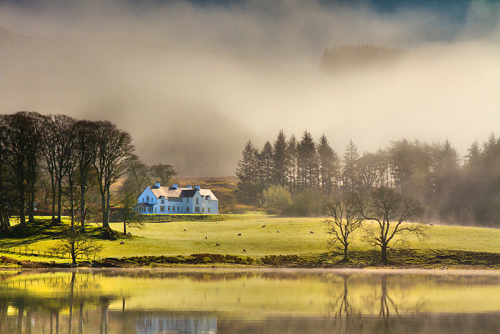 Ederline Estate is a stunning accommodation in the Heart of Argyll.
Find out more about things to see and do in the Heart of Argyll.