4 reasons why the Isle of Tiree is perfect for teenagers
Teenagers can be hard to please. Mention that this year's family holiday is on a remote Scottish island far out in the Atlantic and the reaction might be a slow eye roll. But describe the golden beaches, azure water and world-class surf of Tiree, and we reckon the sulks will turn to smiles. The island of Tiree – sometimes called the 'Hawaii of the north' – is a mecca for surfers, windsurfers and kite surfers. If you're looking to tempt your teenage kids on holiday, an action-packed trip to Tiree is a top choice.
1. Surf's up
Tiree is the most westerly Inner Hebridean island. Sitting just to the southwest of Coll, it's perfectly placed to catch the swell from the North Atlantic. The island's white sandy beaches face every direction and you'll find conditions to suit all levels of surfer, from sedate rollers to barreling beach breaks. The island is home to some excellent surfing schools; Wild Diamond and Blackhouse Watersports, that will happily teach your teenagers the tricks of the trade.
Tiree is also one of the best places in Europe to windsurf. Wild Diamond has a training centre at Loch Bhaspol, which is a great place to learn the ropes. It offers advanced training too. The island hosts the Tiree Wave Classic every year, the longest running pro windsurfing event in the world. There's a real buzz around the event and teenagers will love watching the best windsurfers in the world battle it out.
If your teenager is a real adrenalin junkie, then another option on Tiree is kite surfing. They can develop their skills in protected bays with flat water and then try out Atlantic waves on the open beaches. Tiree's primary kite-surfing spot is Gott Bay on the East coast of the island. Or how about trying out the latest craze, Stand Up Paddle Surfing (SUP)? It's an ideal 'no wind' option for windsurfers and kitesurfers and a 'small swell' alternative for surfers.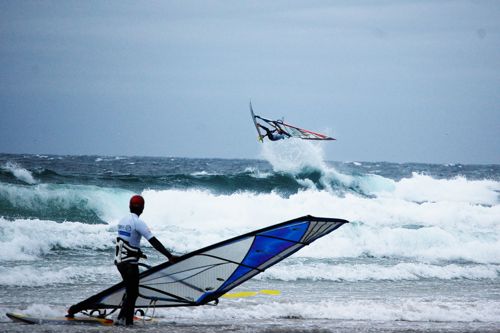 2. Catch the rays
Thanks to its location, Tiree has some of the highest levels of sunshine recorded anywhere in the British Isles. It also gets much less rain than the mainland and, thanks to the ever-present breeze, is midge free. It's the ideal climate for messing around on the beach. And Tiree's beaches are teenager heaven. They fringe most of island, providing miles of clean, fine white sands. One of the loveliest is Balephetrish Bay on the north coast of the island, a two-mile arc of sand looking out to Skye. Perfect for a spot of post holiday 'smoasting' (that's boasting on social media!)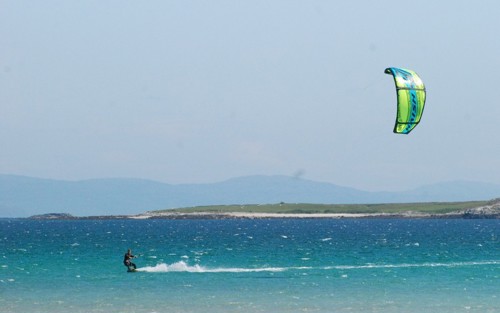 3. Hunt down history
Tiree has plenty to offer the teen with an interest in history. Tiree's Ringing Stone (Clach a' Choire) is situated between Balephetrish and Vaul. This large glacial erratic boulder (i.e. one that is different to the rocks around it) balances on other rocks like an egg on a spoon and emits a metallic ring when struck gently. There are also over twenty surviving fortresses from the Iron Age and two Iron Age brochs on Tiree.
4. Tiree Music Festival
Take your teenager to the Tiree Music Festival and you'll have earned yourself some serious 'cool' points. Set up by Daniel Gillespie, a Tiree local and musician with the band Skerryvore, it's become a sell-out success and a landmark event of the Scottish festival scene. It's an island musical adventure, with traditional and Gaelic performers and contemporary Scottish rock and indie artists.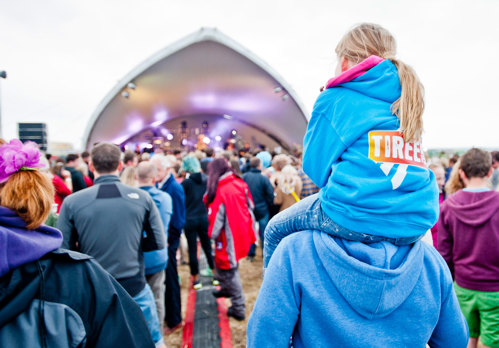 Places to eat
The Beachcomber Craft Café in Crossapol is a great place for teenagers to hang out. Pop in for coffee and cakes or linger over a delicious lunch featuring plenty of local produce. The portions are generous (the rolls are home-made and piled high with salad fresh from the local croft) and during the summer, takeaway pizzas are available from 5pm to 8pm.
Places to stay
Tiree has some fantastic family-friendly places to stay, eat and drink. The Mannal Guesthouse is a fantastic accommodation for the whole family. There's also a campsite run by Wild Diamond at Balinoe. If you're walking, cycling or kayaking, you're welcome to wild camp, but camper vans and caravans need to use the croft sites/pitches around the island or camp at Balinoe. This helps to protect the island's fragile grasslands.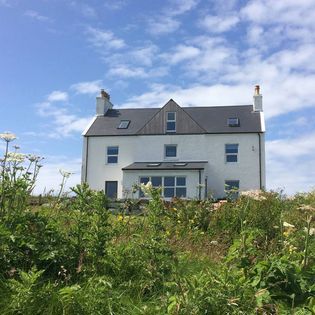 Getting to Tiree
The CalMac ferry to Coll and Tiree leaves from Oban. The journey to Coll is around 3 hours 30 minutes and is a stunner. Loganair operates a regular air service from Glasgow Airport. The 45-minute flight is spectacular. Hebridean Air Services operates a service from Oban Airport.