5 Reasons why you should go surfing on the Isle of Tiree
With its pristine white beaches, sparkling water, and near-guaranteed wind and waves, the Isle of Tiree – sometimes called the 'Hawaii of the north' – is a mecca for surfers, windsurfers, and kite surfers. It's one of the sunniest places in the UK, an island whose waters are warmed by the Gulf Stream and where there are virtually no midges thanks to those ever-present breezes. Sound like a surfers' paradise? It is! Here are five reasons why.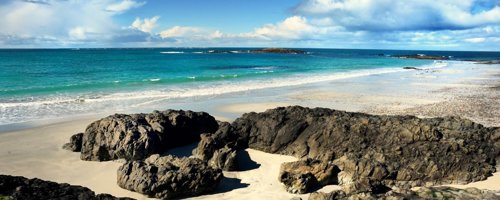 Surf's up - Why pick the Isle of Tiree for your next surfing holiday!
Tiree is the most westerly Inner Hebridean island. Sitting just to the southwest of Coll, it's perfectly placed to catch the swell from the North Atlantic, giving you year-round, consistent waves to catch. The island's myriad white sandy beaches face every direction, so even if the waves aren't quite up to scratch on one bay, they're likely to be ideal on another. And all these beaches create conditions to suit all levels of surfer, from sedate rollers for beginners to barreling beach breaks for experts. What's more, you won't be fighting for wave space on Tiree. Even on a 'busy' day at the most popular beach, you'll likely be sharing your ride with just a handful of people.
Windsurfing
The prevailing south-westerly wind which blows over the west coast makes Tiree one of the best places to windsurf in Europe. Wild Diamond has a training centre at Loch Bhaspol, which is the perfect place to learn the ropes. Advanced training with Wild Diamond is run from the back of a large mobile box trailer. This allows you to quickly access any beach on the island. You arrive at the beach, throw your boom on your sail, connect your board and go! In general, if you're an advanced windsurfer, March, April, May, June, September, and October are the windiest and best months to visit. The summer months are perfect for beginners. The island also hosts the Tiree Wave Classic every year, the longest-running pro windsurfing event in the world. This year's event takes place from 8th to 14th October 2022. It's a brilliant week to visit the island, watch the competition and try a spot of windsurfing yourself.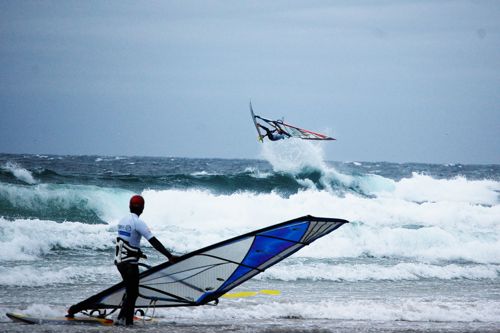 Kite surfing
Kite surfing is perhaps the ultimate adrenaline-fuelled, wind-powered watersport, and Tiree offers kite surfers of every level fantastic conditions. Develop your skills in protected bays with flat water or the Atlantic waves on the open beaches. Tiree's primary kite-surfing spot is Gott Bay on the East coast of the island, which has a shallow gradient and calm waters.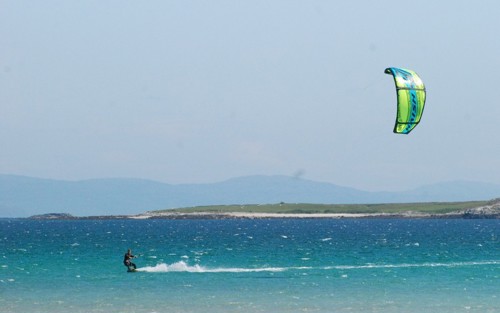 SUPerb: Try Stand Up Paddle Boarding on Tiree
How about trying out the latest craze? Stand Up Paddle Surfing (SUP), a paddling/surfing hybrid, is fantastic fun and, because you're standing up, it's a great way to spot marine life. It's an ideal 'no wind' option for windsurfers and kitesurfers and a 'small swell' alternative for surfers. Learn the ropes in the calm waters of Loch Bhasapol and progress to catching waves in Gott Bay and Crossapol. When you're feeling ready, it's time to hit the larger and more challenging surf on the west coast of the island.
Learn with the locals
You can't beat local knowledge when it comes to beaches and surf conditions. Tiree has vibrant surfing and windsurfing culture. It's a friendly scene and the locals will be more than happy to help you out and share their knowledge. The island also has excellent surfing schools – Suds Surf, Wild Diamond, and Blackhouse Watersports offering surfing, windsurfing, kite surfing, and SUP lessons for all levels.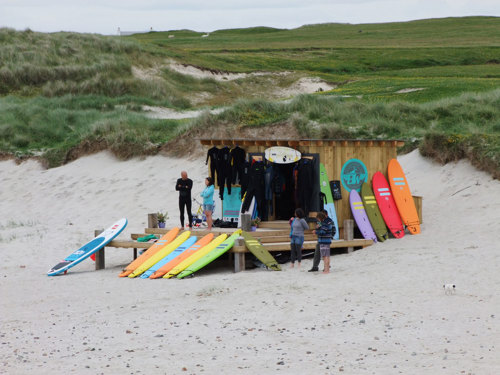 Visit Tiree
Tiree has some great places to stay, eat and drink. If you're walking, cycling or kayaking, you're welcome to wild camp, but camper vans and caravans need to use the croft sites/pitches around the island or camp at Balinoe. This helps to protect the island's fragile grasslands. For more information head to the official Visit Tiree website.