Why you should visit Argyll & the Isles?
If you are interested in discovering a unique destination, Argyll & the Isles might be just what you needed. Located in the West Highlands of Scotland, it impresses with its scenic coastline and greenery. Here, you will find freshwater lochs, castle ruins that remind you of times long gone and a wild nature that brings an instant sense of calm.
We wanted to tell you a couple of reasons for which you should consider visiting Argyll & the Isles this year. Before diving into the subject, we would like to remind you that each person takes what he wants or needs from a destination. When arriving at the destination, make sure that you take it all in, gathering precious memories to sustain you in the years that follow.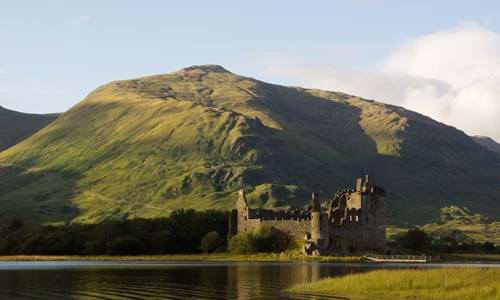 Kilchurn Castle, Loch Awe
Island Paradise 
It might interest you to know that there are over twenty-three islands here which are inhabited islands, each offering a unique glimpse into local life. While there, allow yourself to be immersed in the culture and it is guaranteed you will remember this getaway as one of the most exciting ones.
For those of you who are tired of living in the urban jungle, the island paradise Argyll has to offer represents an ideal choice. The stunning scenery is impressive from the first second and, as you go from one island to the other, it is practically impossible not to fall in love with the tranquillity. Islay, Jura & Colonsay, is the perfect getaway for whisky lovers, where as, Mull & Iona and Coll & Tiree are great for those seeking surfing experiences and wildlife adventures.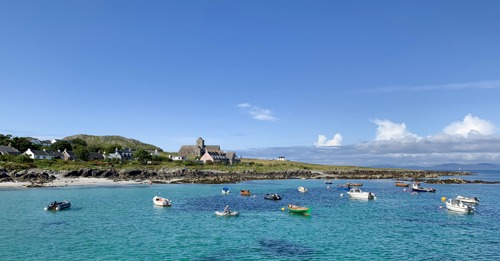 Want an Island Getaway? No need to travel abroad! Image: Isle of Iona
Nature and Wildlife
There are very few places in the world where nature has remained untouched, and Argyll is one of them. Here, there are a lot of spaces dedicated to nature, including reserves and parks. The nature enthusiast can go on a hike, exploring the landscape and everything it has to offer.
In terms of wildlife, you will certainly have a lot of exciting encounters. The wildness of nature allows for many species to thrive here, including red deer, golden eagles and otters. Depending on the location, you can also spot seals and puffins, a perfect place to see this is the Isle of Staffa!
Go Puffin spotting with one of many wildlife tours.
Excellent Selection of Water Sports 
If you are a water sports enthusiast, you are in luck. For surfing, we recommend you to go to the Inner Hebridean Island of Tiree, Westport Beach or on the west coast of Kintyre. Tiree also represents a fine choice for those who are passionate about windsurfing, and you can also check out some of the competitions taking place here.
The entire coastline of Argyll is perfect for kayaking, and there is even the Argyll Sea Kayak Trail you can try in case you are closer to a pro. For an added amount of fun, you can try stand-up paddle boarding, which is a combination of paddling and surfing. Last, but not least, Argyll offers some pretty excellent opportunities for sailing, especially along the Kyles of Bute.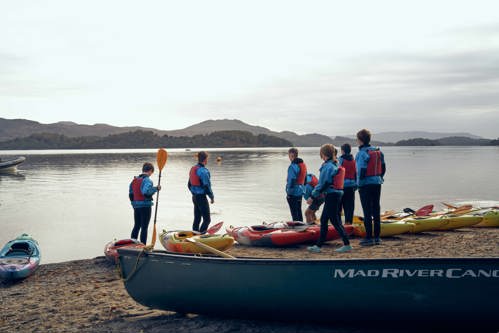 A Photoshoot Like No Other
If you are looking to be photographed against a unique backdrop, Argyll & the Isles is the perfect destination for picturesque landscapes. You can contact the professional photographers Kevin McGarry and Ben Shakespear Photography to make arrangements for a photo shoot that covers specific locations in the area. These photographers will take some amazing shots, not only of you but also of the splendid scenery and abundant wildlife. You can have an album created with these photographs. If desired, these can be turned into framed prints, to be displayed in your home or office providing you with a lifetime of memories.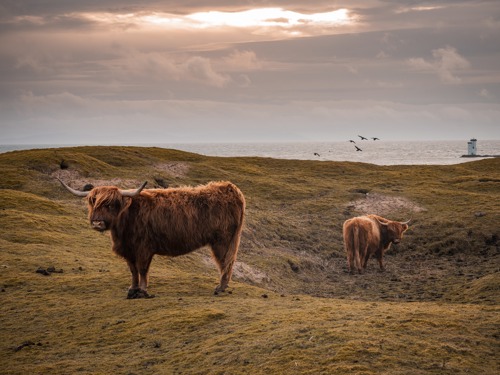 Image by Ben Shakespear Photography.
Scotland's Adventure Coast
Are you the kind who likes to go off the beaten track? If yes, then you have the perfect opportunity right here in Argyll & the Isle on Scotland's Adventure Coast! You can travel along the shore and discover some pretty amazing places, such as Loch Linnhe and Port Appin. While such a journey might take some time and require a lot of stamina on your part, in the end, you will truly feel like you have accomplished something great. You would have discovered a region like no other, which offers the best of everything: adventure activities, culture, nature and wildlife.
In conclusion, these are a few reasons why you should consider visiting the Argyll & the Isles today. Perhaps the most important thing to keep in mind is that each journey to a new destination offers an opportunity for you to become richer as a person. Travelling remains the number one solution to opening your mind.