Award- Winning travel writer Robin McKelvie gives us insight to the top 7 water activities to try on Scotland's Adventure Coast.
It always surprises me when people living in Scotland jet off abroad in search of wild, watery adventure holidays, as Scotland is hard to beat for wet and wild fun. Nowhere is this more true than Argyll and Bute, an oasis that deserves its reputation as 'Scotland's Adventure Coast'. Go and grab your paddle, snorkel mask or surfboard now as we swap Bondi for Bute and Tenerife for Tighnabruaich, to get wet and wild in Argyll and Bute.
Wild Swimming
If you've been swimming outdoors for years you might raise a wry smile at the recent hullabaloo about 'wild swimming'. A refreshing dip in our lochs and seas has never been more popular. Yes it's bracing and you should always be ready for that and choose your spot carefully, but there are a few things more life-affirming. My favourite spot is Ostel Bay, a wide expanse of sand on the tip of the Cowal Peninsula with great views of Arran. My two daughters love Ostel. Just around the corner, Carry Farm offers more accessible bathing. If you want a helping hand Daniel Coyle, a.k.a Dan the Merman, is a wild swimming guide. Or 'cheat' at Portavadie bubbling away in their hot tubs, or infinity pool on the shores of Loch Fyne.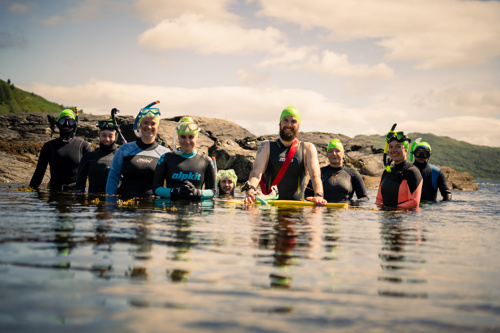 Wild Swimming with Dan the Merman, Credit: Daniel Coyle
Sail Away
Sailing in Argyll has a special place in my heart as my late dad built his yacht – Sisu - in Argyll and kept her on the Isle of Bute. I didn't realise how good taste he had until a professional skipper told me in the Kilbrannan Sound that there "are no better sailing waters in Scotland". You can learn the ropes at the legendary Tighnabruaich Sailing School, which has been teaching sailing in the sheltered waters of the Kyles of Bute for over 50 years. In recent years the arrival of the swish Portavadie marina has been a game-changer and it's not alone – I love what they've done at Port Bannatyne on Bute. At the tip of Argyll Campbeltown has a handy marina that opens up more adventures in the Irish Sea.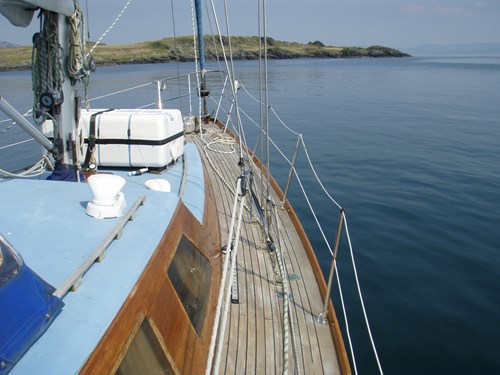 Sailing to Jura with Robin, Credit: Robin McKelvie
Get on your Paddle Board
Stand Up Paddle Boarding (SUP) has emerged as a massive watersports phenomenon recently. A cross between kayaking standing up and surfing, anyone can get stuck in without knowing anything about surfing or kayaking. The Isle of Tiree is a great place to hook up with Wild Diamond, which offer SUP tuition. My teenage daughter is desperate to try SUP so we'll be heading over to Tiree this summer.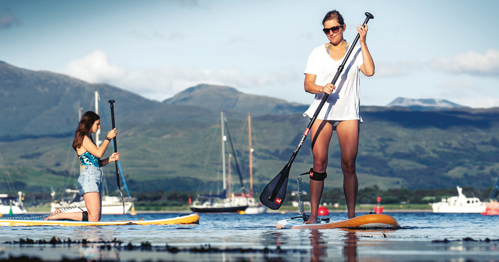 SUP Boarding in Argyll & the Isles, Credit: Wild about Argyll
Paddle Power
There is nothing quite like easing along at water level as porpoises pop by and seabirds splash all around. I love kayaking, especially sea kayaking, with Argyll and Bute's craggy coastline ideal with its isles, coves and bays. A new focus is the Argyll Sea Kayak Trail, a spectacular 150km adventure. There are ten easy access points, so you can chop it into more manageable chunks, or challenge yourself to tackle it all.
Want to buy your own equipment? McConks offers a range sustainably, locally produced kayak, SUP and other water sport equipment at an affordable price.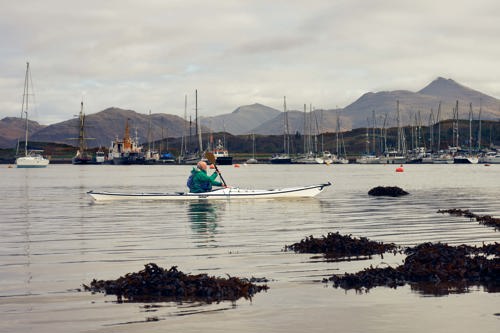 Kayaking in Oban Credit: Wild about Argyll
Get your Mask on
You don't need to head to the Great Barrier Reef when the unspoilt coastline of Argyll and Bute awaits for a snorkelling experience. This year look out for a new snorkel trail between Appin and Kilberry on Argyll's wild western coast, which ties into the UK's only Hope Spot. The Scottish Wildlife Trust are involved and I'm excited as I tried out one of their existing trails with my girls last year - it was thrilling delving below water in search of shoals of fish and scuttling crabs. Bring on this new adventure in Argyll & the Isles!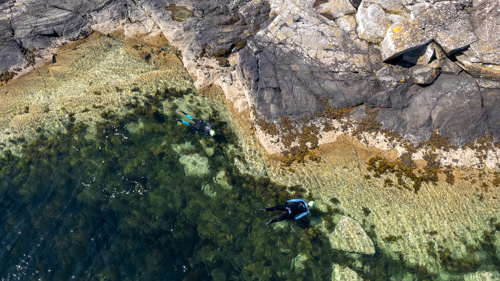 Snorkel along Argyll's Snorkel Trail
Surf's Up!
And not just any surf as the Isle of Tiree is home to some of the best conditions on the planet for surfers and windsurfers, so much so that they've held world championship events here. An annual highlight is the Tiree Wave Classic, the longest running pro windsurfing event in the world. It's easy to get out there with Wild Diamond and Blackhouse Watersports. Tiree is great for kiteboarding too. There are decent surf spots all over Argyll's mainland coast, with the highlight the wind-lashed littoral of Kintyre. There is superb action down south, where Westport Beach sweeps for six miles towards Machrihanish. Pete's Surf School is on hand to help boarders of all levels.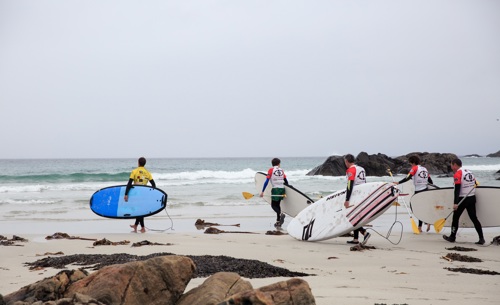 Surfing in Tiree, Credit: Wild Diamond Surfing
Ease Out on a Boat Ride
Let someone else put in the effort as you just enjoy Argyll and Bute's epic scenery and bountiful wildlife. The Hebridean Whale Trail sweeps right through Argyll so you see everything from minkes and humpbacks, through to killer whales. Cruise out with Sealife Adventures from Seil Island, Easdale's Seafari Adventures, Coastal Connections from Oban, Craignish Cruises from Ardfern, Venture West in Crinan, or Turus Mara and Staffa Tours to Staffa and the Treshnish Isles. If you've always wanted to see hulking basking sharks sail in search of them with Oban's Basking Shark Scotland.
Islay Sea Adventures on Tour, Credit: Islay Sea Adventures
Curious? To find out more about Water Activities in Argyll & the Isles.