6 Things to Discover at Kintyre's Southend
The Kintyre peninsula stretches south towards Ireland. And at its southern tip you'll find Southend, a wild, isolated and stunningly beautiful spot. You are well off the beaten track here, but there are loads of things to see and do. Aside from the stunning coastal scenery, you'll also find fascinating historical sites, beautiful beaches, a golf course and a cracking tearoom. That's plenty of good reasons to stopover in Southend!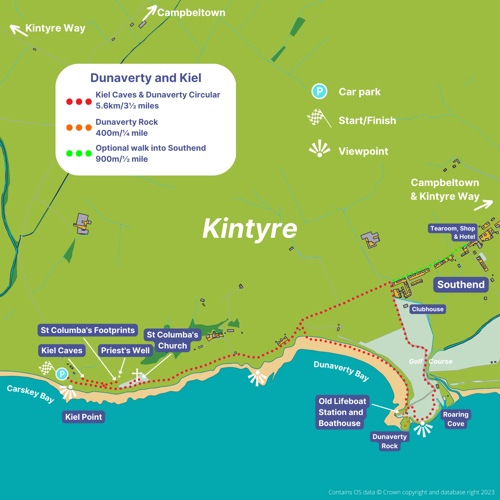 1. St. Columba's Footprints
In AD 563 Columba and 12 followers were exiled from Antrim in Ireland. Many believe that the exiles landed at Keil Point near Southend on the first leg of a journey that would see them head north to Iona and establish a monastic community. St Columba's Footprints sit between Kiel Caves and St Columba's Chapel. Follow the stone steps to the top of a rocky outcrop to find the footprints. One of them was carved by a local stonemason in 1856, but the other is ancient. It's unproven whether it is Columba's footprint. It's more likely to have been used in the coronation of kings in the ancient kingdom of Dalriada. Slightly further beyond the footprints is St Columba's Well, a rocky bowl carved into the slope where water collects from a spring.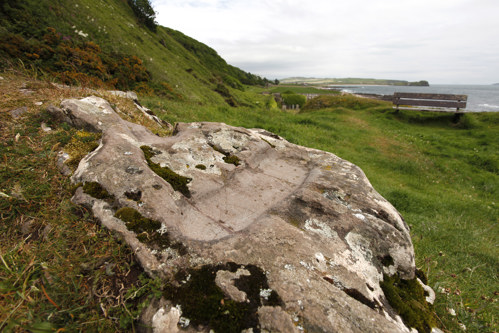 St Columba's footprints. Credit: Visit Scotland
2. Keil Caves
There are several caves at Keil, including the Great Cave, the Hermit's Retreat and the Piper's Cave. They all have a story to tell, providing shelter to people from prehistory right into the age of Dalriada. It's said that St Columba stayed here, and Roman pottery was found here too, which is rare in Scotland. There were some more recent residents. The 1881 Census reports that Keil Caves was home to a family of seven! Stand quietly in the Piper's Cave you might just hear the ghost of a piper playing the pipes.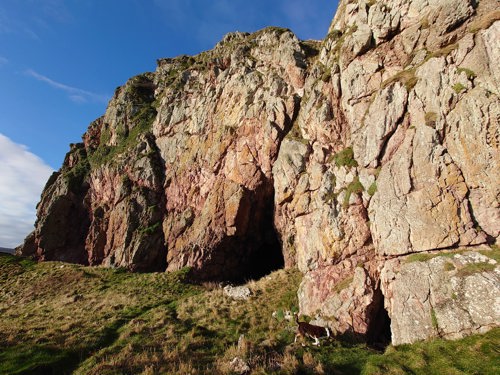 Keil Caves captured by tour guide Heathery Heights.
3. St Columba's Chapel
This atmospheric chapel lies within Keil Cemetery. It's almost totally engulfed by ivy, but you can enter via a partly buried doorway. You'll find some medieval slabs within the chapel, including two that are believed to have been carved at Saddell Abbey in the 1300s or 1400s. It's thought unlikely that Columba built the chapel. A more likely tale is that the chapel was erected later on a site traditionally associated with stories of Columba.
The Keil Cemetery. Credit: Heathery Heights
4. Dunaverty Bay
This beautiful sweep of sand curves around to Dunavery Point. It's a fabulous spot with stunning views out over the Atlantic. Walk along the bay to Dunaverty Point where you can clamber up to Dunaverty Rock. This was once the site of an important castle, dating back as far as the 500s. Dunaverty Castle was an important stronghold of the Kingdom of Dalriada. Robert the Bruce, stayed here in 1306. The castle witnessed a horrific massacre in 1647 and was dismantled in 1685.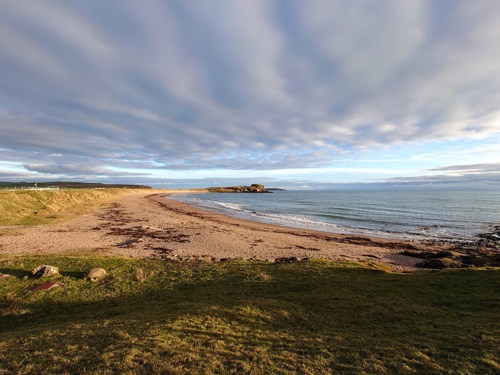 Dunavery Bay captured by tour guide Heathery Heights.
5. Dunaverty Golf Club
If you love golf, then you're in for a treat at Dunaverty Golf Club. The beautiful 18-hole links golf course has a glorious coastal setting in Southend. Enjoy spectacular views to Sanda Island to the south, Ailsa Craig and Ayrshire to the east and Northern Ireland to the south west as you play a challenging round of golf. Visitors are welcome.
6. Muneroy Tea Room
After making the most of Southend, you'll be in need of some sustenance. Your next stop should be the art deco style Muneroy Tea Room. The cakes here are legendary. You can also get delicious lunches and dinners, all freshly prepared. The portions are always generous!
Travel the Kintyre 66
From Southend you might want to follow the 'long and winding' road to the Mull of Kintyre, the southwestern-most tip of the Kintyre peninsula immortalised in the hit by Paul McCartney and Wings. Visit the Mull of Kintyre Lighthouse, a beautiful and remote place, and you'll appreciate where the lyrics came from. Even if the mist isn't rolling in, you'll be treated to incredible views.
Find more information about the Kintyre 66 here.