6 Ways to get active on the Isle of Islay
Despite its laid-back atmosphere and tranquil pace of life, the Hebridean island of Islay is not a place where people seem to sit still for very long. There's just too much in the way of activities to enjoy. So whatever floats your boat (or kayak), you're sure to find a way to embrace the great outdoors on Islay that appeals. Here are six of the best options for getting the most out of an active stay on Islay.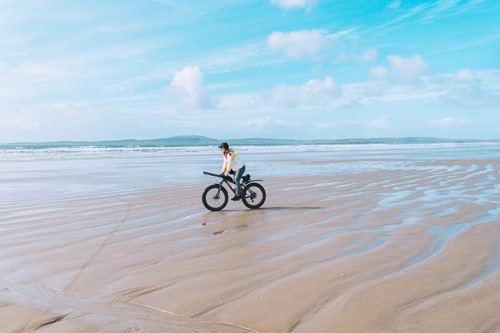 Rent a Fat Bike to discover Islay
1. Kayak on Islay
Whether you're a seasoned paddler or an absolute beginner, Islay is a truly magnificent place to kayak. Slip serenely through the waves and discover stunning beaches, hidden lagoons and isolated bays. Kayak Wild Islay is the perfect guide to the delights of Islay's coastline. If you want to try kayaking for the first time, a half day taster session will get you paddling and introduce you to some of Islay's beauty spots. Children can be accommodated when accompanied by an adult, so it's possible for the family to learn together. Beginners will still cover a good distance in an afternoon and spot some of the local sea birds, seals and perhaps something more elusive – otters, for example, tend to be more approachable from a kayak.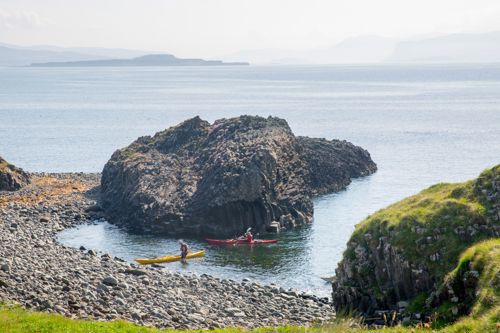 2. Explore on Horseback
Or how about exploring Islay on horseback? Ballivicar Farm, located in the south of the island neat Port Ellen, offers pony trekking for all levels of riders. It's an unbeatable way to explore the area and enjoy the jaw-dropping views. They also have lovely self-catering accommodation on the farm. Islay Pony Trekking, based at Sanaigmore Farm in the north west of Islay, is another option. The views from the trekking routes are cracking, with Oronsay, Colonsay, Mull, Skye and Jura all visible on a clear day.
3. Head on a boat tour
One of the best ways to get a different perspective on any island is to take a boat trip and see it from the water. Join Islay Sea Adventures for a journey to remember. You'll get some great vistas of the island and get up close and personal with the local wildlife. You're virtually guaranteed to see seals and a variety of sea birds including cormorant, shag and guillemot. With a bit of luck you might see otters, dolphins, basking sharks and even whales. But it's not all about wildlife spotting; some people charter the boats for fishing trips, others for diving and there's also the option of testing your nerve with a trip to the Gulf of Corryvreckan where the famous whirlpool awaits!
Islay Sea Adventures offers a range of great boat tours.
4. Discover on foot
Islay is a wonderful place for walking. The island may not have the towering peaks of some Hebridean islands, but its highest peak Beinn Bheigier is still a respectable 1,612 ft. There are plenty of other options for walkers, including the 6.6-mile circular coastal walk to Killinallan Point which affords plenty of beachcombing, birdwatching and wildlife spotting opportunities. If birdwatching really is your focus when walking, then a guided walk at the Loch Gruinart RSPB Reserve is in order. Weekly walks run from April to October with the chance to see corncrakes, lapwings and the spectacular arrival of the barnacle geese.
There's a fantastic short circular walk at The Oa RSPB Reserve in the south west of Islay. You might spot golden eagles, choughs and even some is the island's feral goats. The annual Walk Islay Festival is a wonderful week of walking on Islay, Jura and Colonsay. Walks vary from the easy to the extreme, with rambles through RSPB reserves to treks over the famous Paps of Jura.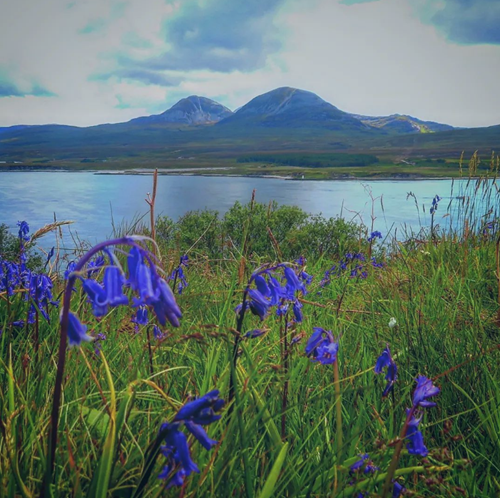 The Paps of Jura.
5. Rent a bike and go cycling
Largely flat and with quiet country roads, Islay is perfect for cycling. The odd windy day might slow down your progress – or speed it up depending on your direction of travel! The island is a favourite with cycle tourists who relish the gentle topography, ease of navigation, sea air and the opportunities to wild camp. Bicycles go free of charge on CalMac ferries, but you can also hire a bike from various places on the island, including Bowmore, Port Charlotte and Port Ellen.
6. Play a round of golf
Golf and Islay are synonymous in the minds of many golf enthusiasts. This is all down to The Machrie Golf Links Course, which is considered to be one of the finest links courses in existence. Set on a stunning bay, it must be one of the most beautiful locations in world golf. It was designed in 1891 by the then world-renowned match play golfer Willie Campbell who is said to have stood on a sand dune overlooking Laggan Bay before proclaiming: 'This place was made for Gowf (old Scottish word for golf)!' The course he built has remained largely unchanged in its 125 years. It's a 6,303 yard, par 71 course with a strong sense of history.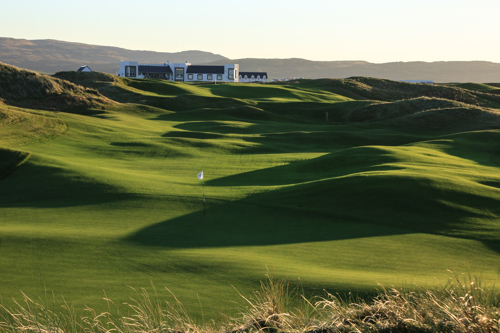 Find out more about things to see and do on Islay & Jura.