7 sensational seafood places in the Heart Of Argyll
The Heart of Argyll is renowned for its seafood. The area's coastline is long and varied, with the cold, clear waters of Loch Tarbert to the south, Loch Fyne to the east and the Atlantic Ocean to the west. 
Discover the Heart of Argyll for seafood
Sea bass, cod, haddock, scallops, mussels, lobster, crab, oysters, langoustine, razor clams and more are all caught locally and feature on many menus throughout the region. So for a sensational Scottish seafood feast, head to the Heart of Argyll. You'll discover a host of great cafés and restaurants serving up the freshest local seafood in the most beautiful coastal locations. So, here are 7 sensational seafood places in the Heart of Argyll.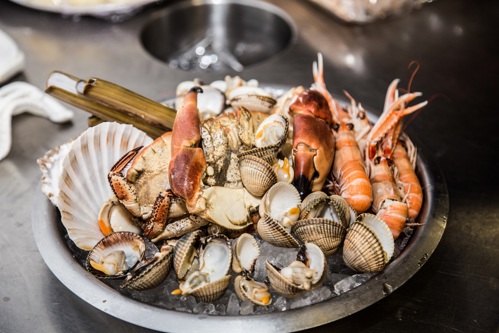 The fishing village of Tarbert
The fishing village of Tarbert is home to a fishing fleet which lands some of the best seafood on the west coast Scotland. Don't miss the opportunity to taste this super fresh fish and shellfish in the pubs and restaurants that surround the natural harbour. The Anchor Hotel is great for seafood. Or if you fancy picking up a box of seafood to take home, drop into Prentice Seafoods by the ferry terminal at Tarbert.
Loch Fyne
From Tarbert you can hop on the ferry and cross Loch Fyne to Portavadie for award-winning waterside dining. The Marina Restaurant & Bar serves up delicious local seafood. Enjoy a plate of mussels and a glass of wine while watching the yachts sail in.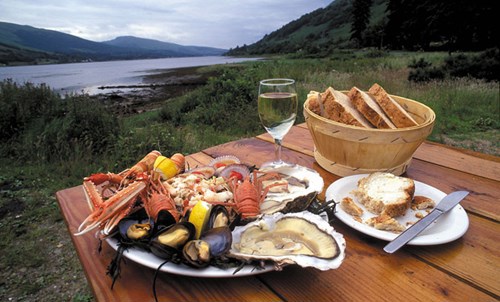 Inveraray
The handsome Georgian town of Inveraray has a long connection with seafood. The primary industry of the town used to be centred on the herring. The smoking of these fish produced the famous Loch Fyne Kipper. Inveraray offers a choice of excellent places to eat, but one of the top spots for seafood is the George Hotel. This lively haunt, with its original solid flag stone floors and roaring log and peat fires, serves up delicious meals using very best Tarbert seafood produce.
If you love smoked seafood, then follow the road around Loch Fyne to Lochgilphead where you'll find Murray Smoked Products. This family-run smokehouse creates lip-smackingly tasty smoked fish, including smoked salmon, trout and mackerel. The smokehouse is based in Ford at the south end of Loch Awe, but the team has opened a fresh fish shop on Argyll Street in Lochgilphead where you can buy their smoked products, as well as fresh, local seafood.

If you want to try your hand at cooking some of the region's fabulous seafood, Aray Fish is a family run business since 2001. They sell premium quality fish, local shellfish, smoked fish and 'fresh from the market' fruit and vegetables from a mobile shop, they can be spotted around the Heart of Argyll; give them a call, they may even be able to call at your door. They have a stand on Inveraray Pier on Tuesdays between 4-5.30 pm.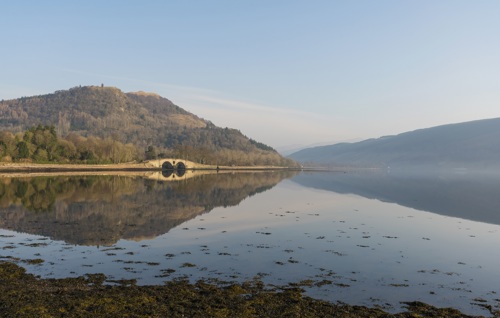 Crinan Canal
The Heart of Argyll is home to the historic Crinan Canal, known as 'Britain's most beautiful shortcut'. There are some fabulous canal-side eateries serving up local seafood. What could be better than tucking into a seafood platter on a sunny day while watching the boats pass through the locks? The Crinan Hotel at the Canal's northern end, offers a range of dining options, all serving up locally caught seafood. The hotel's Westward Restaurant offers a five-course menu with the added benefit of glorious sunset views. The bistro-style Seafood Bar has an à la carte menu that's perfect for lunch or dinner, with the potential for al fresco dining on fine days. You might even see your jumbo prawns being landed on the quay in time for dinner! At the weekends from June to September you can book a table in Lock 16, a seafood restaurant enclosed on the roof of the hotel with views looking over towards the Gulf of Corryvreckan, Jura and Scarba.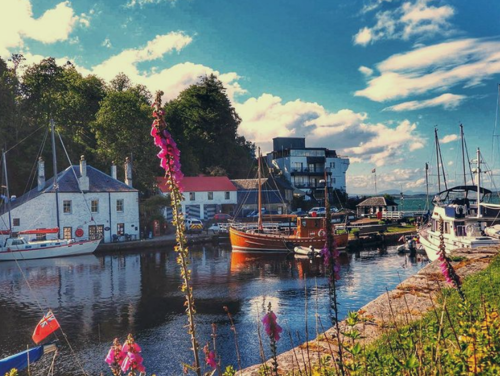 Tayvallich
From Crinan your next seafood destination is the village of Tayvallich on the shore of Loch Sween, where you'll find the Tayvallich Inn. The inn overlooks the beautiful natural harbour of Tayvallich Bay. Established over 30 years ago, the Tayvallich Inn specialises in fresh, locally caught seafood, much of which is landed on their doorstep from the waters of the sound of Jura. If it's sunny, grab a table on the deck and tuck into the seafood stew made with local fish and shellfish or the Sound of Jura dressed crab served with local langoustines and fresh crusty bread.
Ardfern
The village of Ardfern is home to the Galley of Lorne, a 17th-century Drovers Inn with a homely traditional public bar, a lounge bar and a spacious restaurant with panoramic views over Loch Craignish towards Jura and Scarba. You can feast on delicious lunches or dinners that use local ingredients including seafood and game.
Head to Loch Melfort Hotel
Further north still is Loch Melfort Hotel, which offers delicious local seafood in wonderful surroundings with views onto Asknish Bay. The view across Asknish Bay, with Shuna and Jura beyond is simply stunning. When the sun shines, nothing beats sitting outside and enjoying some local seafood. For a pre-dinner stroll, visit Arduaine Gardens, which is just next door. It's a beautiful coastal and woodland garden with stunning views.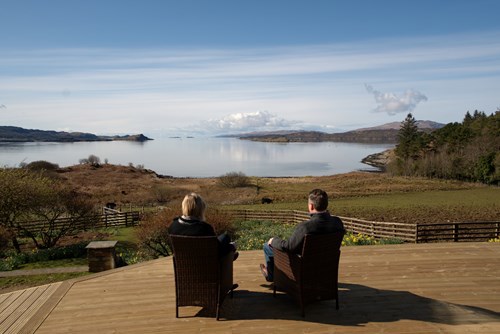 Discover the Heart of Argyll: Places to eat, drink & stay
Stay by Loch Awe
Book a romantic getaway at Love Argyll's Blue Cottage to wake up to spectacular views across Loch Awe and to Ben Cruachan beyond. The Portsonachan Hotel & Lodges at the shores of Loch Awe is another fantastic choice for families that seek peace and tranquility in the middle of nowhere.
Stay in Inveraray
When visiting Inveraray, stay at the George Hotel for beautiful rooms, delicious food and a welcoming atmosphere. Close to Inverrary, you'll find Killean Farmhouse which was built in the 17th century and has kept much of its homely charm. Discover our top places to eat in Inverary here.
Stay in Crinan & Kilmartin
Further South, close to Crinan and Kilmarting Glen, you'll find a 'home away from home' Ederline Estate, a working hill farm covering around 13'000 acres of stunning scenery. Achnashelloch Holiday Cottages & Farm Shop is another fantastic spot close by. Located in an ancient and secluded settlement dating back to 1479, the Stable Cottage sits on the edge of Loch Fyne and is the perfect cosy, romantic getaway.
On a budget? Conveniently located between Mid-Argyll and Kintyre, Argyll Backpackers is an amazing purpose-built hostel with stunning views across Loch Fyne.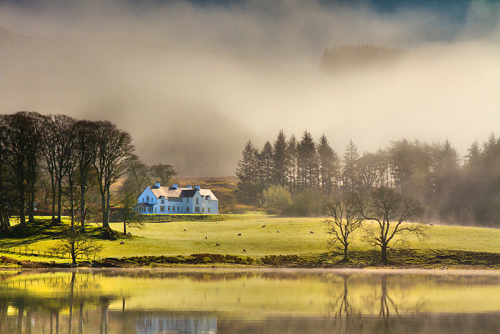 Ederline Estate is a stunning accommodation in the Heart of Argyll.
Lucy's Adfern is a must stop for breakfast or lunch, offering delicious homemade food and baked goods, including cakes and sourdough loaves. After a long day of exploring the Loch Fyne region, make sure to visit Starfish Restaurant for some fresh seafood, best enjoyed with one of Fyne Ales's local brews!
Find out more about things to see and do in the Heart of Argyll.