Discover the Seafood Trail in Argyll and the Isles

Introducing the Taste of Place Trails
#3 SEAFOOD TRAIL
Robin McKelvie, Award-winning Travel Writer & Broadcaster experiences the Wild About Argyll Seafood Taste of Place Trail.
"You just cannae get any fresher than right here in Argyll," beams John Ogden of the Oban Seafood Hut, as the fishing boats bob in the harbour over his shoulder. "And the great thing these days is that there are so many amazing places to savour Argyll's finest seafood."
I cannot agree more as I tuck into one of their legendary platters, heaving with boat fresh langoustines, oysters, mussels, prawns and lobster. Welcome to the Seafood Trail, an ace new way to savour fresh seafood in myriad eateries, discover seriously sustainable suppliers and stay over in hotels who know their seafood. The Seafood Trail is just one of the quintet of new taste trails that snake off around the foodie heart of Scotland: Argyll.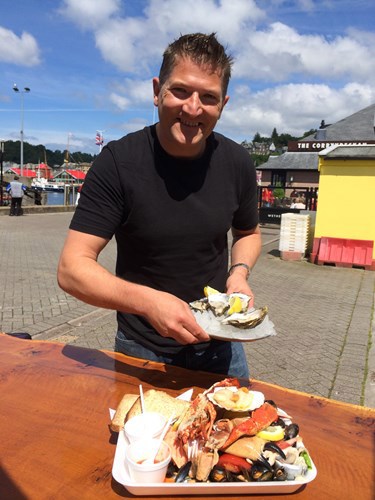 Impeccable sourcing
Let's kick off where all great seafood experiences begin – impeccable sourcing. Fancy the king of seafood, oysters? You're in luck in Argyll. The nutrient-rich, Gulf Stream-kissed local waters are ideal for cultivating oysters. You can tuck into Colonsay Oysters from the Hebrides, or Caledonian Oysters, from the gorgeous waters of Loch Creran just north of Oban, a family-run business that has been offering up their oysters since 1984.
Then, of course, there is the Loch Fyne Oyster Bar and Deli at the head of the eponymous loch. I've dined over a dozen times over the years and never had a bad meal. One visit sticks with me. A diner asked the waiter if any of the oysters and mussels were local. The waiter smiled and pointed, "some are from the beds just outside in Loch Fyne," much to the diner's obvious delight. Their shop is a must when passing by too.
For all manner of shellfish check out Iona Seafood, who fish the waters around Mull on their catamaran Amaranth. You can order and pick up on Iona and Mull. If it's smoked fish and shellfish that floats your boat check out Murray Smoked Products in Lochgilphead, Alba Seafood near Oban and Ritchie's of Rothesay on the Isle of Bute. I was in the latter's smokehouse in spring and loved how old school it felt. Seriously old - they've been smoking here since 1888!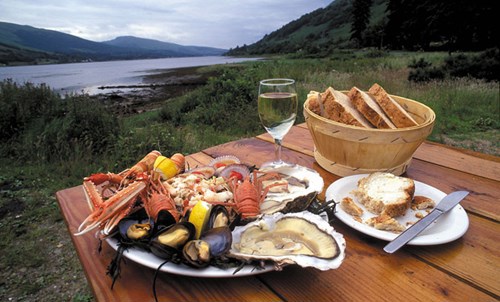 Rich waters
I'm a huge fan of Tobermory Fish Company on the Isle of Mull with their smoked trout; their new maple glazed smoked salmon is divine. It's worth going to Mull just to snare some, though they do online deliveries. Gigha Halibut need little introduction: their sustainably farmed halibut from the Hebrides stars on restaurant menus across Argyll and further afield. Their newer smoked halibut slices are delicious.
On the northeastern fringes of Kintyre is the Skipness Smokehouse and the accompanying Skipness Seafood Cabin. I've known the Smokehouse owners Tim and Fran James since they ran a restaurant on Arran. Smoked seafood has always been their passion and it's great to see them returning to their Kintyre roots. Tucking in at the off the beaten track cabin overlooking the castle and the shore is a sublime seafood experience – you can stock up on treats to take home at the Smokehous. Inverawe Fisheries are also sublime. East of Oban you can fish in their trout ponds, peruse their shop or savour the superb smoked salmon and trout. My girls love the walking trails.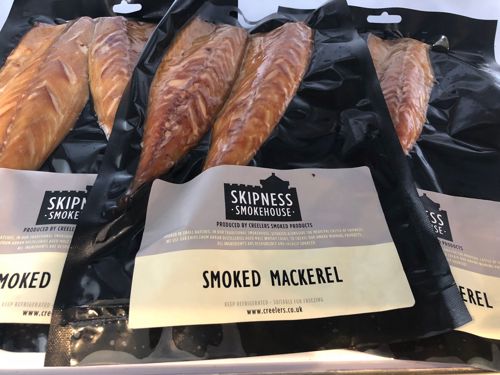 Eateries across Argyll
Argyll's Seafood Trail excels on the restaurant front. Oban's Waterfront Fishouse Restaurant is an old favourite of mine. Make sure to snare a coveted window seat to gaze out at the isles and ferries. Tuck into langoustines caught locally by 'Gordon the Prawn'. Just across the bay is fellow mainstay of the Oban dining scene Ee-Usk, with its big windows, wide selection of seafood and pier-front location. At Michelin-listed Etive chef-patron John McNulty brings out the best of the local seafood in the kitchen, while David Lapsley conjures up complementary crisp white wines.
South of Oban, Fisherman's Kitchen offers a unique 'dine by appointment-only' seafood experience. It's worth booking ahead to have chef Drew magic up some true culinary treats. He does seafood workshops and you can stay over. The Tayvallich Inn meanwhile lets the fresh seafood – much of it from the Sound of Jura – do the talking. Switching coast from the Atlantic over to Loch Fyne, Scotland's longest sea loch, we're welcomed by the seafood temple of Samphire in Inveraray. I thoroughly recommend their seafood stew, which bursts with Loch Duart salmon, cod, hake, cockles and mussels in a rich tomato and fennel broth, with garlic croutons, rouille, Mull cheddar and crusty bread. Argyll bouillabaisse!
Seafood delights
Back on the eastern fringes of Argyll is family-run Luss Seafood Bar. Devour salmon smoked in the village. And what a village it is: Luss, a picturesque charmer right on Loch Lomond' shores. Go traditional at the Luss Fish & Chip Co. This newcomer modestly claims to offer 'The best fish and chips in Scotland'. You'll have to decide for yourself. Cattle and Creel meanwhile down the road in Helensburgh on the Clyde brilliantly marry seafood and steak.
Into the isles the highlight at the Colonsay Pantry, on the eponymous isle, are their regular seafood nights, where you feast on a heaving platter of shellfish and smoked fish. The Boat House on Gigha is one of my favourite restaurants in Scotland. There is no better place to tuck into Gigha halibut as you gaze out over the white sand beach.
The Isle of Mull truly excels. In Tobermory, Café Fish is a real institution. I love that they could tell me exactly where each of their seafood dishes was sourced. The setting works too, right on the ferry pier. The Creel down in Fionnphort is a gloriously informal venue for the delight of king scallops and chips.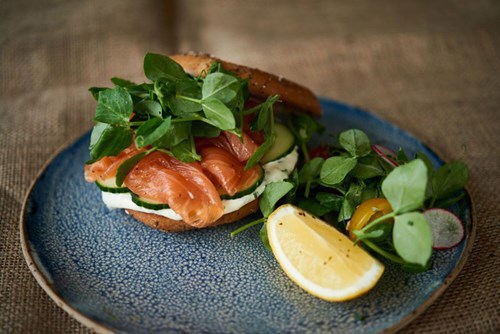 Experience it all with the locals
Combining a world-class seafood dinner with a great place to sleep is heaven in my book – here again the Seafood Trail delivers. On the Cowal Peninsula the Kilfinan Hotel is back with a bang under new owners and a new menu - seafood stars. Down the road I've watched Portavadie emerge from nothing under the mercurial Iain Jurgenson. In the early days Iain told me, "one day this will be a resort, a great place to really escape to, serving the freshest of Argyll produce". And now it firmly is a resort with myriad accommodation options, swimming pools, hot tubs and that great seafood Iain promised.
We hit the Atlantic at Loch Melfort Hotel, where Calum Ross and his wife Rachel, have worked similar wonders at their family-run hideaway. The views to the isles are second to none and when I was back last year Calum explained the philosophy behind their food: "We really are spoiled for choice in Argyll. Whether you want to savour boat-fresh shellfish, or a beautiful piece of perfectly cooked fish." Soon after chatting to him I was doing just that, enjoying their 'catch of the day'.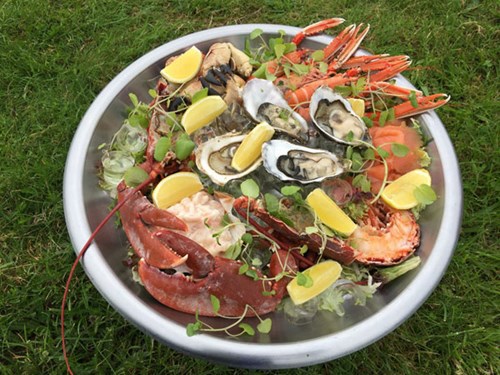 Further north we come to Port Appin, which sports two excellent hotels, both equipped with acclaimed restaurants where the seafood tastes like it has just been plucked from the water. It has. The Pierhouse Hotel is under new management, but seafood remains the focus at this Michelin-acclaimed oasis with views. Loch Leven mussels and Loch Linnhe langoustines star. Airds Hotel oozes character, set in an 18th-century inn. Their 'Seafood Heaven' package includes a whopping seven course seafood tasting menu!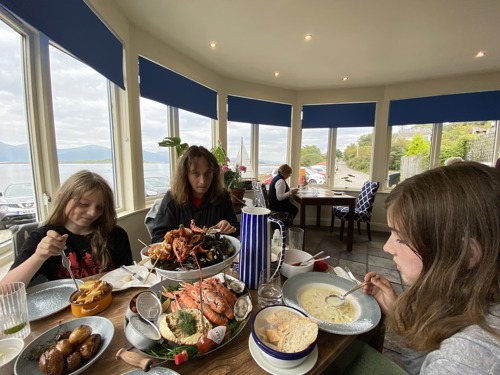 Into the isles an epic seafood platter awaits at the award-winning, plush Glenegedale House on Islay. When I was there last autumn owner Emma Clark explained that the seafood "comes straight from the boats to the plate" in just a matter of hours. It tasted like it too; sublime. The Colonsay Hotel reclines inland on Colonsay. How about a wild swim on one of the isle's starched white beaches before savouring your locally-landed seafood platter?
Over on Coll the Oliphant family have recently expanded the welcoming waterfront Coll Hotel with a spectacular extension designed by acclaimed Scottish architect William Tunnell, but the Coll lobster spaghetti remains one of my favourite seafood dishes in Scotland. They work closely with the local creel fishermen. Elsewhere on Coll at Tigh na Mara Guest House you can dine al fresco. How about Argyll scallop with pea and mint risotto?
World-class produce
Argyll is a glorious corner of Scotland awash with ocean and sea lochs, it's a joy to see where all that world-class produce comes from. Islay Sea Adventures offer new 'Seafood Special' boat trips with scallops plucked straight from the water to the bbq – you can have a go at fishing for your lunch too. Whether it's on a boat, in a restaurant, staying over at a hotel or visiting a producer, indulging in Argyll's Seafood Trail is one of the most delicious experiences you'll ever have.