8 reasons to be upstanding for the stones of Argyll's Kilmartin Glen
Kilmartin Glen rocks! This beautiful glen is one of Scotland's richest prehistoric landscapes. Within six miles of Kilmartin village there are over 350 ancient monuments, including cairns, standing stones and stones circles. Here are eight reasons to be upstanding for the stones of Argyll's Kilmartin Glen.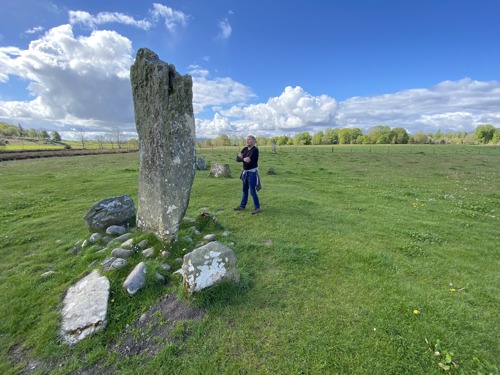 Travel writer Robin McKelvie is enchanted by Kilmartin Glen.
1. Stone circles at Temple Wood
Be blown away by not one but two stone circles at Temple Wood. They date back to around 3,000 BC and were in use for over 2,000 years, during the later Neolithic and early Bronze Age. The southern stone circle has 13 standing stones (originally there were 20) forming a ring about 12 metres in diameter. The northern circle is smaller, but equally fascinating. It seems it was originally built using timber posts.
2. But why?
Ponder the question: 'Why?' as you gaze at the five Nether Largie standing stones. They're huge (up to 2.80m in height) and are aligned on an approximately north east to south west axis. Someone went to a lot of effort.
3. Ballymeanoch
See the remains of what may once have been part of a larger complex. Ballymeanoch includes an avenue of two rows of standing stones with four and two stones each. The tallest stone is over four metres high.
4. The famous linear cemetery of burial cairns 
Be utterly amazed by the famous linear cemetery of burial cairns that run down the floor of the Kilmartin Glen and is linked to the standing stones, stone circles and rock art. There are five remaining cairns in the alignment, although there may originally have been more.
5. Rock Art
Check out the rock art! Kilmartin Glen has some of the most impressive cup and ring decorated rock surfaces in Scotland. At Temple Wood you'll find three of the stones marked with circles, spirals and cup-marks.
6. The capital of the Ancient Kingdom of Dalriada
Don't miss the rocky outcrop of Dunadd, the capital of the Ancient Kingdom of Dalriada. Legend has it that the first Kings of Scotland were crowned here. At the top you'll find a carved flat stone slab with a cup indentation in it, the purpose of which is unknown. There is also a footprint carved into the stone.
7. Kilmartin Museum
Kilmartin Museum is a cracking place to visit. It does a brilliant job of bringing the stones of Kilmartin Glen to life. The museum also has a rather fine café and there's an excellent shop selling crafts and specialist books.
8. Explore on foot
The great thing about Kilmartin Glen is it's easily explored on foot. Your journey will take you through many periods of history and prehistory. So be upstanding, grab those walking boots and follow in the footsteps of your ancestors!
Why not combine your trip to Kilmartin with visits to some of the other fascinating places in the Heart of Argyll? The handsome town of Inveraray with Inveraray Castle and Inveraray Jail is just a short drive away. Find out more about Inveraray.