Unearthing the secrets of Kilmartin Glen
Discover Kilmartin Glen with Robin McKelvie
I'll admit it. Until I researched the National Geographic Guide to Scotland I didn't know much about Kilmartin Glen and its unique and overarching importance to Scottish history. Today I'm utterly enchanted by this Argyll wonderland, one of the most remarkable prehistoric sites not just in Scotland, but in all of Europe. It's a time machine that makes you think about the ancient Celtic world and the kings who presided here. Far from being the barbarians of movie lore they reclined at Dunadd receiving courtiers from France and quaffing fine claret.
Maybe it's the prosaic name that hides Kilmartin Glen away from many people. Perhaps they should rename it "Kilmartin Neolithic Wonderland". It would be no exaggeration as here lies over five millennia of history, a landscape alive with mysterious chambered cairns, vaulting standing stones, sweeping stone circles and a slew of cup and ring marked rocks. This is indeed a Neolithic and Bronze Age treasure trove of global significance with over 350 ancient monuments within a six mile radius of the village.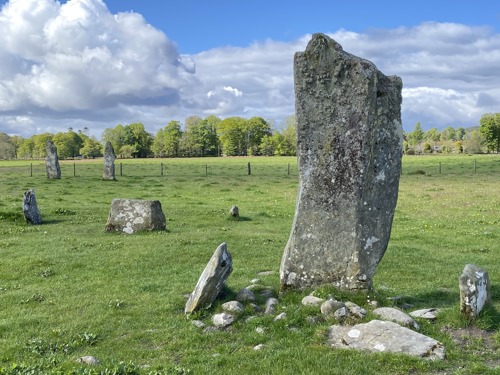 Starting our Kilmartin Glen Adventure
We begin our adventure in the wee village of Kilmartin, tucked on the road between Oban and Lochgilphead. This summer the revamped Kilmartin Museum opens. Kilmartin already blows me away – as Sir Tony Robinson said when he visited, "How many museums can you go to where you can examine a Bronze Age pot and look out of the window and see the burial mound where it came from?" The Museum was founded in 1997 by Rachel Butter and David Clough and their fine work was recognised in 2019 when just over half of the 22,000 artefacts in their care were awarded 'Nationally Significant Status' by Museums Galleries Scotland and an independent panel of experts. The new museum will allow them to show more exhibits in a more creative way and expand on their educational activities.
The first prehistoric sight we come to you can see from the village. Kilmartin Glebe Cairn is the northernmost of the cairns in the 'linear cemetery', a 2km-long series of Bronze Age chambered cairns sprinkled along Kilmartin Glen. It has been dated at between 3,500 and 5,000 years old, with an interior made up of a brace of cist chambers, where pottery and jewellery have been found. Over the years strong evidence of ritual activity here has been found.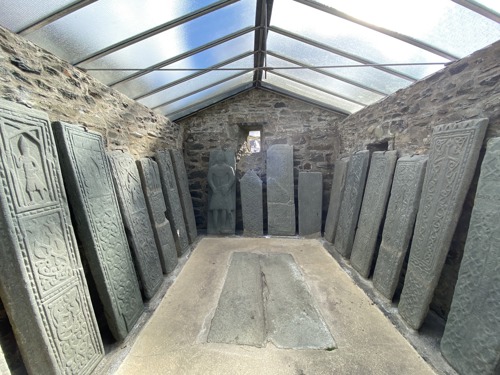 Pushing on we come to the Nether Largie North Cairn, which is said to be around 4,000-years-old. It has been remoulded over the chamber, entered from the top of the cairn by sliding open the trapdoor. Down the steps lies a carved slab, carved with axe heads, thought be the lasting resting place of a local luminary.  Investigations of the central cist revealed about 40 cup and ring marks on the capstone, suggesting re-use of an even older development at the site.
Also part of the 'linear cemetery' - you can trace via a track down the glen, indeed it's at its heart - is Nether Largie Mid Cairn. The cist on its south side features a faint carving of an axe head. The rare axe head carvings found in one of the cairn's two cists suggest another important figure was interred here. This is a great spot to appreciate the scale of the 'linear cemetery', peering up and down its length, imagining the ghosts of our ancestors in the shadows the stones cast across this ancient landscape.
We move on to the oldest of the cairns, which dates back well over 5,000 years. The Nether Largie South is another large stone that this time harbours a relatively spacious chambered tomb that you can delve inside. It was excavated back in 1864, with a collection of pottery, burnt bones and beakers found.
Ducking into Lady Glassary Wood we make for the standing stones that cast their unmistakable presence across the glen. Of the quintet of stones, four are aligned on two axis in the same direction as the 'linear cemetery'; the last one lies in the centre.
It's back into the world of cairns now and a fine one at that, which marks the southern extremity of Kilmartin Glen's 'linear cemetery'. Ri Cruin Cairn was stripped of its treasures centuries ago and badly damaged during agricultural works, but a cist at the far side has an opening displaying axe head carvings, again indicating an important figure was buried here.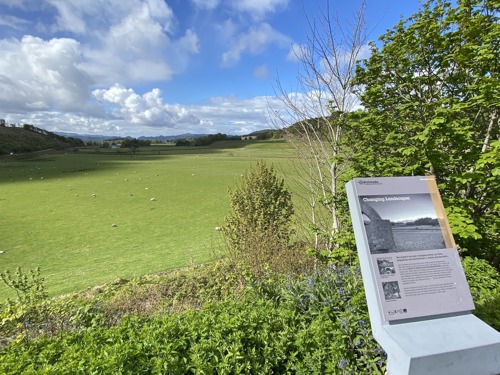 Kilmartin Standing Stones
We're delving now into Temple Wood, where there are two stone circles dating back over 5,000 years that we know precious little about, bar that it was most likely a place for ritual ceremonies and burial activity. One of the stones making up the circle is marked with a spiral, a symbol that ties it into Irish passage-grave art from just across the water to the west, reinforcing the historic connections in the Kingdom of Dalriada.
Our last cairn is by the Dunchragaig car park – you'll find a large cairn and standing stones, plus cup and ring carvings. The cairn burial mound is thought to be around 4,000 years old, but it is not reckoned to be part of the 'linear cemetery', itself a mystery. Its interior is different too: excavations have found the remains of up to 10 people in one cist, buried directly into the ground and capped with a large 3.8m stone. In 2021 the discovery of Scotland's earliest animal carvings – here in the interior - was announced, dated between 4,000 and 5,000-years-old, with carvings of two male red deer. You can even make out the antlers on both the deer.
We now come to those kings of Dalriada, the Celtic kingdom that spread its powerful wings across swathes of Scotland's west coast and across to the island of Ireland. They presided here in Kilmartin Glen for centuries before the embryonic nation of Scotland was created by the union (peaceful or otherwise) of the Picts and the Celts under King Kenneth McAlpin in 843.
The old fort of those omnipotent Celtic monarchs lay atop Dunadd, a grassy knoll just to the south of the main Kilmartin Glen site. It was here that they gazed out over their world. Argyll does not feel remote at all at this spot, but rather the fulcrum on which life turns. It was here they drank that fine wine, enjoyed their rich music and impressed visiting courtiers with their culture, as well as their power. Kilmartin Glen is a truly unmistakable site that offers a beguiling window into their world and that of our ancestors.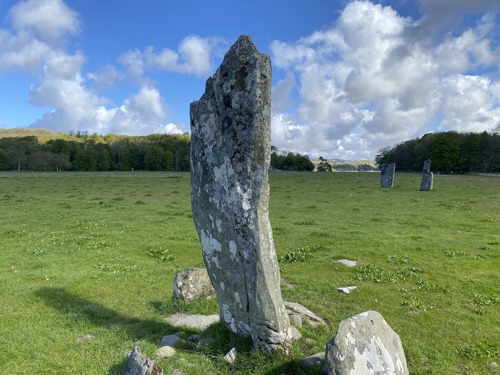 Join a Walking Tour
There are Kilmartin Guided Glen Walks every Wednesday at 1.20pm, from 5th April to 25th October 2023. These volunteer-led tours visit all the main sites and take between 2.5 and 3 hours, using paths and grassy fields, which can be muddy. Weatherproof clothing and footwear highly recommended. Free; donations welcome. Booking essential www.kilmartin.org/guided-walks.Unearthing the secrets of Kilmartin Glen