Explore the Arrochar Alps & the Cobbler
Arrochar sits at the head of Loch Long, surrounded by epic Highland scenery. It's one of the main gateways to Argyll Forest Park. The mountains clustered around the head of the loch are known as the Arrochar Alps, and they offer some of the best walking and climbing in Argyll. They include the famous Cobbler, one of Scotland's most iconic – and best loved – peaks. And all this is just an hour away from Glasgow.

The Arrochar Alps are so-called because their rocky, rugged character is said to resemble the Alps in miniature. These are certainly mountains with character and attract walkers and climbers from far and wide. The most popular hill within this group is Ben Arthur, commonly known as The Cobbler because of its distinctive rocky summit that's supposed to look like a cobbler bending over his last. At 884 metres (2,900ft) in height it's only a Corbett, but it has a hugely impressive summit and the views from the top are stunning. The most popular route up the Cobbler starts from the village of Succoth, just next to Arrochar, where there's a car park. Signs guide you to the edge of the forest and after that you're on open hill ground. Near the top, the path flattens out at a mountain pass and you can access several peaks from here. It's a good day's walking. You'll need about four to six hours to complete it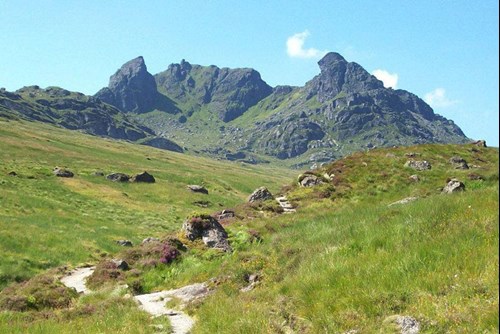 Bagging Munros
If you're bagging Munros (Scotland's mountains over 3,000 feet) then you'll find a good few peaks to tick off your list near Arrochar. Beinn Ime is the highest mountain in this mountain range, standing at 3,317 feet it. You can access it from the same route as the Cobbler. Beinn Narnain, just next door to the Cobbler, stands at 3,040 feet, and is much quieter than its neighbour. Ben Vane just makes it into Munro status at 3,002 feet. Ben Vorlich, Ben Lomond and Beinn Bhuidhe are all nearby too. All of these walks are for experienced walkers only. After your hike, head to Slanj Bar & Restaurant, which serves delicious food inside a renovated church. 
If you don't fancy taking on the big peaks, that are plenty of easier walks on offer near Arrochar. The Succoth Circuit is a short circular way-marked route along forest paths and tracks. It climbs above Loch Long for fabulous views. The Glen Loin Circuit is longer (11 miles) but fairly gentle, taking you through the glens and corries to the north of Arrochar.

Loch Lomond National Park
Arrochar is a great base from which to explore Cowal to the north and Loch Lomond to the south. Head north to the famous Rest & Be Thankful mountain pass, where for centuries travellers have taken a break and enjoyed the views of Glen Croe. You can see the the old road snaking its way through up the glen. Imagine the people and horses who have climbed it – looking forward to that rest at the top! Head south from Arrochar and you reach Tarbet on Loch Lomond. Arrochar and Tarbet are separated by a pass just 130 feet above sea level, which is low enough to drag boats from one body of water to the next. In 1263 a Viking raiding party hauled their longships two miles overland from Arrochar to Loch Lomond.

One of the great things about Arrochar is how easy it is to reach. This popular mountaineering base is just an hour from Glasgow. Arrochar also lies on the West Highland Line, so you can get there by train too. There are plenty of places to eat and drink in the village and a real variety of accommodation, from hotels to campsites.

With all this on offer, why make a break for the European Alps? Head for Arrochar instead and have your very own alpine adventure right here in Argyll. Find out more about things to see and do in Helensburgh & Loch Lomond and Dunoon & Cowal.