8 wonderful walks to spot wildlife in Cowal
Cowal is a brilliant place to spot Scottish wildlife. It's home to a huge variety of birds and beasts, including Scotland's BIG 5 - the red squirrel, the red deer, the common (aka harbour) seal, the otter and the golden eagle. There's no better way to experience Cowal's stunning landscape and spot its wonderful wildlife than on foot.
Discover the Cowal Peninsula on Foot
There are so many walks to choose from in Cowal, each offering the opportunity to spot some incredible wildlife. Here are some of our favourites.
Red deer – Glen Massan
One of the best places to see red deer in Cowal is Glen Massan just outside Dunoon. There is a fantastic hill walk through Glen Massan to Beinn Mhor, the highest hill in Cowal. Red deer are Britain's largest land animals, and the fourth biggest deer species in the world. They are a magnificent sight to behold among the majestic mountain scenery. It's not just red deer that you'll see from Beinn Mhor. Look out for soaring birds of prey. You'll also be treated to some stunning views from the summit, as well as the chance to experience the spectacular Massan Falls.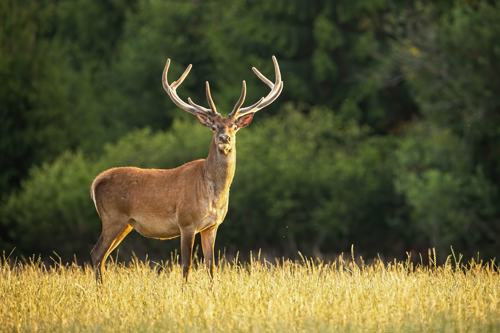 Caladh Harbour – Otters
Otters are a joy to see in the wild. The best time for an otter spot is dawn or dusk. Look for a V-shaped wake behind a small dog-like head. When they dive, watch for their tail lifting out of the water. Stay still and look for it resurfacing. The walk from Tighnabruaich along to Caladh Harbour – part of the Loch Lomond and Cowal Way – is a good one for spotting otters.  They can be seen right along the shoreline here. Sit quietly at Caladh Harbour – a beautiful, tranquil spot – and you might just be lucky enough to see an otter playing in the water.
Red squirrels – Glenbranter
Cowal is home to a healthy population of red squirrels. When you're walking in any of Cowal's woodland keep an eye out and you might be lucky enough to spot one. The best way to track down red squirrels is to scan the forest floor; a sure sign of their presence is chewed pinecones or split hazelnut shells. Glenbranter is a particularly good place to see red squirrels and there is a network of fantastic woodland walks here, including the Waterfall Trail, which takes you through the Allt Robuic gorge with its dramatic waterfalls, and the Broadleaves Trail which winds through native woodland. There's a wildlife hide where you can sit quietly while looking out for red squirrels. Glenbranter also has a red squirrel viewing camera, giving a fly-on-the-wall view of these lovely creatures.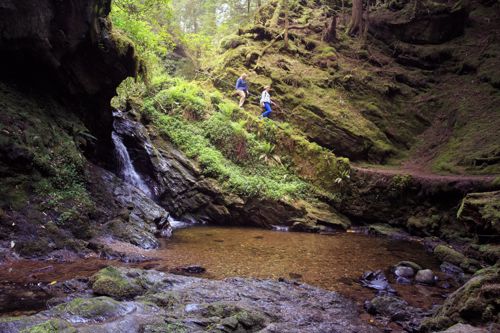 Sea birds – Holy Loch
The head of Holy Loch in Dunoon is a great place for bird watching. The River Echaig washes silt from the hills which collects as deep mudflats here. This creates a rich habitat for shellfish, marine worms, snails and fish and this veritable banquet attracts some wonderful waders! Take a short stroll through woodland to the bird hide at Broxwood, in Sandbank. It looks right over the mud flats, where you can spot curlew, oystercatcher, wigeon and red-breasted Merganser, among others. It's best to visit two hours before or after high tide.

Seals – Glenan
Glenan Wood near Portavadie on Argyll's Secret Coast is a brilliant place to spot wildlife. The unique habitat is rich in flora and fauna, with adders, otters, bats, deer, pine martens and water voles all make their homes here, as well as night jars, cuckoos, wood warblers and owls. The ancient oak woodland is full of rare lichens, moss, ferns and wild flowers thrive. There are some lovely walks within the woodland. Follow the coastal path through the wood to Glenan Bay and you may well see seals swimming close by in the water. They're inquisitive creatures, and they might follow you along the coastline. 
Pine Martens – Glendaruel
Pine Martens rely on sheltered, yet well-connected woodland habitats, foraging from a mix of tree species. Cowal, much of which is covered in forest, is a perfect habitat for them. They're shy animals, however, and hard to see in the wild. But if you're out and about walking in Cowal you might see evidence of these elusive creatures. If it's muddy, look out for their tracks. Like the badger, stoat, otter and mink, the pine marten has five toes. Other evidence to look for is their poo (scat). Pine marten poo looks a lot like fox poo, but doesn't smell as pungent. It's dark and heart shaped or slightly curled. If you really want to increase your chances of spotting a Pine Marten, then why not book a stay at Eco Nature Holidays in Glendaruel? They've had regular sightings from their wildlife hide.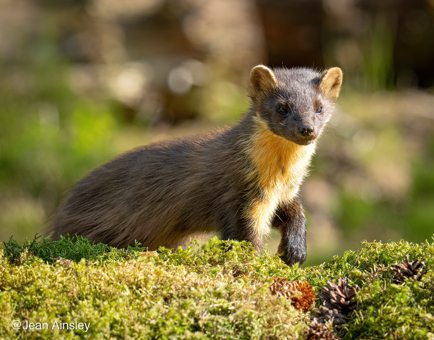 Eagles – Carry Point
Golden Eagles are the superstars of the Scottish uplands and it is an unforgettable experience to see one in the wild. Golden Eagles can be seen soaring high above the hills in Cowal. Look for fairly rectangular-shaped wings held in a shallow 'V' shape, with finger-like ends to the outermost feathers. Eagles are often easier to see from September to February outside the breeding season. A golden eagle has recently been spotted at Carry Farm, where it flew over from neighbouring Bute. There's a lovely circular walk around Carry Point. It's just a short stroll but there's plenty to see along the way, including magnificent views of Bute, Inchmarnock and Arran, a flock of Hebridean sheep and – if you're lucky – a Golden Eagle! It's perfect for children.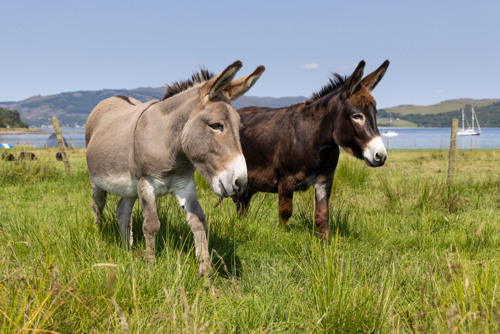 Curlew – Otter Ferry
Otter Bay at Otter Ferry is a lovely place for a seashore stroll. The huge Otter spit stretches right out into the loch and is always teeming with birdlife, including curlew, oystercatchers, gulls and herons. And if you get peckish, the wonderful Oystercatcher pub is right on the beach.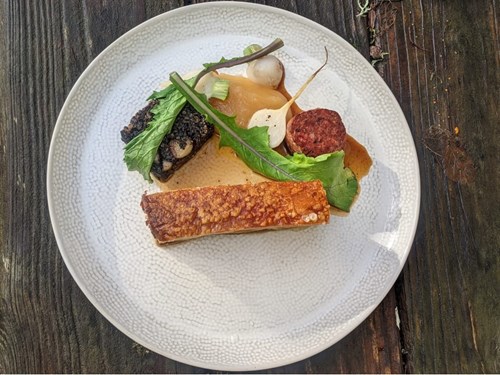 All wildlife photos by Peter Walsh of Eco Nature Holidays.