Bute Yard kicks of a beautiful renaissance
By Robin McKelvie
Bute Yard feels like it has been a long time coming, but walking into this remarkable new multi-use space on the Isle of Bute I can instantly see it's not a disappointment. Even on a Thursday there are locals enjoying a Bute-brewed beer at the long bar and kids running around the cavernous main hall. A man scoots behind me in a mobility scooter bound for the new coffee shack that has just opened in an old horse trailer. A couple from Yorkshire are here too with their dog; delighted to find local produce on sale in an oasis that works for all.
About Bute Yard
Bute Yard was a project the late Marquess of Bute, Johnny Dumfries, was enthusiastically behind and it's a shame he didn't live to see it completed: it is quite the legacy. This expansive indoor and outdoor multi-use venue is impressively open all year round – seriously handy for the odd dreich day that can sweep in on Bute. Think local. Think craft. Think artisan. That is the focus of Bute Yard, with myriad events already planned from concerts to weddings, and all stops in-between.
Over a delicious banana beer from the Bute Brew Co, I chat to Kay Robertson, general manager of Bute Yard, who is delighted:
We only opened in June and already Isle of Bute Distillery have moved in alongside the brewery. Then this week they have been joined outside by the Coffee and Chocolate horse box and the container offering smoked fish and delicious smoked cheese.
I try to take it all in as The Stones Roses, LCD Soundsystem and The Cure provide the musical backdrop.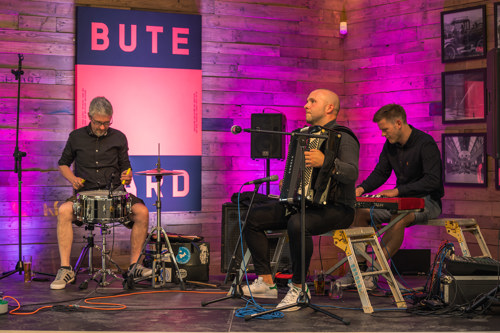 Discover the Framers & Crafts Market
I am here on a weekday, but wish it was the first Sunday of the month. That is when Bute Yard really bursts alive with a massive farmers and crafts market. "We've had 2,000 visitors on a single day for the market, which is remarkable given Bute's population is only around 7,000," explains Robertson. There are signs too that people are coming over from the mainland with the key attraction for them a visit to the market.
If you do come over for the market – and I thoroughly suggested you do for an experience that is part Bauhaus cool, part Barras stalls, but very much still Bute -  don't miss the town of Rothesay and an island that is undergoing something of a foodie renaissance. I hear talk of seaweed foragers and truffle cultivators – yes, truffles in the Firth of Clyde! The proof is in the monthly market stalls at Bute Yard as I learn that 16 of the 18 vendors at the last one were Bute-based.
It's hard to break away from Bute Yard. Before I do I savour a Black Forest Hot Chocolate from Coffee and Chocolate, and meet Erin Murphy, the epicurean entrepreneur behind fab Rothesay bolthole, The Gather Deli, which does as described, bringing a sweep of fantastic foodie goodies together for customers to enjoy, such as cured meats, olives, dressings and delicious glazes, with the deli's takeaway boxes popular too. Murphy is also heavily involved in setting up a chic new wine bar, opening in spring 2024, in a town that is rapidly changing for the better.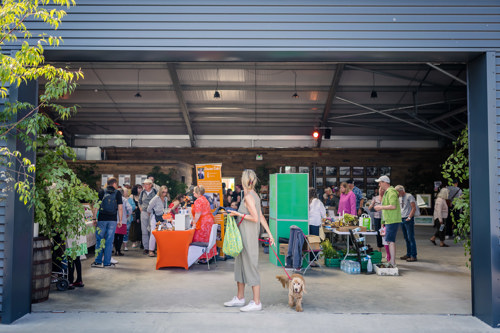 Bute Yard: Celebrating the foodie rebirth of Bute
Murphy is clearly proud of Bute Yard and her part in the recent foodie rebirth of Bute. "It's great to share so much great produce with people. Just today we were making a marrow chutney with fresh vegetables from our island," Murphy smiles, as she bounces her wee baby on her lap. "It's great to see so much going on and everyone coming together. For example two local restaurants, Kettledrum and Ambience, collaborated for Bute Yard. And our new wine bar is going to have our friends working together on it." Watch this space!
Discover Bute's Historical Venues
The Pavilion, Rothesay
Bute Yard was always meant as a stimulus for the island and is tying in with that as a community and local business space. I push beyond Bute Yard hoping to find positive ripples reaching beyond. I find them at The Pavilion, the hulking cultural edifice that dates back to 1938, but has laid a neglected eyesore for too long. I've heard it all before about its rebirth, but this time it looks like they are really cracking on with it, so this is another massive space to watch as long as they can keep the funding going. Donations are more than welcome.
Glenburn Hotel, Rothesay
Another rebirth that has struggled is the Glenburn Hotel. The last time I was on the island this old hydrotherapy retreat, first opened in 1892, was mired in trouble and closed. Today it has re-opened as a real resource for Bute, a game changer offering 121 rooms and great views from its palatial heights. It's a real throwback to the 'Doon the Watter' days on an island that today celebrates its past while reaching for the future.
Anchor Tavern, Port Bannatyne
Beyond Rothesay too I find more green shoots. Down south the Kingarth Hotel is open and popular again and I make a note to return to try out the superb venison I'm told about. To the north the is a community-owned Anchor Tavern in Port Bannatyne. Erin Murphy's dad tells me, "there is always a warm welcome and a guitar on hand for anyone wanting to come in and play a tune."
Bute Forest
Another community project is the impressive Bute Forest project. Not content with protecting and rejuvenating more indigenous tracts of forest, earlier this year they opened a brace of back-to-nature eco huts. They don't have electricity in a literally off-the-grid experience that immerses you in the forest.
Head to Bute!
Everywhere I go on the Isle of Bute I feel positivity spreading. There is Bute Bread School, the Spirit of Bute drinks emporium and the collaborative Bute Kitchen Initiative. There are bright and welcoming Airbnbs to bolster the more traditional B&Bs and guesthouses, plus a fast RIB operator offering boat trips around this remarkably beautiful island that straddles the Highland Boundary Fault.
Bute is booming, with Bute Yard at its beating community-focused heart.