Bute: where two wheels are definitely better than four!
Quiet roads, stunning scenery and great cafés – Bute is the perfect place for a two-wheeled mini-adventure. You'll be treated to magnificent coastal views as you pedal around this compact yet wonderfully diverse island. Stick to the roads, discover the mountain bike trails or take on the Serpentine – a grueling hill climb. Whether you're looking for a family cycle or a solo challenge, it's time to gear up for some great cycling on Bute.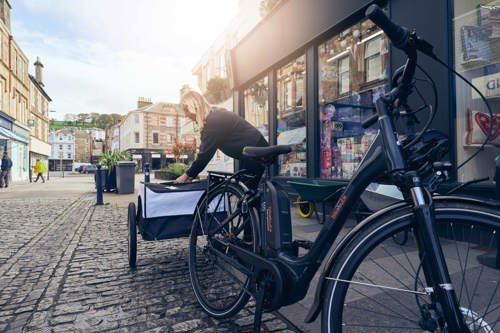 Things to See & Do on the Isle of Bute
Bute is known as Argyll's most accessible island, making it ideal for a pedal-powered day out. It's just 50 minutes from Glasgow by road or rail, followed by a 35-minute CalMac ferry crossing from Wemyss Bay to Rothesay. Another CalMac ferry runs from Colintraive to Rhubodach, taking less than five minutes. Bikes go free on the ferries. This island itself is just 15 miles long and fairly flat yet still offers up a wide range of cycling options.
Cycle the loop
One of the best ways to see if Bute is to cycle the 23-mile loop that takes you right around the island. The route is a stunner, with glorious views to the Kyles of Bute, Arran and beyond. There are loads of interesting things to see along the way, including Bute's beautiful beaches and stunning Mount Stuart. It's always possible to shorten the loop too.
Rothesay to Ettrick Bay
Rothesay to Ettrick Bay is a great day's cycling for all the family. Explore Bute's wild west coast with this 10-mile route. You'll be treated to stunning views of Arran as you cycle through Bute's rolling farmland.  Ettrick Bay itself has a lovely sandy beach with a wonderful café serving up delicious home-made cakes. The section from Port Bannatyne to Ettrick Bay follows the old tramline. It's off-road so is perfect for kids. Fancy a slightly longer ride? You can extend this route to take in Scalspsie Bay which is home to a seal colony.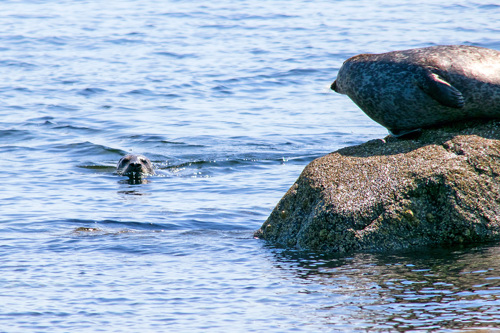 Rothesay to Kingarth via Mount Stuart
If you would rather explore the south of the island, then try the loop from Rothesay to Kingarth via Mount Stuart, which is around 11 miles long. The Kingarth Hotel makes a great refreshment stop and it's worth taking a quick detour into Kilchattan Bay.
Looking for a challenge?
If you enjoy a lung-busting challenge, then don't miss the opportunity to take on the Serpentine. This technical hill climb sits just behind the main square in Rothesay. The route is short but strenuous, and is rated a Category 2 climb with no fewer that 14 hairpin bends. The record is 1 minute 57 seconds but any time under three minutes is something to be proud of!
For off-road mountain biking try the mountain bike trails in the forest along by Loch Fad or make your way to Bute Forest at the north of the island near Rhubodach. Staying on the island? Book a weekend at the new Charcoal Huts located directly in Bute Forest.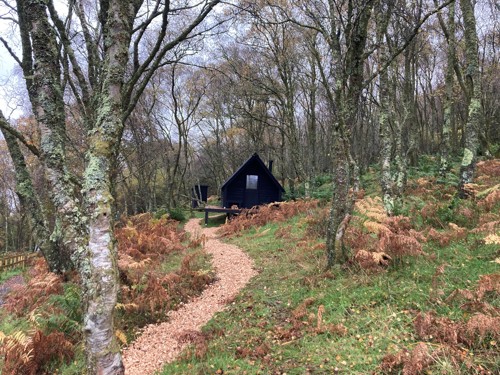 Try the Five Ferries Cycling Route
If you're looking for a bigger cycling challenge, why not try the Five Ferries? This unique circular route takes in five short ferry journeys and some of Argyll's most stunning peninsulas and sea lochs, as well as Bute. You can travel from Ardrossan on the Scottish mainland to Arran to the Kintyre Peninsula to the Cowal Peninsula to Bute and then back to the mainland.
With such great cycling on offer it's no surprise that Bute has a vibrant cycling scene, much of it centred around the Bute Wheelers. This active cycling club organises weekly rides, as well as the Rothesay Weekend, a hugely popular annual cycling festival that attracts cyclists from across the country. The festival kicks off with the Serpentine Hill Climb on Saturday morning when riders pit themselves against this infamous incline. Saturday also sees a 2-up time trial around the island and a CycloCross race around St. Georges Park Rothesay. On Sunday, there's a 10-mile time trial and a road race around the island. 
Getting to Bute
Bute is considered the most accessible island off the west coast of Scotland. It's just 50 minutes away from Glasgow by road or rail, followed by a 35-minute CalMac ferry crossing from Wemyss Bay to Rothesay. Another CalMac ferry runs from Colintraive to Rhubodach, taking less than five minutes. 
Staying on Bute
There is a variety of accommodation available on Bute. Wether you'd like to stay in Rothensay town at Boat House Super Suite, enjoy the coastal views from Seaview Cottage or enjoy the luxurious space of the Coach House at Steward Hall - You'll find your perfect accommodation on Bute! 
Looking for something more unique? Stay at the Charcoal Huts in Bute Forest to truly immerse yourself in the quiet and peaceful woodland landscape. 
So with all these options from a gentle spin with the family, to a lycra-clad, competitive Cat 2 climb, what are you waiting for? Make a bee-line for Bute for some bicycling bliss!