By Water or Land: The Best Mull Wildlife Tours
The Hebridean island of Mull is one of the UK's top wildlife watching destinations. Mull's spectacular hills, moors and coastline are home to some of Scotland's most iconic wild animal and birds, including eagles, otters, seals, deer, basking sharks and porpoises. Plus, there are some great local operators on Mull offering guided wildlife expeditions and wildlife boat trips.
Wildlife Tours on the Isle of Mull
Discover the natural beauty and abundance of wildlife as you explore Mull by land or sea with a wildlife tour.
Take to the sea
The waters off the coast of Mull offer fabulous opportunities for spotting wildlife. Whales, basking sharks, otters, sea birds and more can all be seen. The most common whale seen around here is the minke whale, but there are occasional sightings of humpback whale, fin whale and orca too. Your best chance of spotting whales is to join a boat trip dedicated to boat trip. Turus Mara provide wildlife watching boat tours from Ulva on Mull to Staffa and the Treshnish Isles, getting you close to a variety of sea birds and marine life. Mull's coastline is also a basking shark hot spot. Basking Shark Scotland offers basking shark boat trips throughout the summer. For longer cruise holidays, take a look at St Hilda's Sea Adventures.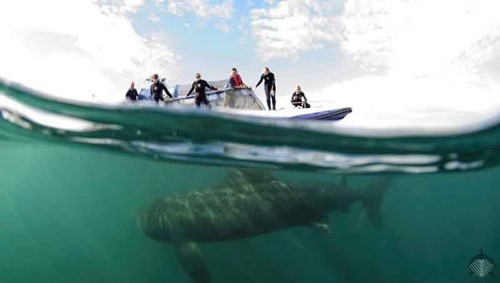 On the land
There is a host of experienced guides on Mull who can help you get closer to the island's wildlife with a land-based tour. Hop on a minibus for a tour of the island, looking out for scenery, wildlife and geological features along the way.
Isle of Mull Wildlife Expeditions has been blazing a trail in wildlife watching for over thirty years. Led by David Woodhouse, one of Scotland's top wildlife guides, the trips are designed to maximise your chances of seeing golden eagles, otters, white tailed sea eagles, porpoise, hen harriers and a whole host of fascinating Hebridean wildlife.
Another great option is Island Encounters, which has been running wildlife tours on Mull for 25 years. Join a daily tour, bespoke day out or an all-inclusive short break on the Ross of Mull. Last year, the white-tailed eagle was spotted on on every Island Encounters trip!
Eagle island
Mull has birds of prey in abundance. Hen Harriers, short eared owls, kestrels, merlins and peregrines can all be seen here. But for many visitors, the highlight is the eagles. You have a good chance of seeing white-tailed eagles and golden eagles on a visit to Mull. Spotting a white-tailed eagle, also called the sea eagle, is an unforgettable experience. Weighing up to 15lb and with an eight-foot wing span, it's the UK's largest bird of prey and the fourth largest eagle in the world.
You can join eagle experts on a ranger-led visit with Mull Eagle Watch. The experience lasts around two hours, and is a superb way to learn more about Mull's eagles. The hides are also well placed to watch for other birds of prey. Guided visits run from April to September. You'll need to book ahead through the VisitScotland office in Craignure by calling 01680 812556. Or how about checking out the eagles from the sea? Take a boat trip to see these magnificent creatures. Watch them swoop down to pluck fish from the surface of the sea from as near as 25ft from the boat.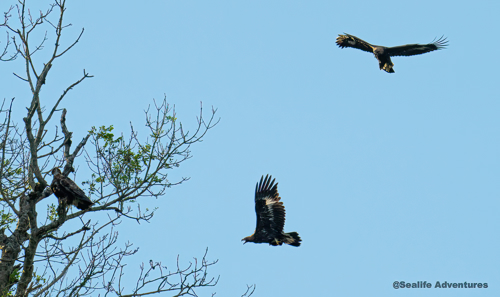 Head to the Aquarium
You don't need to go on an organised trip to see Mull's magnificent wildlife. When you're out and about exploring the island by boat, foot or bike, keep your eyes peeled and who knows what you might spot. Or how about visiting Mull Aquarium in Tobermory? Kids will love the seasonal displays of local marine life. The displays change every few weeks, when the creatures are returned to the sea!
Whilst on Mull: Places to Eat & Stay
The Isle of Mull has a fantastic variety of places to eat, drink and stay. The Ninth Wave Restuarant should be on the list of every foodie. The desitnation restaurant's approach is based on seasonality, using the croft's own home-grown produce, fresh-caught seafood and organic meats from the island. If you're looking for a sweet treat, make sure to drop by the Little Bespoke Bakery on your way to Tobermory.
For a unique place to stay, head to Treshnish Cottages located in the beautiful Haunn region of the island. Whether you'd like to stay at a cottage close to the farmhouse or in the more remote Shepherd's Hut, the peace and quiet at Treshnish will leave you feeling relaxed and recharged.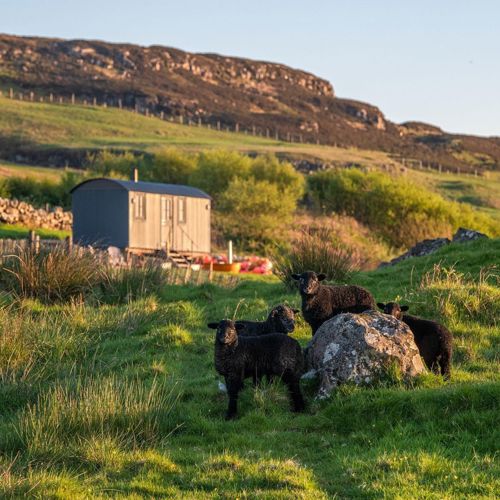 If you're in need of some sustenance after a day's walking, check out the Mull and Iona Food Trail for great places to eat great local produce.