Take the three Isles tour!
Go island hopping to Mull, Iona and Staffa
You don't have to head out to far-flung places to enjoy a Hebridean island adventure in Argyll & the Isles. The Islands of Mull, Iona and Staffa are all within day-trip distance of Oban and can easily be visited together. Each of these magical islands offers something different, from the sandy beaches of Mull to the fascinating history of Iona, to the basalt caves of Staffa. The CalMac ferry from Oban to Mull takes around 40 minutes. From Mull, you can catch the ferry to Iona and join a boat trip to Staffa. The boat journeys are part of the pleasure of the trip. Look out for wildlife, including dolphins, basking sharks and sea eagles, as you travel between these three isles.
Alternatively, you can book the three isle tour operated by West Coast Tours, departing directly from Oban. Sit back and relax whilst an expert guide takes you on a tour of the three island.
Mull
For many visitors to the West Coast of Scotland, a trip to Mull is a highlight of their holiday. This wonderful island has everything: great beaches, magnificent castles and vibrant cultural life. If you love getting active in the great outdoors you're in for a treat in Mull, with great walking, cycling and kayaking on offer. Mull also has Ben More, the only Munro on the Inner Hebrides. Situated in the south of the island, above the shores of Loch Na Keal, it's a grand, rocky mountain and a fantastic viewpoint for scores of islands dotted around the Minches. For a spot of shopping and eating, head to Tobermory, where gaily-painted houses cluster around a sheltered bay. Don't miss Duart Castle, the 13-century fortress perched on a rocky outcrop, or the white-tailed eagles at Loch Frisa.
Iona
Dreamy Iona sits off the southwestern-most tip of Mull. The passenger-only ferry from Fionnphort on Mull to Iona takes just 10 minutes. The island is only 1.5 miles wide by 3 miles long, so it's small enough to explore on foot. Set out to discover beautiful bays, panoramic views and historic sites. Iona is the birthplace of Celtic Christianity. Iona Abbey, just a short walk from the ferry, is one of Scotland's most historic and sacred places. The abbey was founded by St Columba and his Irish followers and became the heart of the early Scottish church. The Augustinian Nunnery is an equally peaceful place. Afterwards, take a stroll to St Columba's Bay at the south end of Iona. It's believed to be the place where St Columba and his fellow monks landed on Iona in 563.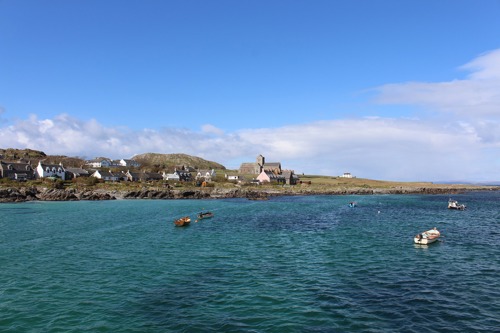 Staffa
Staffa lies five miles southwest of Mull. There isn't a ferry service, but a number of tour operators offer boat trips, which is a fabulous experience. This dramatic, uninhabited island is best known for its magnificent basalt columns and spectacular sea caves. Go ashore to see the famous Fingal's Cave, also known as An Uamh Binn (Cave of Melody), which inspired Mendelssohn's Hebrides Overture. Boat trips to Staffa sail from both Fionnphort and Ulva Ferry.
Ulva
Make it a four isles tour by catching the ferry from Mull to Ulva. The little ferry runs on demand from Ulva Ferry – you summon it by uncovering the red panel at the ferry station – and it takes just a couple of minutes. The boat will drop you at The Ulva Boathouse, a licensed tearoom specialising in fresh local shellfish. You can travel to Ulva Ferry by public transport from Craignure on the Ulva Ferry Community Bus.
Follow the Mull & Iona Food Trail
The islands of Mull, Iona and Ulva offer an amazing range of local food, from the freshest seafood to home-produced beef, lamb and pork fed on the lush, herb-filled grasses. Follow the Mull and Iona Food Trail to discover all the great places to eat and drink while you explore these fantastic islands.