Four places in Argyll & the Isles that are great for star gazing
There's very little light pollution in Argyll, making it one of the best places in Scotland to watch the night sky. This time of the year is particularly good for stargazing in Argyll. Long winter nights can combine with an absence of cloud cover to create near perfect viewing conditions, revealing a canopy of stars that will take your breath away.
Places to stargaze in Argyll & the Isles
You can spot satellites, meteors, meteor showers, comets and even meteorites, or you can simply gaze at the moon. You may even be lucky enough to see the ultimate night-time illumination, the Northern Lights or Aurora Borealis. So this winter, wrap up, pack a flask of something warm and head outside to experience Argyll's incredible dark skies. Here are our four top star gazing spots.
1. The Island of Coll
With its sparse population, no street lights and geographic isolation, Coll has some of the darkest skies in Europe. And that makes for truly spectacular star gazing. The island has been awarded official Dark Sky Status by the International Dark Sky Association. There are three official night sky viewing sites on Coll: one at Totronald RSPB Reserve, one at Cliad football pitch, which offers a large open space with few obstacles for a complete 360° view of the sky, and one overlooking Ariangour village. But with no streetlights on the island, pretty much anywhere on Coll is good for star gazing.

A great way to experience Coll's dark skies is to take part in a star-gazing weekend on the island. Coll Bunkhouse and Cosmos Planetarium have teamed up to offer Coll & the Cosmos, an incredible stargazing adventure on Coll in March and October.
2. Kintyre
The Kintyre peninsula is another superb place to take in the night skies. The west coast of this remote area is shielded from the light pollution created in Glasgow and Ayrshire by the hills that run down the spine of the peninsula and further east by the isle of Arran. Kintyre's west coast has been designated a Milky Way area by the UK Dark Sky Discovery partnership, meaning the Milky Way is visible to the naked eye.

The area has an active stargazing scene, with West Kintyre Stargazers organising stargazing events at the Argyll Hotel at Bellochantuy throughout the winter months. The hotel's outdoor viewing area offers uninterrupted panoramic views of the night sky out over the western Atlantic.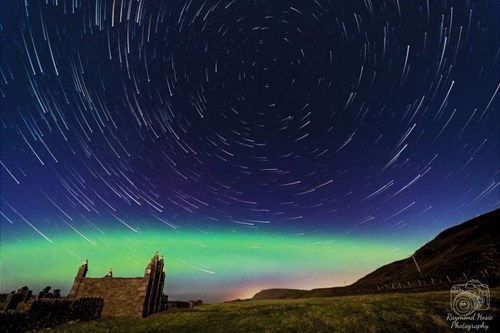 3. Cowal
Cowal's 'Secret Coast' is an undiscovered part of Argyll, bordered by Loch Fyne and the Kyles of Bute. Although wild and remote, it's just two hours' drive from Glasgow. If you live in the central belt of Scotland and fancy a start-gazing weekend, this is a great option. The area is on the map of Europe marked as the boundary for 'total darkness'. There's very little light pollution and the stars are clearly seen. Argyll's Secret Coast has some lovely beaches, which are perfect for a starry stroll. Walk around Carry Point, take a wander to Ostel Bay or head over to Otter Bay at Otter Ferry where you can warm up by the fire in the lovely Oystercatcher Pub & Restaurant. Or for an unforgettable experience, how about star gazing from the infinity pool at Portavadie, Loch Fyne?
4. Isle of Eriska
The tiny island of Eriska near Oban is home to the Isle of Eriska Hotel & Spa. So if you fancy a luxurious star-gazing break, this could be the option for you! Eriska itself is a 300-acre paradise, where you can wander freely and enjoy spectacular dark skies. The island's dramatic pier is a great star-gazing as a location – it's far enough from the hotel to allow for total darkness but near enough that you can easily (with a torch!) find your way back. In the winter months, the Northern Lights can also be spotted from this here.
Looking for more spots to go stargazing? Head to our dark skies map to plan your next adventure to Argyll & the Isles.