Why Tighnabruaich is Cowal's best kept secret!
Tighnabruaich is a hidden gem tucked away on the southwest tip of the Cowal Peninsula in Argyll. Bordered by two beautiful stretches of water, the Kyles of Bute and Loch Fyne, it's an area of stunning natural beauty, with hills, glens, a rugged coastline, sandy beaches, clear waters and oak woodlands.
You won't find crowds of tourists here. What you will find is fantastic seafood, welcoming pubs, a wide range of holiday accommodations, a vibrant arts scene, breathtaking scenery, ancient sites and loads of outdoor activities.
Disover Cowal
Tighnabruaich is certainly a scenic place, with its villas, Victorian pier (still visited by the PS Waverley during the summer), palm trees and glorious views of the Kyles of Bute.
The village also has a bustling main street with an art gallery, shops and cafés, which feature locally sourced and foraged food.
Get Active in Tighnabruaich
Tighnabruaich is a village of two sports. It's home to Kyles Athletic, one of Scotland's most successful shinty clubs. If you're here during the shinty season, try and catch one of their games – it's a fast and furious sporting spectacle. Tighnabruaich is also steeped in sailing history. It was a boat-building centre in the early 20th century. Local men, Chester and Duncan Currie skippered and crewed J-Class yachts including Endeavour and Velsheda, built in the 1930s and still racing today.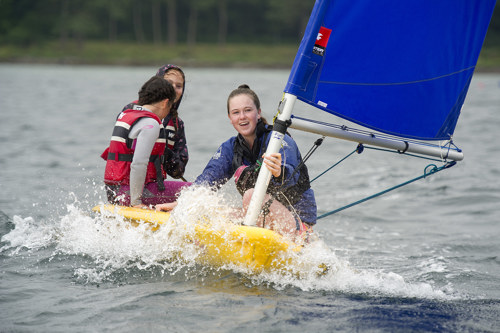 The Tighnabruaich sailing school runs courses for all levels.
Today Tighnabruaich remains a popular sailing destination, with world-class sailing waters and marine facilities. The local hotels all have dedicated visitors' moorings and Portavadie, with its 'Five Gold Anchor' award-winning marina, is just around the coast. Tighnabruaich also has a new pontoon for dinghies and tenders, so sailors can come ashore and enjoy everything the village has to offer. And if you fancy learning the ropes, the long-established Tighnabruaich Sailing School runs dinghy sailing courses for all levels. 
Discover the Loch Lomond and Cowal Way
If you'd rather keep your feet firmly on shore, one of the best ways to enjoy the scenery of Argyll's Secret Coast is on foot, and there are some lovely marked coastal and forest walks. The most famous are the long-distance Loch Lomond and Cowal Way. The quiet country roads and forest tracks are great for cycling and mountain biking too. The coastline itself is rugged and varied. You can while away many a happy hour pottering around the shore, exploring rock pools and beach combing. It's well worth making a special trip to Ostel Bay, a huge crescent-shaped sweep of sand. Another glorious spot is Otter Bay, which must have one of the best sunset views in the west. Here, the wonderful Oystercatcher sits right on the beach and is ideal for watching birdlife with a chilled beer.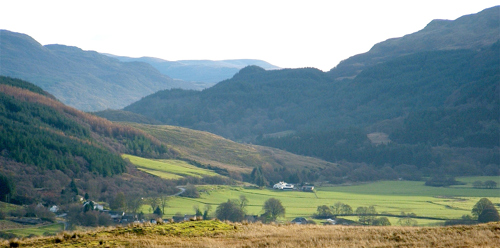 Enjoy the thriving art scene

Tighnabruaich's landscape and light have inspired generations of artists and there's a thriving art scene. Tighnabruaich Gallery, with its ever-changing exhibitions of Scottish art, is a 'must visit' for art lovers.
Another great stop is the Hayshed Gallery at Carry Farm, which sells locally produced ceramics and textiles. Whilst at the gallery, drop by the Argyll Botany Company next door and take in the wonderful smells of their various natural skincare products.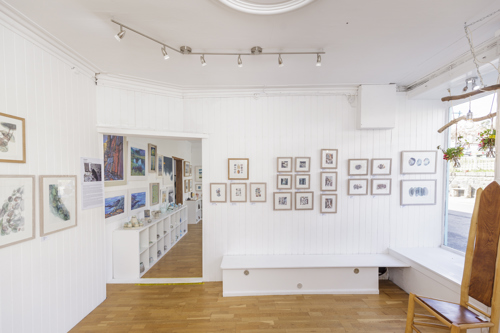 Grab a bite at one of many local restaurants & cafes
You'll find fabulous restaurants and cafés too. Try the Royal An Lochan for mussels, langoustines and scallops plucked straight from the loch. And for fine dining in truly stunning surroundings, head to Portavadie, which is also home to the stunning new Spa & Leisure Experience. The Kames Hotel is a great place to enjoy local produce cooked to perfection. And if you fancy staying over, there are plenty of places to stay to suit all budgets and tastes, from camping on the beach to five-star luxury apartments.
Looking for something sweet? Visit the Five West for a homemade piece of cake and a cup of coffee. Alternatively you could also head a little out of town to visit the Argyll Coffee Roaster cafe at the Hayshed Gallery, which serves you freshly roasted local coffee.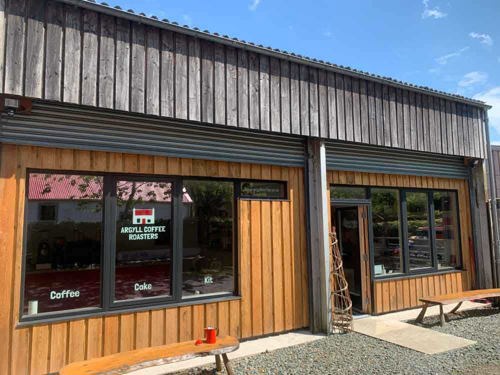 How to get to Tighnabruaich from Glasgow
You can get to Tighnabruaich easily from Glasgow either by car or bus. Here's how:
Option 1 via the Dunoon ferry
Take the A8 to Gourock, then Western Ferries from McInroy's Point to Hunter's Quay near Dunoon. Jump off the ferry and grab a quick coffee at Coast Coffee by the pier before heading towards Tighnabruaich. Turn right on to A815, then shortly after leaving the 40mph area, turn right on B836, a single track road with passing places. After about 17 miles, turn right on A886, then left on A8003 towards Tighnabruaich.
The last 15 minutes of your journey are spectacular as you climb over the mountains and enjoy the views of the Kyles of Bute (and the peninsula you will run around!) before you descend into Tighnabruaich.
Option 2 by bus
National coach services run from cities and towns across Scotland to Dunoon where you can link to local services that will take you to Argyll's Secret Coast. National coach services also run to Tarbert, where you can catch a ferry to Portavadie. Argyll and Bute Council offer detailed public transport guides which include local bus companies that operate across the region. West Coast Motors operates a bus service between Dunoon and Tighnabruaich, but check the times as there are only a few a day.
The secret's out. Well, it's hard to keep a secret, especially when the secret's this good! So, if you want to avoid the tourist crowds and see some of the most stunning scenery on the west coast of Scotland, make a break for Tighnabruaich. Just don't tell everyone…