Visit Gigha on foot or with paddle or peddle power
Sitting three miles west of Kintyre, community-owned Gigha is an enchanting small island. It's the most southerly and one of the most beautiful of the Hebridean Islands, famed for its white sandy bays. Just seven miles long by a mile and a half wide, it's easily explored by bike, by foot or, from the sea, by kayak. What's more, it's perfect for a day trip. Leave the car behind and discover Gigha's beautiful beaches, fascinating history and wonderful flora using foot, paddle or pedal power!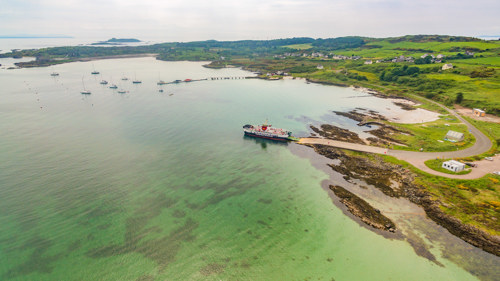 Discover Gigha
By foot
Gigha offers fabulous walking. You'll be treated to stunning views in every direction as you explore the island by foot. Pick up the 'Walk Gigha' booklet from Gigha Stores or Gigha Hotel. It describes in detail (with maps) the 12 designated off-road walks. Many of the walks start and end at the centre of the island, not far from where the ferry comes in, so are perfect for foot passengers visiting for a day. The walks vary in length, from half a mile to three miles, and several can be linked to give a whole day's walking. Highlights include a walk to the 'spouting cave', a natural rocky blowhole on the southern point of Gigha, a stroll to the ancient standing stones of Bodach and Cailleach and a ramble to the secluded coves of Gallochoille.

The highest hill on the island is Creag Bhan in the northern part of the island. Gigha is home to the world-famous Achamore Gardens. With around 50 acres of natural woodlands, a large walled garden, pond area and many rare and interesting plants and trees, it's another great place for a walk.
By bike
If you don't have long to spend on Gigha then cycling is the best way to see the island. There's just one road leading from one end of the island to the other with small tracks leading off it. The road's fairly flat and virtually traffic free, so it's ideal for a gentle cycle that all the family can enjoy. You can hire bikes at the Gigha Boats Activity Centre. They can also be fitted with tag-alongs, safety seats and a canopy buggy for toddlers and children. Pack a picnic and you have everything you need for a pedal-powered island adventure!
By paddle
The main attractions on Gigha – aside from the peace, quiet and wildlife – are the white sandy beaches that dot the coastline. And what better way to discover them than by boat? The Gigha Boats Activity Centre has got all sorts of boats for hire, including single and double 'sit on top' sea kayaks, paddle boards, a rowing boat and a pedalo. You can also hire a range of wetsuits, snorkels, masks and fins. Staff are on hand to demonstrate the equipment and monitor activities from a safety launch. Look out for bottlenose dolphins, otters and seals as you explore the waters around Gigha.
Getting there
Gigha is just a short ferry journey from Tayinloan on Kintyre. The ferry drops you at the island's only village, Ardminish, where you'll find the post office, shop and other amenities. There are several accommodation options, including the Gigha Hotel, self-catering cottages, B&Bs and camping. The Gigha Hotel and the Boathouse Café Bar are both great places to sample the local seafood.