How to enjoy Jura by ferry, foot and bike
Mountainous and sparsely populated, Jura is a fabulous place to explore on foot or by bike. It's the eighth largest Scottish island and yet only around 200 people live here. Cyclists can enjoy the quiet road (there's only one!) while intrepid walkers can explore the explore the wild west coast. What's more, it's easy to leave your car behind when you visit Jura. Bikes go free on the ferry from Islay to Jura ​as well as on the passenger-only Jura Passenger Ferry from Tayvallich on mainland Argyll. If you fancy an island adventure, why not experience Jura by ferry, foot and bike?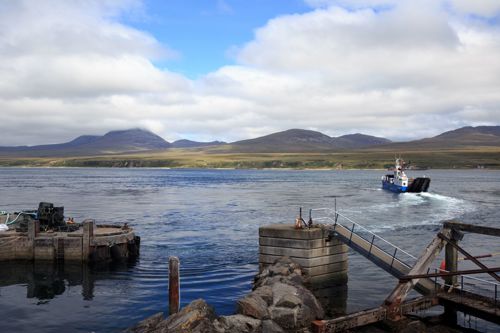 The Ferries
The Jura Passenger Ferry - or Shannick - is a Stormforce 11 RIB that can take up to twelve passengers. It operates from Tayvallich, an idyllic village at the head of Loch Sween. There's some fabulous walking and cycling in the area, and the Tayvallich Inn is an excellent place to try local seafood. The crossing to Jura takes about an hour, and what a journey it is! The boat's hard top means you'll stay warm and dry, while wrap-around windows allow you sit back and enjoy the views. The scenery is epic and you're likely to see plenty of wildlife, including dolphins, porpoises and even sea eagles. As you head down Loch Sween, look out for the seal colonies and keep your eyes peeled for otters. You'll land in Craighouse, the main settlement on Jura, where you'll find the Jura Hotel, Jura Distillery and Jura Stores. This ferry service operates from Easter to the end of September.
For the other ferry option, you'll first need to get to Islay. The ferry from from Port Askaig on Islay to Feolin on Jura crosses the Sound of Jura, the half-mile wide stretch of water separating the islands. of Jura and Islay. The journey takes about five minutes. Islay itself is a stunning island, with fabulous cycling and walking on offer.
Cycling
With little traffic and lots to see, cycling is the ideal way to get around Jura. Jura's only road, the single track 'Long Road', starts at Feolin. It heads east to Craighouse and then north up the east coast of the island, passing the communities of Knockrome, Ardfernal, Lagg, Tarbert and Ardlussa. The public road officially ends about three miles beyond Ardlussa Bay. It then becomes a private track and four and half miles along it you'll find Barnhill House, where George Orwell worked on his classic novel, 1984. You can continue cycling along this track past Barnhill House, but to visit the very northern end of the island you'll have to get off your bike and walk. The views over the Gulf of Corryvreckan and its infamous whirlpool to the uninhabited island of Scarba are well worth the effort.
You can then follow the road back to Craighouse to catch the ferry back to Tayvallich or carry on around to Feolin to get the ferry back to Islay. If you're feeling adventurous you could even do a circular cycling route from Tayvallich to Jura to Islay to Kintyre before riding up though Knapdale back to Tayvallich. If you arrive at Craighouse and fancy a short cycle, it's a gentle two-mile pedal around Small Isles Bay to the beautiful Corran Sands.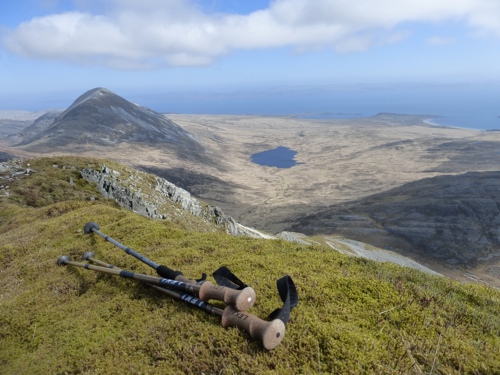 Walking
Jura offers some fabulous walking, from short beach rambles to epic hill climbs. The west coast is almost totally deserted - there are no roads, only one house and miles and miles of unspoilt landscape. The Paps of Jura, three cone-shaped scree-clad mountains, dominate the island landscape and can be seen from much of the surrounding area.
The Paps of Jura offer fantastic, if challenging, walking. Scaling all three Paps must be one of the classic Scottish hill walks to tick off your list! The full round is about 16km, but give yourself a good nine to ten hours to complete it. Walking the Paps is tough going, with steep mountain terrain, loose scree and boulders and no continuous paths or way-marking. You need to be an experienced walker with good map-reading skills.
Or how about walking from coast to coast across Jura by crossing the island at the narrows of Tarbert? A good track leads to the shores of Loch Tarbert on the west coast, while the route is completed with a visit to Tarbert Bay on the east. Corran Sands, Inverlussa and Small Isles Bay are all lovely beaches to walk along.
So if you fancy going wild on Jura, then ditch the car and make your way by ferry, foot and bike!