How to visit Fingal's Cave and why you need to
The Hebridean island of Staffa may be tiny – it's only half a mile long by a quarter of a mile wide and completely uninhabited – but it packs a big cultural punch. This dot on the map six miles west of Mull and a similar distance north of Iona has inspired musicians, artists, writers and storytellers throughout history. Staffa made a huge impression on the likes of composer Mendelssohn, artist JMW Turner, poets Wordsworth and Keats, not to mention Queen Victoria and Prince Albert. And this is down to its remarkable geological features.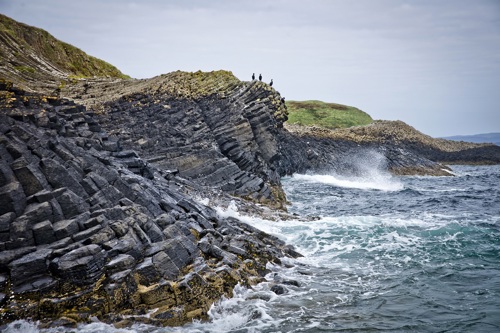 Visiting the Isle of Staffa
When you visit Staffa, you can't fail to be awestruck by nature's creative forces. Impossibly dramatic and romantic, Staffa is best known for its basalt columns and spectacular sea caves. The most famous of these is Fingal's Cave, also known in Gaelic as An Uamh Binn or the Cave of Music, immortalised by Mendelssohn in his Hebrides Overture. The cave is comprised entirely of spectacular hexagonal basalt columns similar to those found at the Giant's Causeway in Northern Ireland.
Staffa is a volcanic island and the basalt columns formed when a single lava flow cooled around 60 million years ago. As the molten rock solidified it also shrank, allowing gaps to form which created the hexagonal shaped columns seen today. In addition to the cave, the columns form a dramatic cliff face which appear as colonnades or, as the Vikings saw them, the poles or staves (stafr in Old Norse) used in their buildings, hence the name Staffa. The columns are canted over at an angle of four degrees and it was this tilting that happened after they were formed which allowed the sea to exploit natural fissures in the rock, hollowing out the cave over the millenia. Other caves on the island formed in a different way, when a softer layer of ash under the basalt columns was eroded by the sea.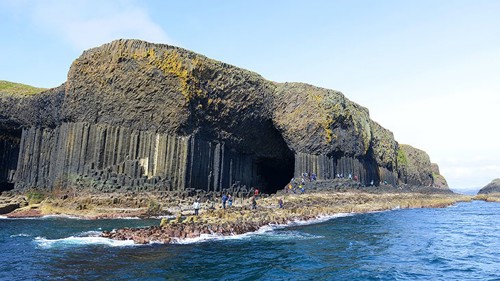 Fingal's Cave, Isle of Staffa
Why is Fingal's Cave so unique? 
What makes Fingal's Cave so special is its size, uniformity and the fact that, due to a fluke of nature, there is a natural walkway which allows visitors to get right inside at low tide. It was the famous botanist, Joseph Banks, who, in 1772, first brought the feature to popular attention. Since then a steady stream of visitors, including a list of famous names from the arts, have made a sort of pilgrimage to this 'cathedral of the sea'.

Among those great artists was a young Felix Mendelssohn who visited the cave in 1829. Duly inspired, Mendelssohn wrote the concert overture Die Hebriden, also known simply as Fingal's Cave which he finished in 1832. Coincidentally, JMW Turner's painting "Staffa" was also first exhibited in the spring of the same year. Today, Mendelssohn on Mull, a Scottish chamber music festival, continues to draws inspiration from Staffa. The event brings together young musicians for a week of musical exploration and concerts inspired by the wild beauty of Staffa, Mull and Iona.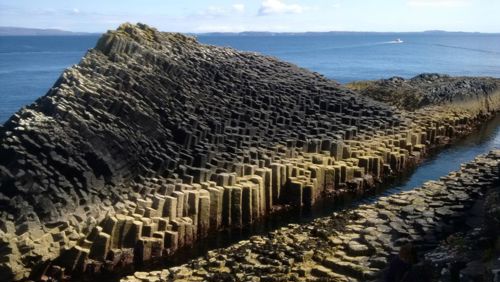 Staffa's hexagonal shaped columns © Turus Mara
How to get to Fingals Cave
West Coast Tours based in Oban enables you to discover three beautiful Inner Hebridean islands including the beauty of Staffa and the awe inspiring Fingal's Cave.
A number of boat operators in Oban offer trips from the mainland to Staffa, including Seafari Adventures. It makes sense to combine a visit to Staffa with trips to its equally enthralling but quite different neighbours Mull and Iona. Boat trips run from Oban, Mull and Iona to Staffa. Staffa Tours operates daily boat tours from Fionnphort on Mull, Staffa Trips operates from Iona.
If you're feeling adventurous, how about a wild swim in Fingal's Cave? Basking Shark Scotland offers a bespoke 'Swim Fingal's Cave' tour, where you can swim or snorkel into the cave. Floating in the mouth of the cave, it's stunning to look straight up the basalt pillars and rock formations then dip your head under water and see the colonies of marine life. You can also kayak into the cave.