Basking Sharks: where to see them and when?
Argyll & the Isles is known world-wide as a whale and basking shark hotspot. During the summer months these magnificent creatures migrate from their winter feeding grounds to Scotland to gorge themselves on plankton. There has been a huge increase in sightings off the west coast of Scotland in recent years. 
Watch Basking Sharks on Scotland's West Coast
Watching a basking shark must be one of the most awe-inspiring wildlife experiences you can have in Scotland. The basking shark is the biggest fish in the UK. These goliaths grow to over 10 metres long and can weigh up to several tonnes. With a number of operators in Argyll offering trips to spot basking sharks – and even swim with them – you could get up close and personal with these gentle giants this summer!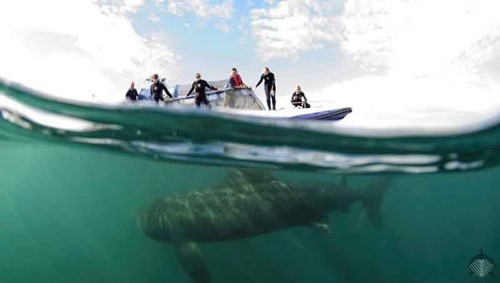 When is the best time to see a basking shark?
Summer is the time to see basking sharks around Argyll. The basking sharks begin to arrive from April onward (the exact time changes year on year) to feed. Peak shark-spotting season is from June to September. September and October sees the start of the sharks' southerly migration to the sub-tropics with one final aggregation in southern Argyll. At this time of the year you may spot basking sharks as far south as Cowal, Bute and Kintyre.
How do I see a basking shark?
If you're very lucky you may see a basking shark from the shore, but your best chance is to take a boat trip.
Oban-based Basking Shark Scotland runs basking shark boat trips and experiences, ranging from one-day trips to week-long adventures. Head out on a high-powered fast vessel with expert guides to the inner Hebridean islands of Mull, Coll and Tiree. You can watch the sharks from the boat or get in the water and dive, swim or snorkel alongside them. What a magical experience! The tours are organised from April to October to coincide with the basking sharks' migration to the area. Tours also include snorkeling with seals and the chance to experience some amazing wild swimming spots.
Take a tour with any of the other boat trip operators during the summer and you have a good chance of spotting a basking shark. Keep your eyes peeled when you're on a ferry journey too. You may well spot a basking shark on the CalMac ferry from Oban to Coll and Tiree.
Hebridean Whale Trail
It's not just basking sharks that you'll encounter around the coastline of Argyll & the Isles. There are brilliant whale-watching opportunities along the Hebridean Whale Trail. The most common whale seen around here is the minke whale, but there are occasional sightings of humpback whale, fin whale and orca. You might also see common & bottlenose dolphins, common & grey seals, porpoises, eagles, otters, puffins and many species of seabird.
What are you waiting for? Make a date with a basking shark in Scotland this summer!