Discover Argyll & the Isles Dark Skies
Argyll is one of the best places in Scotland to watch the night sky. There's very little light pollution making it an unbeatable place to enjoy the magnificence of the universe. Walk outside on a clear night anywhere in Argyll and the canopy of stars will take your breath away. If you get to a recognised Dark Skies area, such as the island of Coll, then the heavens can become, literally, the greatest show on earth. So if you're dreaming of a star-studded show, head to Argyll for a celestial spectacle that you won't forget in a hurry.
Head stargazing in Winter
This time of the year is particularly good in Argyll for stargazing. Long winter nights can combine with an absence of cloud cover to create near perfect viewing conditions, revealing a mind boggling array of stars and excellent prospects of spotting moving objects such as satellites, meteors, meteor showers, comets and even meteorites – thousands of pieces of space rock do impact the Earth every year. While you'll need a lot of luck to see a meteorite, you're virtually guaranteed to spot a meteor, or shooting star, if you stare long enough at the night sky. You'll also find that the moon is endlessly fascinating when observed through a telescope or pair of binoculars on a dark, cloudless night.
Isle of Coll
There are plenty of places in Argyll that would qualify unofficially as Dark Sky areas, but the island of Coll has been officially designated as such by the International Dark Sky Association. With its sparse population, no street lights and geographic isolation, Coll has some of the darkest skies in Europe. And that makes for truly spectacular star gazing. There are three official night sky viewing sites on Coll: one at Totronald RSPB Reserve, one at Cliad football pitch, which offers a large open space with few obstacles for a complete 360° view of the sky, and one overlooking Ariangour village. The reality is that, with no streetlights on the island (the nearest is 32km away), pretty much all of Coll is great for star gazing.

To immerse yourself in Coll's incredible dark skies, why not take part in a star-gazing weekend on the island? Coll & The Cosmos is a collaboration between Coll Bunkhouse and Cosmos Planetarium using state-of-the-art technology to deliver an amazing stargazing learning experience in a fantastic location. As well as the fabulous dark skies of Coll, there's a six-metre indoor planetarium which provides a 360° immersive multi-media theatre experience, ideal for taking a journey through the solar system and learning about a range of astronomical subjects.
Places to Stay on Coll
Stay at the fantastic Coll Hotel for the weekend to stargaze from their beautiful veranda or the award-winning Tigh na Mara Guesthouse for an all-around cosy stay. If you're travelling on a budget, the Coll Bunkhouse offers fantastic rooms for affordable prices.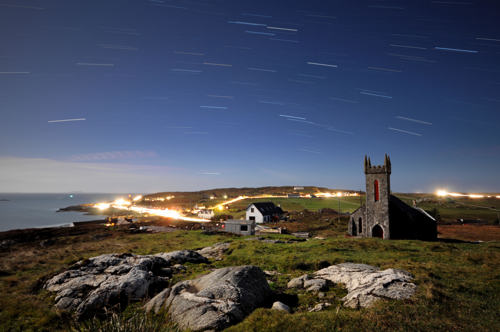 Credit: Ewan Miles Nightscape Photography
Kintyre
On the Argyll mainland, the Kintyre peninsula is another superb place to take in the night skies. The west coast of his remote, sparsely area is shielded from the light pollution created in Glasgow and Ayrshire by the hills that run down the spine of the peninsula and further east by the isle of Arran. With its clear views over the Atlantic and host of accessible places – including for wheelchair users – Kintyre's west coast has been designated a Milky Way area by the UK Dark Sky Discovery partnership. Milky Way class status means that the Milky Way is visible to the naked eye - something which is only possible in the darkness found in remote, rural areas such as Kintyre.
Places to Stay in Kintyre
Kintyre has some fantastic accommodations all year round from bed and breakfasts to hotels to self-catering options. Some of our top recommendations would be: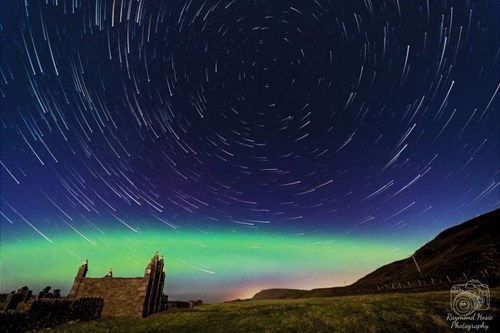 Credit: Raymond Rosie Photography
Islay
Islay is a fantastic place for stargazing in Scotland! The island produces only a very small amount of light pollution, meaning that you can see thousands of stars from here on a clear night. This is a truly magical way to spend an evening. So if you're coming to visit us on Islay, particularly over the darker winter months, make sure to look up at night!
Places to Stay on Islay
There's a good supply and variety of accommodation on Islay all year round from bed and breakfasts to hotels to self-catering options. Some of our top recommendations would be:

Northern Lights spotted over Glenegedale House on Islay
Northern Lights or Aurora Borealis
Coll and Kintyre are Argyll's better-known star-gazing locations, but you can admire the night sky right across the region. Simply pick a clear, cloudless night and turn your eyes to the sky. You may even be lucky enough to see the ultimate night-time illumination, the Northern Lights or Aurora Borealis.
When to spot the Northern Lights in Argyll
Autumn and winter is 'aurora season'. You'll need a cold, clear night with limited light pollution and increased solar activity. Staying up to the wee hours of the morning can help too. Websites such as AuroraWatch give alerts as to when there is a possibility of spotting the Aurora in the UK. These 'dancing lights' aren't a common sight, but they're truly spectacular when they do make an appearance.

So this winter, wrap up, pack a flask of something warm and head outside to experience Argyll's incredible dark skies.