Outdoor Painting in Cowal, Argyll - by a local
Artist Robbie Baird lives and works is the village of Tighnabruaich in Argyll's Secret Coast. Tighnabruaich has been home for 10 years and he previously ran Tighnabruaich Gallery. Robbie finds inspiration in the wild beauty of the landscape and the seasonal changes.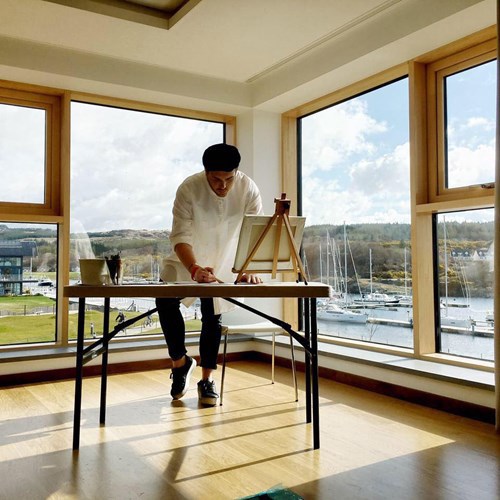 Image: Local artist Robbie Baird
Robbie's top outdoor painting spots
Many artists gravitate to the west coast of Scotland for inspiration and I wanted to share with you some of my favourite spots here on Argyll's Secret Coast to paint. It's a pretty inspiring part of Argyll it has to be said! With truly dynamic landscapes and shorelines, you cannot turn your head without spotting a satisfying composition.
1. Glenan Bay
When you arrive at Portavadie, you have two contrasting landscapes. The sleek contemporary architecture of Portavadie, Loch Fyne and then across the road ancient oak woodlands, private beaches and sweeping shore lines. The walk through the woodlands is inspiring in itself. You travel through time, under twisted trees straight out of Grimm's Fairy Tales, past caves and over burns. As an artist it allows me to breathe before arriving at the beach. The variety of landscapes on offer here is unreal. Being able to clamber the rocks and get the vast vista of Kintyre, Arran, Portavadie and Loch Fyne itself is breathtaking. From here you can watch the weather systems change and be relatively uninterrupted. Don't be shy to wander off the paths, you get such a diversity of views that are exceptional if you're prepared to do this.
2. Otter Ferry
It's a beautiful part of the world and if you want that truly linear landscape that Scotland provides so well – here does it like no other. Immense skies, lustrous horizons, dark waters and vibrant coastlines. It's a fantastic shoreline with views up and down Loch Fyne. There are fantastic rock formations and clusters of shells for those artists interested in detail. The sunsets are unbelievable and I know Otter Ferry and its surrounding landscape has been an inspiration to numerous artists.They can't seem to get enough of it.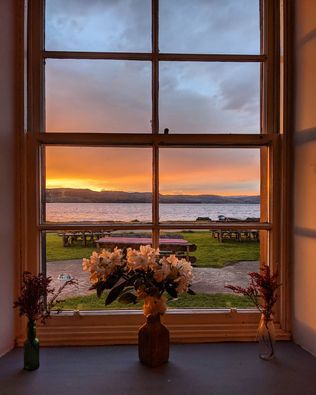 Image: View from the Oystercatcher at Otter Ferry.
3. Caladh
This is a relatively new discovery for me. You head off down the forestry track enveloped under huge pines, ramble along the path and you will get to the shoreline. The vastness of the landscape means you get these breath taking vistas of the Kyles, from both high and low, as part of and looking on. The harbour is secluded and striking but again it is the variety here. Turn your back on the shore and you are in a deep woodland, mystical and ancient. Clamber the path up to the Lily Pond and take opportunities to look beyond the trees and out across the waters to Colintraive and Bute.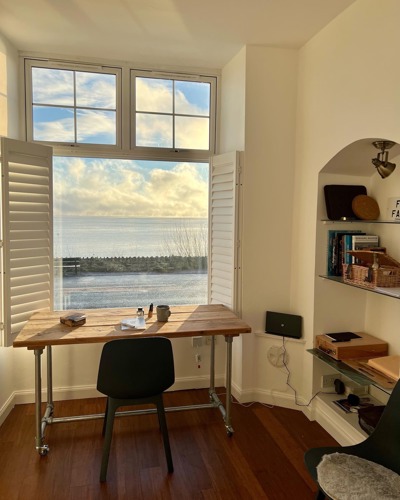 Image: The artist self-catering 'Studio On the Shore' is a great choice for accommodation.
4. Ostel Bay
Who could not fall in love with this beach? Come rain or shine, Ostel Bay sweeps you away. Arriving at the beach itself you are awestruck by the dominance of Arran and its sleeping warrior. The golden sands stretch away from you out to sea and the odd yacht or fishing boat sail gracefully upon the horizon. A fantastic place to paint, and a favourite of many. I am always fascinated by the patterns the tide leaves upon the sand.