Salmon Fishing in Argyll - by a local
Duncan lives in Inveraray and runs Fishinguide Scotland, a guided fishing service providing hassle-free trips to lots of hidden corners of Argyll. Trained as an biologist and then as a teacher, Duncan has found the perfect blend for his skills in guiding. In his posts he'll be sharing his infectious passion for fishing and the wildest kinds of outdoor adventure.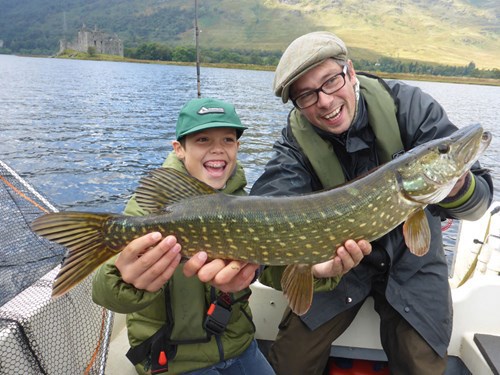 Top Argyll Fishing Spots
Argyll has some heft to its reputation as a good venue for salmon fishing. Besides the River Tay, the River Awe has produced more 50lb-plus salmon caught on the fly than any other river in the UK. Nowadays there aren't such good spawning grounds for salmon in the Awe. But fear not, Argyll has the Orchy! The River Awe has a fish counter at the Pass of Brander, and most of the salmon which pass through head up the River Orchy.
Good decision I say! Glen Orchy is one of the most charming places in Argyll. Its wee winding single-track road gives you good views of pools which would have any angler salivating. Even for non-anglers, a cycle, drive or walk up Glen Orchy is well worth it for the views alone. It draws you in; it's enveloping, and you feel like you're burrowing into a wilder place.
Starting in April and running through to October, salmon head up the Orchy in a determined manner towards their spawning grounds. When they're met with the challenge of a leap up some attractive falls on the Craig beat, some of them hole up for a spell. This can be a very good place to fish for them, and the pools near the falls are among the better places to catch them on the fly. Though the fly is many peoples preferred method, all methods, except the use of shrimp or prawn, are allowed on the Orchy.
A few pools downstream of the falls is a great area for beginners to learn to cast a fly, with some un-obtrusively engineered casting platforms, perfect for refining your spey casts, and - at least for one pool - making this boulder-strewn river accessible to all. The platforms also happen to be lined up with a very promising section of water, which means even while you're practicing, there's always a chance...
If it's a big salmon you're after you're best heading above the falls and to the Upper Craig beat. It's likely the bigger salmon get there before the smaller fish as they have less difficulty negotiating the falls.
September is probably the time when salmon numbers are at their highest in the Orchy, but that doesn't mean the fish are easy to catch. As a general rule of thumb the freshest run fish - those most recently arrived from the sea - are the easiest to catch. As salmon spend longer in fresh water they become what anglers refer to as 'stale', meaning they're less likely to accept your offering of fly, spinner or worm. It's thought that this is down to fresh water suppressing the salmons' feeding instinct, but that process happens slowly.
May has the greatest percentage of fresh fish, so it's a great time to have a go. When you hear that reel screaming, see a bar of silver jump on the end of your line and finally get the fish to hand, it's unlikely to be just the fish that's 'hooked'