Scottish Music & Food Festivals: Here are 5 of the Most Iconic Festivals in Argyll & the Isles
Scotland is known for its thriving music scene and no one puts on a festival quite like we do. From huge Hebridean Island festivals to family-friendly boutique festivals, there's a festival for everyone in Argyll & the Isles. Here are 5 of the most iconic music & food festivals for you to experience this summer.
Fyne Fest
When? 2nd - 4th of June 2023
Where? Cairndown, Loch Fyne
Fyne Fest is an award-winning, family-friendly festival celebrating Argyll's beer, food & music in the stunning surroundings of Glen Fyne. Head to the Fyne Ales brewery estate for a weekend of escapism, accompanied by the best beer, food and music from Scotland and beyond – it's all about good people enjoying good times with good beer, food and entertainment.
The festival is proudly family-friendly, offering the full festival experience to anyone of any age. With three stages of live music, street food, brewery tours and talks, glen walks, yoga, bingo, kids activities, a ceilidh and so much more, Fyne Fest promises a good weekend away for everyone!
So bring your family, your friends, your neighbours, your dogs and anyone else you think needs a break from the real world for a few days, and join the FyneFest23!
Mull of Kintyre Music Festival
When? 9th – 13th August
Where? Campbeltown, Kintyre
The Mull of Kintyre Music Festival (MOK Fest) is an event for all the family which celebrates traditional and contemporary Scottish, Irish and Pan Celtic music. Based in Campbeltown, the event has a great mix of free outdoor events, concerts, ceilidh's, music sessions, workshops, children's entertainment, parades from large venues to intimate halls.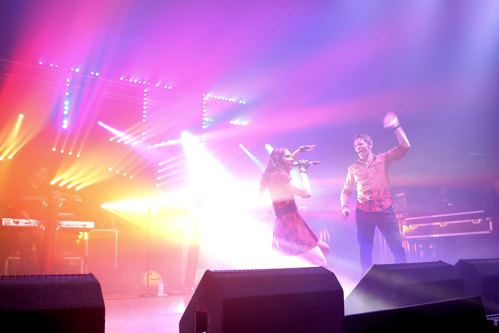 Fèis Ìle 2023 - the Islay Festival 
When? 26th of May - 3rd of June 2023
Where? Cairndown, Loch Fyne
Head to the iconic Fèis Ìle 2023 - the Islay Festival for 9 days of music, song, dancing, chatting, meeting friends old and new and perhaps having a wee bit of Islay whisky along the way!
With different events across the island, this festival is perfect for an unforgettable visit to the Hebridean gem. You don't need a ticket to attend Fèis Ìle with many distilleries opening their doors to the public, some charging a small fee. To discover all ticketed events and tours, head to the Fèis Ìle website.
As the island can get very busy at festival time, sorting your transport and accommodation early is essential. Head to our Islay accommodation pages to discover your perfect stay.
Bute Fest
When? 28th - 30th of July 2023
Where? Ettrick Bay, Isle of Bute
Jump on the ferry from Wemyss Bay and escape to the beautiful Isle of Bute for a weekend of live music, family, friends and fun. Bute Fest is a family-friendly music & fringe festival located at stunning Ettrick Bay on the Isle of Bute.
With two stages of live music, numerous local food & drink outlets, and a bunch of family-friendly fun, Bute Fest is the perfect summer festival. You can either book accommodation on Bute and take the shuttle bus to and from the festival site or pitch a tent to wake up to stunning views over the Kyles of Bute.
Book your weekend & camping tickets  today!
Tiree Music Festival
When? 7th - 9th of July 2023
Where? Isle of Tiree
The Tiree Music Festival is more than a Scottish Music Festival. It is the ultimate island adventure to one of the most stunning festival locations in the world.
Imagine waking up to picture-perfect white sands, world-famous surf, deserted roads lined with lush greenery and more sunshine than anywhere else in the UK! There's a reason why Tiree is also known as the 'Hawaii of the North'.
Founded by Skerryvore's Daniel Gillespie and Tiree local Stewart MacLennan in 2010, Tiree Music Festival has won multiple awards and become one of Scotland's – and maybe even the UK's – most iconic music festivals.
UPDATE: Tickets to the Tiree Music Festival 2023 are sold out! Make sure to put this festival on your bucket list for 2024!