Six Tobermory visitor attractions you can't miss
The beautiful island of Mull has it all: a towering peak, ruined castles and fabulous sandy beaches. But that's not all. It also has Tobermory, easily the most attractive fishing port on the west coast of Scotland, where brightly-painted houses cluster around a sheltered bay. It's the perfect place to spend a day or two, with a thriving cultural scene, great places to eat and drink and holiday accommodation for all tastes and budgets. Enjoy a dram or two of the local whisky, go to the theatre, take a boat trip and more. Here are some of Tobermory's top visitor attractions.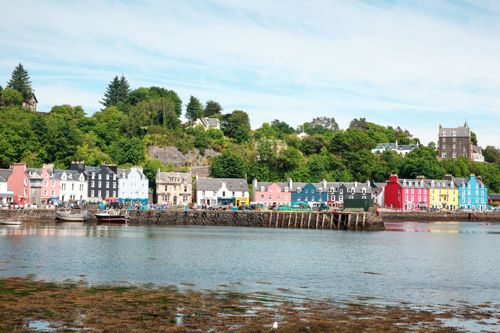 1. Tobermory Distillery
Tobermory Distillery, established in 1798, is the only distillery on the island and one of the oldest commercial distilleries in Scotland. It's packed with old-world charm. Take a tour of the distillery to discover how the two distinctly different malt whiskies are made: the lightly peated Tobermory and the more robustly peated Ledaig.
2. An Tobar and Druimfin
Tobermory is a hotbed of creativity! Don't miss a visit to An Tobar, Mull's Arts Centre located in the refurbished Victorian primary school overlooking Tobermory Bay. It hosts exhibitions, gigs and shows throughout the year. There's also a great café with a terrace overlooking Tobermory. Druimfin, just outside Tobermory, is home to Mull Theatre, one of Scotland's leading touring theatre companies. Up to five Mull Theatre productions start life here every year, and you can catch performances by other touring theatre companies here too.
3. Mull Aquarium
The Mull Aquarium has made a big splash as Europe's only catch and release exhibition! Mull Aquarium's marine tanks are stocked with an array of sea creatures from Tobermory Bay and the waters surrounding Mull. The creatures are kept for just four weeks, before being returned to the sea. The tanks are then restocked with new animals. The touch pool area gives kids the chance to have a hands on experience, and there are a number of family-friendly events run throughout the summer. Mull Aquarium is part of Tobermory Harbour.
4. Aros Park
Fancy a woodland wander? Aros Park is a lovely wood managed by the Forestry Commission on the outskirts of Tobermory. It's a wonderful place to visit, with walking trails to explore, a waterfall to discover and an excellent play trail for kids. The views from the park are simply stunning, looking back to Tobermory and over the Sound of Mull to Ardnamurchan. On the edge of the site, there's a spectacular look-out at Alainn View. You can walk from Aros Park to Tobermory along the wooded shore of Tobermory Bay.
5. Mull Museum
Mull Museum in Tobermory is packed with fascinating exhibits and stories. It's a great way to learn more about the history of Mull, with displays about early people living in duns and brochs, through the times of warring clans and their castles, to more recent events. Exhibits include everyday objects associated with crofting, farming and fishing. In 1588 a vessel of the Spanish Armada sank in Tobermory Bay, and rumour has it that a vast treasure was on board. Find out more in Mull Museum!
6. Wildlife boat trips
If you'd like to explore the waters around Mull and see some of the island's famous wildlife, then take a boat trip from Tobermory. A number of wildlife watching boat trips and tours operate from here. Go in search of whales, basking sharks, puffins and Mull's famous white-tailed eagles, or take a boat trip to Staffa, the island that's known for its magnificent basalt columns and spectacular sea caves.