The ten best Argyll cafés with a view
Argyll is packed with great cafés and tearooms. Whether you're having a Hebridean island adventure or a loch side stroll, you'll always be able to seek out a decent cappuccino and some excellent home baking in Argyll. Many of the cafés and tearooms will serve up scrumptious lunches featuring local produce too. As you explore the area, you'll find a welcoming cup of tea in the most magical of places. Here are ten of the best Argyll cafés with a view!
Castle Stalker Café
Castle Stalker must be one of Scotland's most picturesque castles. This four-story tower house is set on a tidal islet on Loch Laich, is a few miles beyond Appin near Oban. You might recognise it as Castle Aaaaaaargh from Monty Python's cult classic The Holy Grail! From Castle Stalker View café you can enjoy panoramic views of this iconic Scottish castle over a lovely latte. Beyond the castle, you'll see Loch Linnhe and the islands of Mull and Lismore in the distance. The café serves up simple home made food and the best of local produce. Try the smoked salmon and scrambled eggs, home-made fishcakes and gourmet burgers.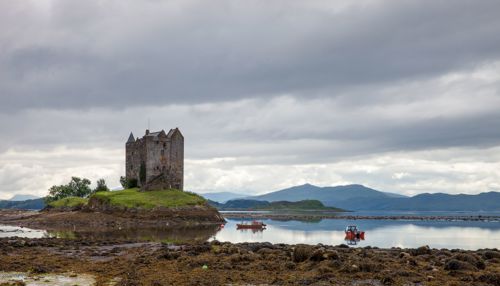 Kilmartin Café
Kilmartin Glen in the Heart of Argyll is one of Scotland's richest prehistoric landscapes. Within six miles of Kilmartin village there are over 350 ancient monuments, including cairns, standing stones and stones circles. Sitting right at the heart of this beautiful glen in Kilmartin Village is Kilmartin Museum, which is packed with fascinating information about Kilmartin. It's also home to a rather fantastic café. You can sit in the cosy Stone Barn or head to the Green Oak Conservatory to enjoy fabulous views over the monuments of Kilmartin Glen. The menu is a cracker, featuring lots of local Argyll produce, daily specials and plenty of vegetarian options. Check out the cakes. They are divine! You can always work up an appetite with a stroll around the glen.
Food from Argyll @ The Pier
If you want to try some of Argyll's best local produce, then head for Food From Argyll at the Pier. This café focuses on promoting and serving high quality food and drink sourced from Argyll. How about trying a Mull steak sandwich or Cullen skink made with hot smoked salmon? The coffee is provided by Helensburgh coffee roasters Home Ground. As for the views? Well you're on the busy South Pier in the Ferry Terminal in Oban. Nothing beats watching the ferries to the western isles coming and going.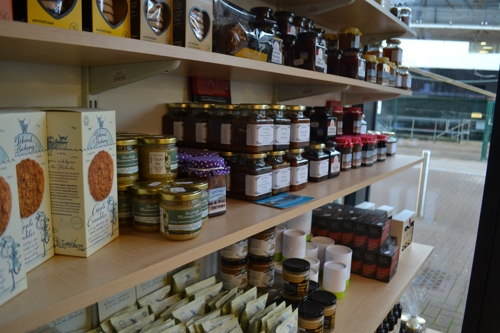 Benmore Café
Beautiful Benmore Botanic Garden is a joy to behold. Located just outside Dunoon on the Cowal peninsula, it has a magnificent mountainside setting and a world-famous collection of flowering trees and shrubs. Visitors are welcomed by an impressive avenue of Giant Redwoods, arguably one of the finest entrances to any botanic garden in the world! Enjoy this stunning setting and tuck into some fantastic food at Benmore Café. The menu offers everything from tasty hot meals to snacks and home-baking. Order a Winston Churchill venison burgers suppliers and head to the outdoor seating area to enjoy the views.
Crinan Coffee Shop
The Crinan Canal is described as the most beautiful shortcut in Britain. The canal's north end is particularly stunning, with views over the Corryvreckan, Jura and Scarba. The Crinan Coffee Shop sits overlooking the canal basin. It's a favourite haunt of many visitors to Crinan, and you can see why. Tuck into a great range of fresh home baking and light lunches and watch the boats pass through the locks.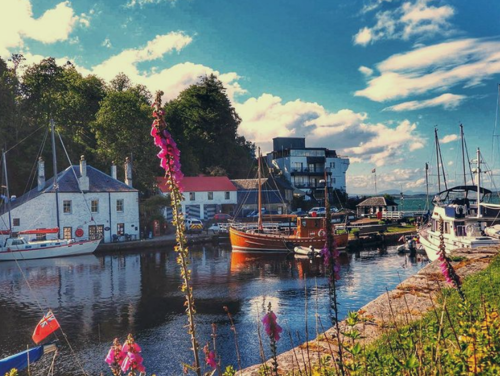 Ettrick Bay Tearoom
Ettrick Bay sits on the north-west coast of the island of Bute. This a mile-long stretch of golden sand has stunning views over to Argyll's Secret Coast and Arran. On a warm day, you can paddle or swim in the clear waters. At the start of the beach you'll find Ettrick Bay Tearoom, serving up ice cream, excellent lunches and mouth-watering cakes. Tuck into the meringues after a stomp along the sand and enjoy the views.  
Bonnie & Ben Cafe
This great wee café sits right on the shores of the 'bonnie bonnie banks' of Loch Lomond in the village of Tarbet. The friendly staff serve up artisan coffee, tea, hot chocolate as well as homemade sandwiches, soup and cakes. Sit back and enjoy outstanding views of Loch Lomond and Ben Lomond while you tuck in! You can also take a stroll down to the Tarbet Pier and take a boat trip with Cruise Loch Lomond for even more stunning scenery.
The Farmhouse Café at Balemartine, Tiree
The Farmhouse Café at Balemartine at the west end of Tiree is a top spot for coffee, cake and light lunches. Enjoy delicious treats and specialty coffee as you look out across the fields to Ben Hynish. There's a conservatory and an outdoor area, where you get a good view of the owners' Highland cows, sheep, pony and ducks. There are lovely beaches nearby for a pre-lunch stroll. 
Tea on the Beach, Inverlussa
At the far end of the-track road that runs up along Jura's eastern shore, you'll find the remote settlement of Inverlussa and its glorious sandy bay. During them summer, you can order tea, fresh coffee and home-made cakes and biscuits by walkie-talkie. Just pick up the walkie-talkie next to the Tea On the Beach sign at the beach and radio through your order. The views from this remote spot are phenomenal!
Portavadie Leisure Café
Sitting on the shores of Loch Fyne, Portavadie is a stunning destination on the Cowal Peninsula. As well as accommodation, a marina and restaurants and bars, there's a fabulous Spa and leisure Experience. Grab a table in the Leisure Café and tuck into a wood-fired pizza as you enjoy the views over the pools out to the loch and Arran beyond.  There's an outside terrace for sunny days.