Three unforgettable food experiences in Cowal
Argyll's Secret Coast is heaven for food lovers, with world-famous seafood, the finest game and meat and a thriving community of artisan producers making everything from cheese to honey. There are loads of great cafés, restaurants and pubs serving up this fabulous local produce. But there are other ways to experience the great food and drink on offer on Argyll's Secret Coast. Here are three!
Cooking classes at Botanica
You'll always find fresh, seasonal and local produce on the menu at Botanica Restaurant in Tighnabruaich. Head chef Michal also has a passion for foraging for wild food on the shores, forests and hills in Argyll. This autumn, Botanica is sharing the secrets of its success with a series of cooking classes. Fancy learning to make your own bread? The Bread Making & Baking day course will teach you the basics of continental dough, fresh yeast proving, mixing by hand, resting and baking. The cost if £110 per person. Or how about joining Michal on a foraging adventure? On the Day Out Foraging you'll forage for wild food from the forest and shoreline before returning to the restaurant to cook. You'll also do some wine tasting to match the dishes. The cost is £130 per person. Contact Botanica for dates and more details.
Producers' Markets
The Kyles Allotment Group hold Producers' Markets throughout the year at the Kames Village Hall. They're a fabulous opportunity to stock up on locally produced food and meet the producers. There are also local crafts folk and artists on hand with their work. Look out for Auchinbreck Farm pork, who attend most markets. At this smallholding near Colintraive, pigs are born and reared outside all year round and are truly free range. The farm supports three rare breeds, the Gloucestershire Old Spot Pig, Boreray Sheep and the Bagot Goat. You'll also find Auchinbreck pork featured on menus throughout Argyll's Secret Coast. The next markets are on Saturday 11th August and Saturday 8th September from 10am to 1pm.
Evanachan Farm Hut
Have you discovered Fi's hut? It's about five minutes along the road from The Oystercatcher at Otter Ferry. You can pick up seasonal organic produce from Evanachan Farm, eggs, fresh flowers, jams, chutneys and Fi's cheese made with milk from her Jersey cows. Just pop your money in the honesty box. You'll sometimes find Fi selling her produce at the Kames Producers' Markets too.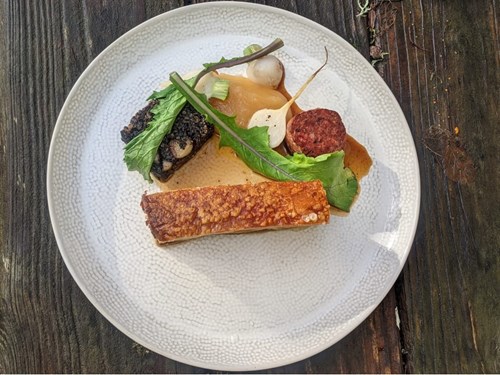 Other eateries on Argyll's Secret Coast which feature local produce on the menu on Argyll's Secret Coast include Portavadie, Royal An Lochan, Colintraive Hotel, Oystercatcher, Kames Hotel and Kilfinan Hotel. There's a good selection of local produce at Kames Village Store.