Discover the 10 best places to eat in Cowal
Cowal is a world-famous destination for foodies. From Loch Fyne's famous seafood to Highland cattle beef and venison from the hills, Cowal offers the best of fresh, local produce. We couldn't possibly cover all the great places to eat on the Cowal Peninsula in this blog post, but here's a tasty ten to begin with. 
1) The Loch Fyne Oyster Bar & Restaurant
 The Loch Fyne Oyster Bar & Restaurant sits at the head of Loch Fyne. This is the place to sample local seafood, from oysters straight out of the clear water of Loch Fyne to Loch Fyne kippers. The company started out in the 1970s, farming oysters in the waters of Loch Fyne and selling them direct to the public in a nearby lay-by. Today Loch Fyne Oysters still produces seafood in the loch, as well as smoking fish on site, all of which is served up in the restaurant and available to buy in the deli.


2) Fyne Ales Brewey
Just along the road is the Fyne Ales Brewery, Shop & Bar. Follow the winding road up Glen Fyne for a few minutes and you'll find the brewery. As well as bar selling a wonderful selection of ales and home-cooked food, there's also a shop where you can buy the full range of bottle ales and mini casks, as well as beef from Fyne Ales' own herd of Highland Cattle. Enjoy a pint of your favourite beer and a steak pie.


3) The Whistlefield Inn
If you're looking for fantastic pub food, the Whistlefield Inn close to Dunoon is your best option. The restaurant offers breathtaking panoramic loch views whilst the log burner creates a cosy atmosphere. The food is cooked with locally sourced ingredients to make your visit to this classic Scottish drover's Inn unforgettable.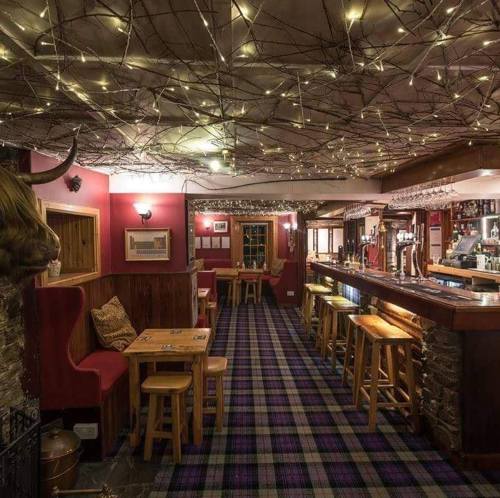 4) Inver
Since taking over in 2015, Pam and Rob at Inver on Lachlan Bay have been cooking up a storm. Voted 'Top 5 seafood restaurants on the UK coast' by Condé Nast Traveller, you'll find stunning dishes on the menu, featuring lots of local seafood, meat and game. Enjoy a simple lunch of fresh seafood and home-made sourdough bread for lunch. For dinner it's a fixed, four course menu of modern, creative Scottish cooking, as well as a bar menu.
5) The Oystercatcher
The Oystercatcher at Otter Ferry serves up locally sourced food in an unbeatable shore-side seaside setting. Chloe and Dave have recently taken over, and have given the interior a Nordic-style makeover. The food is lovingly prepared. Tuck into local oysters, mussels and crab washed down with a locally brewed Fyne Ale. Just up the road at Evanachan Organic Farm Fiona Barge makes delicious cheese with milk from her four Jersey cows. As well as cheese, you can buy organic vegetables and free-range eggs from the farm.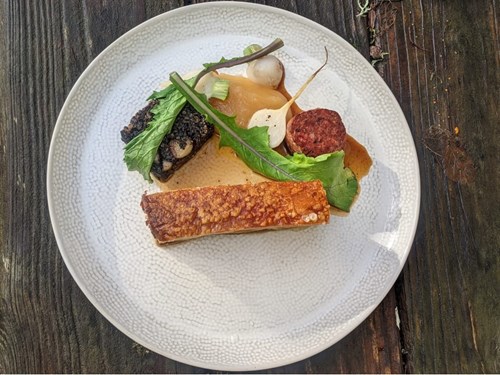 6) Portavadie
Head to Portavadie, Loch Fyne for modern food in a stunning waterfront setting. On a sunny day you can't beat sitting on the terrace with a glass of cold Chablis, watching the yachts sail in and tucking into fresh seafood cooked to perfection. Try the homemade pizza in the Spa & Leisure Café.


7) The Royal An Lochan
The Royal An Lochan in Tighnabruaich has fine views over the West Kyle to the Isle of Bute. There are separate restaurant and bar menus. Naturally enough, seafood features prominently at the Royal and diners can expect to see a variety of fish, langoustine, mussels and scallops on the menus. 


8) The Colintraive Hotel
The Colintraive Hotel is a great eatery with fabulous sea views. You have the choice of bar meal in the gastropub, where pets are welcome, or dining à la carte in the lounge. Ingredients have been locally sourced and lovingly prepared to create a range of dishes which reflect the fabulous larder of the west coast, sometimes with an Italian twist, a combination typified by the hotel's seafood linguine signature dish.
9) The Strone Inn
The Strone Inn is a fantastic traditional pub overlooking the Holy Loch in Dunoon. You'll find a great selection of local produce on the menu, including oysters, mussels and Winston Churchill venison. Expect home-cooked food and welcoming hospitality. The Braes is another great spot to eat in Dunoon. Gourmet burgers, homemade pizzas and classic dishes all showcase the best Argyll produce.
10) The Blairmore
The small cafe Blairmore is located on the shore of Loch Long beside Blairmore Pier and offers locally sourced produce, lots of homebaking, light meals, speciality coffees, teas, wine, cocktails and Loch Fyne Ales. A warm welcome is always guaranteed at this mother and daughter family business.


With so many quality, local ingredients available in Cowal, it's no wonder that the area has become a magnet for both chefs and devoted foodies alike. This is just a small sample of what is available in this gastronomically blessed corner of Scotland, it's up to you to get out and find some more!