Where to go Wild Swimming on Argyll's Secret Coast
The water has been warming up slowly over the summer months and is now at its peak. Ok, it's still cold enough to take your breath away, but that's all part of the fun! So pick a sunny day, pack a blanket and a flask of tea and take the plunge. You could always wear a wetsuit...
Top places to go wild swimming in Cowal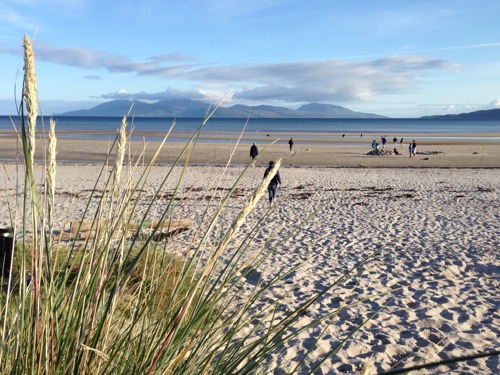 Ostel Bay
This crescent-shaped sweep of sand is the jewel in the crown of Argyll's Secret Coast and a top spot for a dip. It's a fifteen-minute walk from the road, crossing springy machair. Climb over the dunes and the beach stretches out ahead of you with Arran on the horizon. On a sunny day, it's a fabulous place to paddle and swim. It's quite shallow for a long way out and if you wait until the tide has come in over the sand, the water will be that little bit warmer for you.
Glenan Bay
Glenan Bay is around the coast from the ferry terminal at Portavadie. You can follow the forest path there and come back via the coastal path. Both lead you through beautiful native oak woods. It's a pebbly bay with sand further out. If you walk beyond Glenan Bay, past the mouth of a small river and along to Buck Bay, you'll find a lovely swimming spot with white sand and a rocky outcrop for jumping off. There's lots of driftwood here too, so you can light a wee fire and make yourself a post-dip cup of tea. It's a fair walk to get to Buck bay; give yourself an hour or so to get there.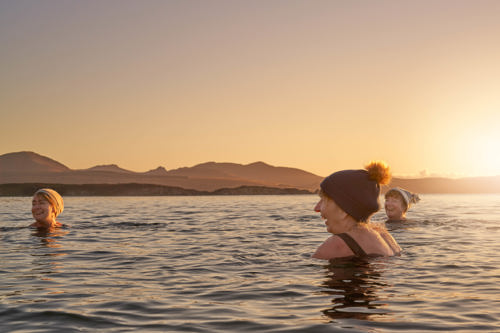 Ascog Bay at Stillaig
A narrow isthmus separates two shallow bays at Stillaig. It's a magical place to spend a sunny day, pottering, paddling and taking the plunge! Wait for the tide to come in over the warm sand and enjoy a blissful swim in these protected bays. Eilean Aoidhe is joined to the mainland via the isthmus. To get there, you can either walk over the headland from Portavadie or walk down the farm track just beyond the entrance to Stillaig Farm on the road to Portavadie.
Carry Farm
Carry is a lovely spot for a swim. Unlike Ostel, Glenan and Ascog Bays, you don't have to walk very far to get to the beach, so it's great for a quick dip. The shoreline is pebbly, but it gets nice and sandy as you head further out. Walkthrough Carry Farm to get to the shoreline. The best bit for swimming is to your left.

If swimming in the sea in Scotland doesn't appeal to you, then the outdoor infinity pool at Portavadie is a great option. You get the fresh sea air and coastal views – without the chilly water!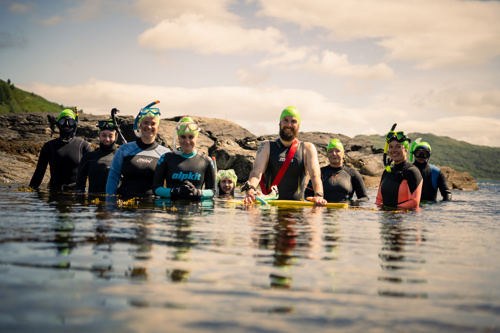 Join an experienced will swimming coach
If you're new to wild swimming, or unfamiliar with the area, we strongly recommend that you swim with an experienced and professional guide.
Daniel Coyle, also known as Swim - Dan the Merman, is an open water swim coach and wild swimming guide in the beautiful Argyll & the Isles area of Scotland. Based in the heart of Argyll in Cairnbaan, Dan offers high quality professional open water swim coaching and guided wild swimming experiences for all abilities across this stunning and uniquely corrugated landscape, the "adventure coast" of Scotland. 
If you'd like to explore majestic west coast waters for a guided wild swim with RLSS open water safety cover, join a class to learn/relearn front crawl and open water skills or book a bespoke coaching experience, why not join Dan to immerse your senses in the pristine waters of the Argyll Hope Spot - a unique marine protected scenic area and first of its kind in Scotland and the UK.
Safety first!
Open water swimming is exhilarating, but it's not without risk. Keep safe by following these tips from the RNLI:
Be prepared. Check the weather and tides, choose your spot, go with a buddy, have the right equipment.
If in doubt, don't go out. No matter how much preparation you do, or how experienced you are, if a swim doesn't feel right there is no shame in getting out of the water straight away, or not entering.
Make sure you acclimatise to avoid cold water shock.
Be seen. Wear a bright coloured swim hat and take a tow float.
Stay within your depths.
Float to live.
Call 999 or 112 and ask for the coastguard in an emergency.