Visit Bute - A Scottish Island Paradise
Bute is an island of two halves. Bisected by the Highland boundary fault, there are Highland areas situated to the north of the fault line and lowlands to the south - and all this is in a place that is just 15 miles long by 4 miles wide! However, its geology is just one of the factors that make Bute a brilliant place to visit. Wildlife, gardens and wonderful walking – it's all here. Make the short hop from the mainland to discover nature's paradise!

There really is something for everyone on Bute. The main towns are clustered around two bays on the eastern side of the island, leaving the west side relatively free of people which makes it great for cycling, birdwatching and other outdoor activities.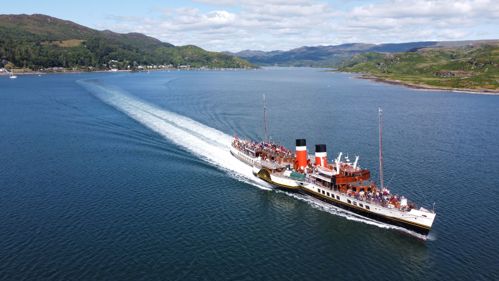 Head over to Bute with the iconic PS Waverley.
Beaches
The beautiful bays of Ettrick, Scalpsie and St. Ninian's on the west coast are perfect for escaping the hustle and bustle of everyday life. Take a stroll, breathe in the sea air and admire the views across to Arran and the Kintyre and Cowal peninsulas. It wasn't always quite so peaceful in these places, however. During World War II it was though that the Germans might launch and airborne invasion using gliders to land on the beaches at Ettrick and Scalpsie. At the latter, you can still see traces of the defences that were erected at the time to foil any such attempts.
Away from the coast, you might want to take a ramble around the Balnakailly Loop in Bute Forest. At just four miles long, the loop is suitable for most walkers. The walk takes in oak woodland and spruce, passing the Painted Rock Trail and work area, with a short diversion taking you to the viewpoint at the World War II bunker.

Ettrick Bay on Bute
Bird watching
Bird watchers are well served on Bute thanks to the freshwater lochs, Loch Fad and Loch Quien. The former is particularly good for bird watching with a wooded area along the west shore home to a number of woodland species. There's a bird hide on the south side of the Kirk Dam, which is separated from Loch Fad by a causeway. From here you can spot wintering wildfowl, as well as other birds of interest. Loch Fad is about a two-mile walk from Rothesay. Loch Quien is another important wintering water for wildfowl and there's an excellent bird hide here.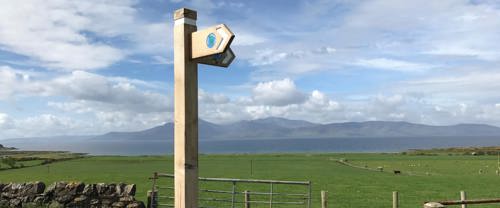 Gardens
Anyone planning to visit Bute in spring or summer should make time to visit Ardencraig Gardens at High Craigmore. Originally part of the estate of Ardencraig House, in 1970 they were acquired by Rothesay Town Council. Essentially a large walled garden with glasshouses, Ardencraig is used to cultivate flowering plants for the numerous beds and baskets in and around Rothesay. See large and colourful displays of favourite bedding plants such as begonias, fuchsias and chrysanthemum. To create added interest aviaries were added containing exotic bird species.

There are plenty of additional attractions on Bute with the jewel in the crown being the fabulous gothic pile of Mount Stuart and its stunning gardens. There's a wide range of eateries and accommodation too. What's more, this charming island is arguably the most accessible in Scotland from the central belt.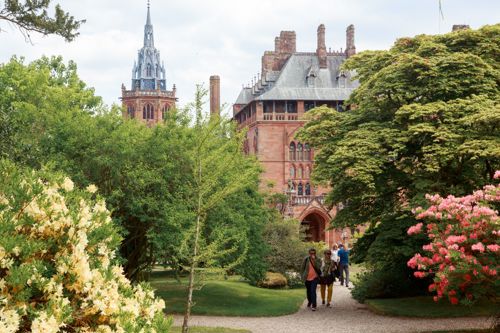 Mount Stuart's Gardens are a must visit whilst on Bute.
Getting to Bute
Bute is considered the most accessible island off the west coast of Scotland. It's just 50 minutes away from Glasgow by road or rail, followed by a 35-minute CalMac ferry crossing from Wemyss Bay to Rothesay. Another CalMac ferry runs from Colintraive to Rhubodach, taking less than five minutes. 
Staying on Bute
There is a variety of accommodation available on Bute. Wether you'd like to stay in Rothensay town at Boat House Super Suite, enjoy the coastal views from Seaview Cottage or enjoy the luxurious space of the Coach House at Steward Hall - You'll find your perfect accommodation on Bute! 
Visiting Bute? Discover more things to see & do whilst exploring the island.