Why the Kintyre Express is the perfect way to enjoy Scotland & Northern Ireland
From the Mull of Kintyre, the southwestern-most tip of the Kintyre peninsula in Argyll, you can look out across the Atlantic to the Antrim coast of Northern Ireland a mere 12 miles away. Throughout history people have crossed this stretch of water, including the Scotti tribe from Ireland who gave Scotland its name and St Columba who is credited with introducing Christianity to Great Britain. Today, you can retrace the voyages of your ancestors and make this sea crossing with Kintyre Express.

Jump aboard: What to expect on the Kintyre Express
This ferry service for up to 12 passengers operates from the Easter weekend to the end of September, connecting Campbeltown in Kintyre, Ballycastle in Northern Island and the Hebridean island of Islay. It's a brilliant way to explore the west coast of Scotland and discover the rugged beauty of the Antrim coast of Northern Ireland. What's more you get to enjoy an unforgettable boat trip, with stunning coastal views and mesmerizing wildlife encounters along the way.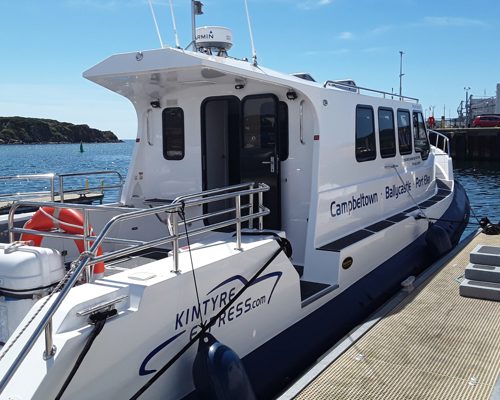 Stop 1: Campbeltown in Kintyre
Campbeltown, Kintyre's major town, sits on a deep bay sheltered by Davaar Island and the surrounding hills. It's a bustling town packed with shops and restaurants and is an ideal base for exploring Kintyre and the west coast of Scotland. Experience Campbeltown's three distilleries, Glen Scotia, Springbank and Glengyle, discover some fascinating historic sites connected with St Columba at the southern tip of the peninsula or enjoy walking along the diverse coastline. Don't miss the Mull of Kintyre, immortalised in song by one time Kintyre resident Sir Paul McCartney.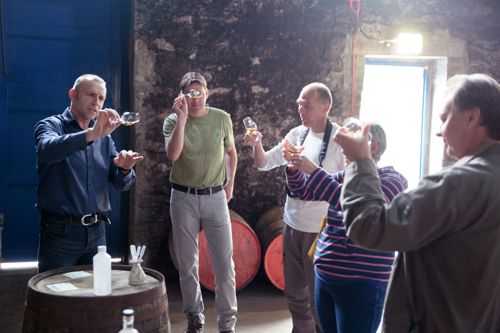 Stop 2: Whisky heaven on the Isle of Islay 
Islay has a place in the heart of every whisky lover, with no less than eight world-class distilleries. All offer guided tours. You'll also find miles of sandy beaches to explore, an incredible variety of wildlife and a rich Highland heritage.
The Kintyre Express arrives in Port Ellen, the second largest town on Islay after Bowmore, situated in a sheltered part of the island. Port Ellen is also the starting point for the Three Distilleries Pathway which leaves the town and travels for 5.5km and encompasses the Lagavulin, Laphroaig and Ardbeg distilleries.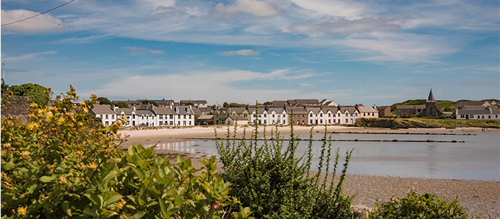 Final stop: Ballycastle in in Northern Ireland
Ballycastle is ideally located for exploring the Antrim Coast, a breath-taking and rugged part of Northern Ireland famous for the Giant's Causeway and Bushmills Distillery. The Giant's Causeway, an area of about 40,000 interlocking basalt columns, is only 13 miles from Ballycastle, and is easily accessible by bike or public transport. Bushmills Distillery is only three miles from the Giant's Causeway.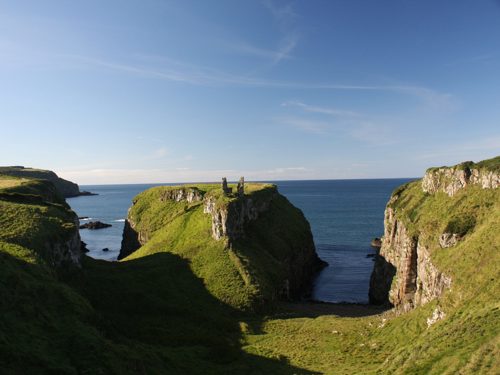 The Kintyre Express - For golfers, cyclists and other adventurers
The Kintyre Express route is popular with golfers, who use it to play a few rounds on both sides of the water. Kintyre packs in three of Scotland's best links golf courses within 20 miles, including the historic Machrihanish Golf Course, considered one of the world's top 100 golf courses, and neighbouring Machrihanish Dunes. And over on the Antrim coast, golfers are spoilt for choice with Portrush, Ballyreagh, Castlerock and Ballycastle. Islay is home to Machrie Golf Links, one of Scotland's oldest and most traditional links courses.

The ferry service is widely used by touring cyclists too. You could spend many a happy day exploring Kintyre, Islay and the Antrim coast by bike. The Caledonia Way, National Route 78 of the National Cycle Network, runs from Inverness and finishes in Campbeltown. With the Kintyre Express you can hop across the water and extend your epic cycle journey into Northern Ireland. Bikes go free and can be stored easily in the onboard storage areas.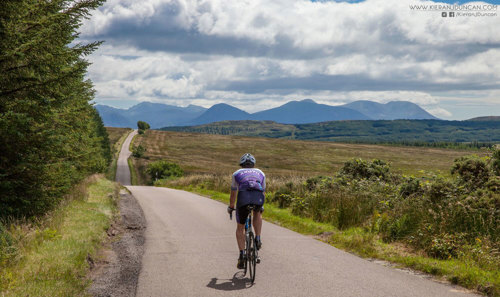 The Kintyre Express: Departure times, prices & booking
The Kintyre Express service departs daily throughout June, July and August and on Friday, Saturday, Sunday and Monday during April, May and September. The Campbeltown to Ballycastle service (£45 single and £80 return) leaves at 7.30am and returning at 4.30pm, with a journey time of one and a half hours. The Ballycastle to Port Ellen on Islay service (£60 single and £95 return) departs Ballycastle at 9.30am and arrives back at 4.15pm. For guaranteed information and bookings head to the Kintyre Express website.

The boats are Redbay Stormforce 11 metre rigid inflatable boats (RIBs), which are renowned for their performance and safety and feature centrally heated, fully enclosed cabins.