Going to Islay? Make sure you visit Colonsay and Oronsay.
Islay, know as the 'Queen of the Hebrides', is a beautiful island, renowned for its beaches, bird watching and peaty malts. And if you've made Islay, why not hop on the ferry to visit the 'Jewels of the Hebrides' Colonsay and Oronsay?
Discover Colonsay and Oronsay
At roughly 10 miles long by 2 miles wide it's a compact island grouping. The walks on the islands are spectacular, from the coastal routes to the 22 MacPhies, Colonsay's version of the Munros. You'll find golden beaches, incredible wildlife and fascinating archaeological sites as you explore. So if you're planning to visit Islay this year, make sure you discover Colonsay and Oronsay.
The island of Colonsay is a must visit. Credit: Colonsay Holidays
Walking & cycling
Colonsay is a fabulous place to walk. One of the highlights is 'bagging' the MacPhies of Colonsay and Oronsay. A MacPhie is defined as a point over 300ft on the islands and there are 22 of them which can be bagged in a single 20-mile walk. Although the MacPhies can be linked together, it is not a way-marked trail with paths and some are harder to negotiate than others. The walk to Oronsay is memorable. You can walk across at low tide. It's about two miles each way and you'll need to check the tides carefully. You'll find the ruins of the Augustinian priory on Oronsay, which include a magnificent stone cross, cloisters, mediaeval gravestones and a consecrated High Altar. With quiet roads and few hills, Colonsay is ideal for cycling. And remember you can bring your bike free of charge on the CalMac ferry.
Beaches
There are so many beautiful beaches to discover on Colonsay, but the sandy beach at Kiloran is possibly the finest. Sitting snugly in a horseshoe-shaped bay, this expanse of golden sand is just glorious. At times it feels the force of Atlantic breakers and can be a popular spot with surfers. At other times you may find that you have one of the loveliest beaches in Scotland all to yourself! Explore the coastline of Colonsay and you'll find plenty of other sandy bays lapped by turquoise waters.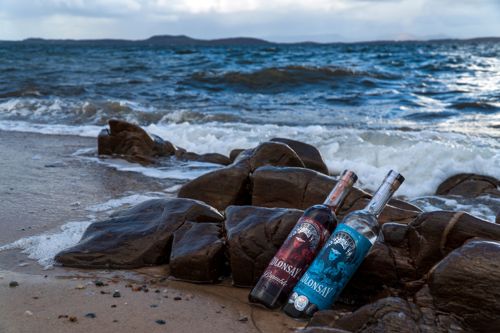 Whilst on Colonsay, make sure to the the locally produced gin by Wild Thyme Spirits.
Wildlife
Woodland, moorland, peat bog, meadow, machair and shoreline provide a habitat for a fabulous array of flora and fauna on Colonsay. The dramatic cliffs on the western coast of Colonsay are home to colonies of seabirds, including fulmars, guillemots, razorbills, kittiwakes and shags. In the summer, listen out for the corncrake, one of Britain's rarest birds. There are a number of seal colonies off shore and you may even spot an otter – if you're lucky! Colonsay is also home to a herd of wild goats. Colonsay House Gardens is well worth a visit. You'll find one of the finest rhododendron collections in Scotland, as well as an extraordinary array of unusual trees and shrubs. There is a lovely terrace café to grab a bite to eat.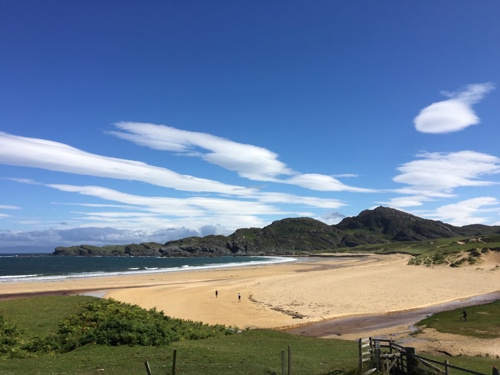 Kiloran Bay is a stunning spot for a walk.
History
Fire the imagination with a visit to the Lower Kilchattan Standing Stones. Known locally as Fingal's Limpet Hammers, the stones are huge, standing 8 and 10 feet high and 45 feet apart. They're all that remain of a stone circle which has largely disappeared. Pop into the Colonsay & Oronsay Heritage Centre to discover more about Colonsay and Oransay's history from the early Bronze Age to the Colonsay volunteers in the First World War.
Golf
Colonsay is full of surprises and one of the loveliest must be the Colonsay Golf Course. It may not be the grandest in the world, but it's certainly one of the most beautiful. The 18-hole golf course is a natural links course by Machrins Bay just a few miles from the ferry terminal. Visitors are welcome and there's an honesty box at the first tee.
Festival and events
Colonsay is a vibrant place, with some fabulous festivals running though out the year. If you fancy adding a bit of culture to your island adventure, then check out Colonsay's festivals and events including Colonsay Book Festival in April, Colonsay SpringFest in April and Ceòl Cholasa (Colonsay Folk Festival) in September.
Disocver all events in Argyll on our What's On pages.
Stay, Eat & drink
There's a fantastic range of places to stay on Colonsay, many in magical locations. The Colonsay Hotel is the only hotel on the island. The Backpackers Lodge is located at the centre of the island, about 2km from the pub, shop and pier. There's a huge choice of self-catering accommodation as well as a couple of B&Bs on Colonsay. The island also has its own brewery! The Colonsay Brewery's IPA, 80/- and Pig's Paradise Blonde are each brewed using natural Scottish ingredients, including the island's pure Hebridean water. Find out more about places to eat on the Visit Colonsay website.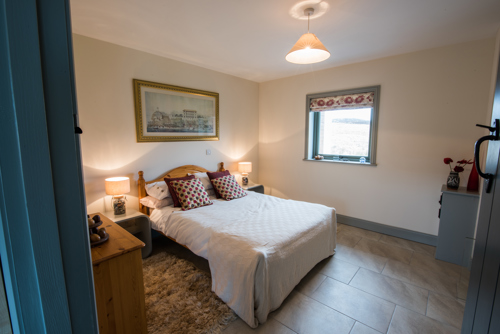 Wild Thyme Spirits also offers accommodation right at the distillery.
Getting to Colonsay from Islay
The main CalMac ferry to Colonsay runs from Oban. However, there's an additional summer service from Kennacraig (Kintyre) and Port Askaig (Islay) to Colonsay and back again on Wednesdays and Saturdays. This enables you to island hop between Islay and Colonsay. Hebridean Air Services also operates scheduled flights from Oban to Colonsay. On Tuesdays and Thursday in the summer you fly between Islay and Colonsay with Hebridean Air Services. It's just a short 20-minute hop.