Your Guide to Fine Dining in Argyll & the Isles
Whether you're seeking a Michelin star experience, a luxury spa weekend away or spectacular views combined with incredible food, Argyll & the Isles is a dream foodie destination! 
In this article, we share some of Argyll's top fine dining restaurants with you, including Michelin-starred restaurants, award-winning fine dining spots and luxury accommodations & spa resorts that combine a bit of pampering with fantastic dining experiences. What's not to love?
Fine Dining Restaurants with a View
The Pierhouse Restaurant & Hotel, Port Appin
Hidden away in the quiet village of Port Appin, only a short drive from Oban, you'll find the Pierhouse Restaurant & Hotel. The Pierhouse Hotel specialises in traditional Scottish dishes and seafood. Here, Chef Michael and his team prepare the best Cullen Skink, hand-dived scallops and Loch Creran oysters. There are also some excellent vegetarian and vegan dishes, light snacks and cocktails, all best enjoyed while gazing out over the stunning Loch Linnhe.
Why not spend the night? After enjoying a fantastic fine dining experience - and a few wee drams or cocktails - get cosy in one of the welcoming rooms and wake up to spectacular views over the Isle of Lismore. Jump on the ferry to the Isle of Lismore for a fantastic day out!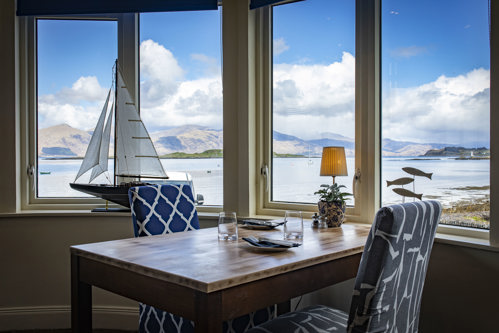 18 at the Machrie, Islay
Whisky, golf and a warm island welcome. The Isle of Islay is an iconic Argyll destination and well worth the boat trip. If you're looking for some fine dining whilst exploring this Hebridean gem, head to 18 at The Machrie Hotel & Links. Overlooking the famous golf course, this restaurant offers a relaxed and informal fine dining experience with delicious Scottish produce. Depending on the season, you can try Argyll smoked salmon, breast of duck, Islay scallops, braised pork belly or wild mushroom risotto. Finish your dining experience with a drink by our roaring log fires or on the outdoor terrace overlooking the 18th green, making it the perfect spot to watch endless sunsets and gaze out to sea.
Don't want to leave? The Machrie offers a variety of fantastic room options, allowing you to sample the excellent breakfast in the morning as well. With outstanding sea views and so much to explore from our doorstep, the Machrie is a fantastic base for your Islay adventure.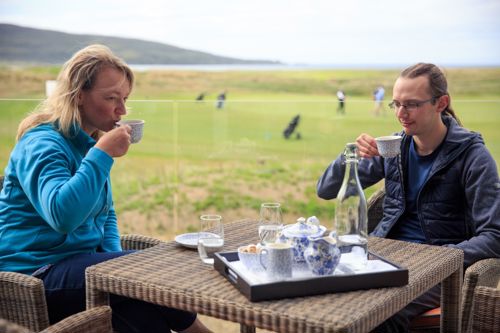 Loch Melfort Hotel, near Oban 
Visitors to the Restaurant at Loch Melfort Hotel, are sure to be treated to a very local, first-class fine dining experience. Set in 17 acres of gardens, Loch Melfort Hotel is the perfect place to enjoy a locally sourced meal whilst taking in the spectacular open views over to the islands of Shuna, Scarba and Jura. Whether you're looking for a light lunch, a high tea on the sundeck or a fantastic fine dining evening meal, Loch Melfort Hotel caters for all budgets, appetites and dietary requirements.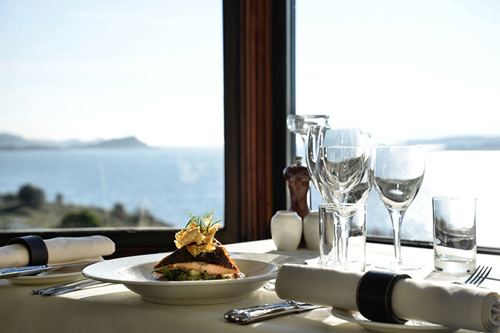 Ninth Wave Restaurant, Isle of Mull
In one of the farthest corners of the Isle of Mull, you find sensational fine dining and award-winning Ninth Wave Restaurant. Nestling below the towering pink granite of Tor Mor, surrounded by wild moor and cultivated croft land, the restaurants combine quality modern Pacific Rim cuisine with the vibrant ethnicity of locally sourced Scottish produce. Husband and wife team John & Carla Lamont invite you to explore the ever-changing menu that is sourced from fishermen's sustainable catches and crofter's bounty. 
Please note: The restaurant currently offers luxury 4 course lunches only. They are starting to take bookings for 2024 in February.
Loch Fyne Oysters, Cairndow
"Nach Urramach an Cuan" - How worthy of honour is the sea.
This Gaelic saying summarises the guiding principle behind Loch Fyne Oysters perfectly. Offering some of Scotland's best in authentic seafood, whilst minimising their environmental impact and making a positive contribution to their local community. 
Whether you're looking for a scenic lunch, a takeaway hamper for your adventure or want to purchase some of the local produce to cook a fine dining dish at home or at your holiday accommodation, a visit to Loch Fyne Oyster Bar is a must-stop when travelling down the shores of Loch Fyne.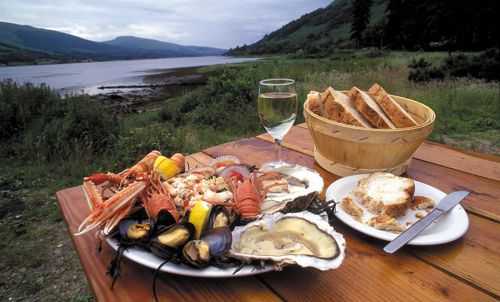 Luxury Accommodations with Fine Dining Restaurants
Cameron House, Loch Lomond
Cameron House is an unrivalled five AA Red Star Hotel & Spa Resort on the shores of Loch Lomond. You can find a selection of restaurants, including Cameron House Grill and the Boat House Restaurant, on the premises of Cameron House. No matter which restaurant you pick, you'll be guaranteed fantastic views of the loch combined with locally sourced dishes and a carefully curated wine selection.
Please Note: Looking for an autumn or winter short break? Head to the current offers page of Cameron House to discover fantastic deals for your next luxurious getaway.
Portavadie, Loch Fyne
Located on the eastern shores of Loch Fyne, you'll find Portavadie, a contemporary Spa Resort with a marina at its heart. The award-winning Marina Restaurant and Bar features the finest produce from land and sea. 
Floor-to-ceiling glass awaits you and every table offers a view of the marina and beyond. This is shore-side dining at its best. Sample a wide selection of produce from 'Argyll's larder', skilfully prepared by their culinary team.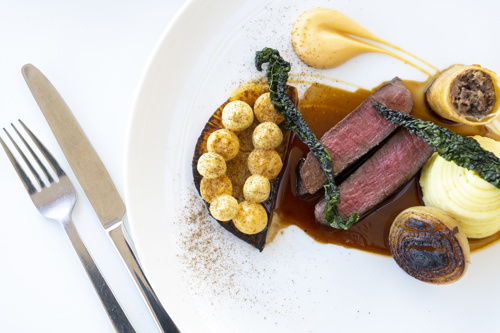 Glenegedale B&B, Islay
Situated midway between Bowmore and Port Ellen, the Visit Scotland and AA Five Star Gold award-winning Glenegedale House, has a prominent position with uninterrupted breathtaking views over the Mull of Oa and out to the Atlantic. Glenegedale House boasts four lovely, individually designed, en-suite bedrooms. Owners Emma and Graeme take great pride in their delicious home baking and warm Islay welcome.
Evenings at Glenegedale House are definitely a culinary highlight. Indulge in a range of platters in the splendour of Glenegedale's dining room. The platters vary depending on the seasonal availability of produce and your personal preferences. Never compromising quality, Emma and Graeme always focus on sourcing the finest of Scotland's larder.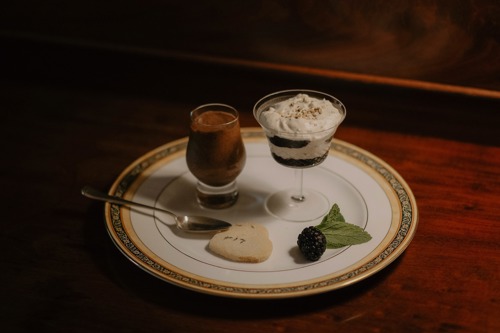 The George Hotel, Inveraray 
The George Hotel in Inveraray is the longest running family-owned hotel in Scotland. Welcoming guests for over 160 years, the boutique hotel with an award-winning restaurant is a destination in itself. The luxurious, antique-filled rooms at the George Hotel feel like stepping back into Scottish history all whilst enjoying modern day comforts. The historic restaurant with century old stone walls, cosy nooks and open fires offers the perfect ambience for a romantic candlelight dinner as well as larger celebrations. The Whisky Bar at the George Hotel is a paradise for every whisky lover with over four hundred carefully selected bottles to choose from.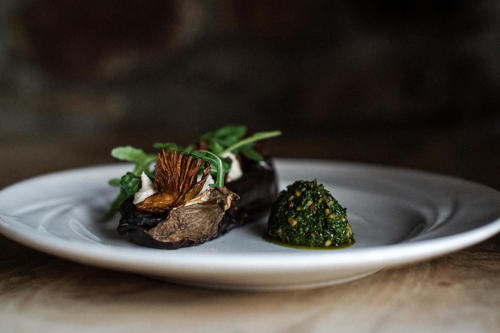 Riva Boutique Hotel, Helensburgh 
Located on the shore of the Clyde and a short jaunt from the world-famous Loch Lomond, Riva is a picturesque seafront hotel situated in Helensburgh town centre. Whether it's a short stay, a city escape, or a dinner for two, Riva provides you with a tailored experience best suited to your desires providing a rich historical experience. Serving classic Italian flavours and strong Mediterranean influences, each dish at Riva is bursting with exciting flavour and taste. Their experienced Chefs have a passion for local and fresh produce, and take pride in our close network of top quality suppliers. Not hungry? You are more than welcome to relax and enjoy a glass of Italian wine or a carefully selected cocktail.