The Taste of Place Trails

#1 SPIRIT & BEER TRAIL
Robin McKelvie, Award-winning Travel Writer & Broadcaster introduces the exciting new Wild About Argyll Taste of Place Trails - and first up is the Spirit & Beer Trail.
I've been lucky as a travel writer to explore every nook and cranny of Scotland for over two decades, sampling superb food and drink from Eyemouth to Unst. There is one region that is a total stand out for its winning combination not only of fresh produce, but also brilliant places to sample it surrounded by a swathe of epic scenery. Welcome to the foodie wonderland that is the land of the Gaels, glorious, tastebud-tingling, soul-food satisfying, Argyll.
Join me now as I share my experience of some highlights of the ace new Taste of Place Trails – we're here to literally 'eat the view'. Drink it in too. You can now savour drams at world-famous distilleries (whisky and gin!) on the Spirit and Beer Trail, taste coffee from local roasters and sweet treats on the Coffee and Cake Trail, delicious vegan options on the Vegan Trail, enjoy boat-fresh shellfish by the waters it was plucked from on the Seafood Trail, and learn about Argyll and Bute's sound provenance on the Farm Produce Trail.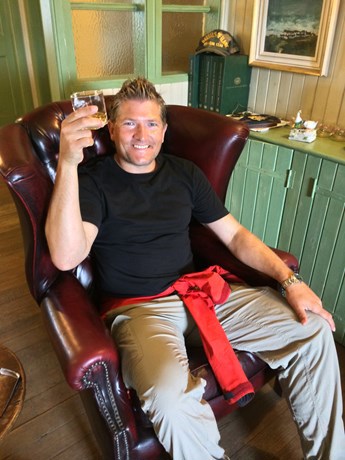 Robin McKelvie lounging at Lagavulin
I'm kicking off here with the Spirit and Beer Trail.
Love whisky? Then you cannot fail to love Argyll. Some of my favourite distillery experiences tempt in this bountiful region. On the mainland Oban stars as a rare distillery at the heart of a town in every way - it's great fun to visit, but also part of Oban's community fabric. Hop on a ferry to Islay, Scotland's whisky isle, and in the rugged south a trio of whitewashed Victorian distillery dames – Ardbeg, Lagavulin (their 16 year old is my favourite readily available whisky) and Laphroaig – are really set up for visitors these days.
So is purpose-built Islay newbie Ardnahoe out east with its floor to ceiling windows that open up the same epic Sound of Islay views as glorious Caol Ila (which is currently undergoing a major revamp that will make it seriously visitor friendly) and Bunnahabhain. Then there is bijou Kilchoman, a distillery I've watched grow over the years, but still stay close to its farm roots. Bruichladdich is a timewarp too, using many traditional methods. Bowmore is brilliantly located in the eponymous island capital and I love that it helps heat the local swimming pool.
Every whisky experience on Islay is different. Last time I was over at Ardbeg I enjoyed a very special tasting along with a half a dozen other lucky souls from around the world, strangers united in savouring the delicious here and now on Islay, the 'Queen of the Hebrides'. "This is a 'what a time to be on the planet, in this room, right now' type of whisky," beamed Ron, the head tour guide at Ardbeg, as he led us through the joys of a startlingly-good 45-year-old dram. He was right, but he could have been evoking the positivity at the heart any of the businesses that are so liberally, generously sprinkled around the Spirit and Beer trail.
Discover many whisky delights
Other Argyll islands sparkle with single malt with further whisky distilleries on Jura and Mull, and on the mainland too. Jura is gloriously set by the water with a real community feel coursing through its mild, relatively unpeated veins. I once spent a weekend there and it was a joy waking up gently smelling of the good stuff for the rest of the day! They really make you feel like one of the family visiting the Isle of Jura Distillery. The same goes for Tobermory Distillery on the busier Isle of Mull.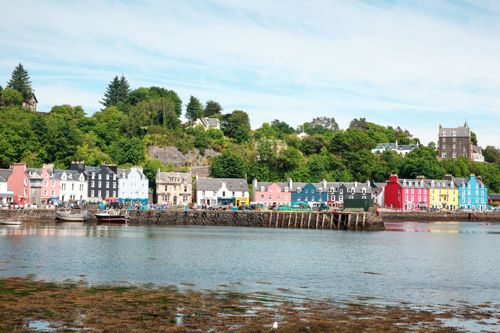 A real discovery for me this year is Campbeltown, whose whiskies are so special that they enjoy their own geographical denomination. I enjoyed the fine malts of Springbank in the welcoming local pubs and also spent time touring Glen Scotia, a new distillery for me, but one alive with heritage and energy. One of the most dynamic distillery managers in the business, Iain McAlister, talked me through their unique expressions, including one malt that had just been named the world's best whisky in spring 2021. Iain said: "Campbeltown whiskies are unique - you can taste the land and the sea in them, they can only have come from one place." He was right, but again I could say the same for all of the distilleries I've visited in Argyll, a region where provenance and terroir are not optional, but integral to the world-class malts, gins and beers.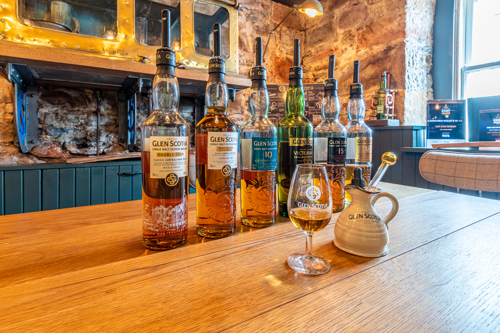 The worlds of whisky and gin gloriously embracet with Argyll's finest whiskies and gins on sale at Loch Fyne Whiskies in Inveraray. I've never managed to leave without buying a bottle of something; these days often gin. I picked up a lovely couple of bottles in May this year – well it was my birthday!
It's gin time across Argyll
Scottish gins really are booming and Argyll's gins stand out. Islay Gin's John and Audrey Gow only started making their spirits in 2018 in the hamlet of Nerabus, but they've already carved out a distinctive niche, infusing them with local heather and gorse. They now run their own innovative gin school too so you can learn more about the fascinating world of small scale gin production.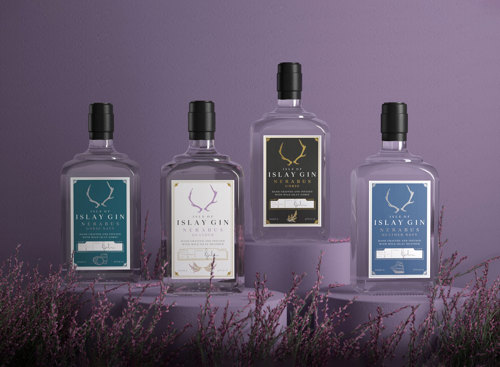 On neighbouring Jura, the acclaimed Lussa Gin star on the isle where George Orwell wrote 1984, working 15 botanicals into their delicious gin; while Isle of Bute Gin is gaining serious plaudits in Rothesay. I was on Bute in spring and loved their new premises, especially the Gin Garden. Wild Thyme Spirits on the gorgeous Hebridean isle of Colonsay also impress not only with their superb small batch gin, but also by pushing the boat out with a two-night Gin Lover's Retreat at their island HQ.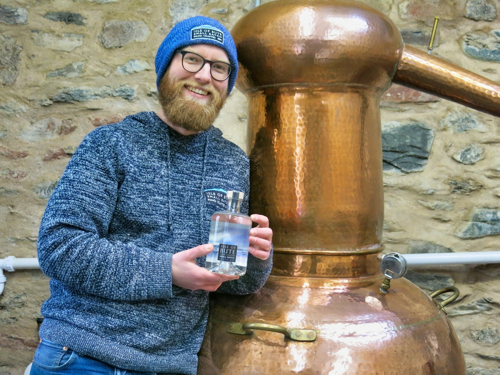 Earlier this year I popped into Beinn an Tuirc Distillery on Kintyre to see how Kintyre Gin is made. I was greeted by an engaging team happy to take visitors on tours and tastings. They'd just opened up an ace new café. "We want to welcome people in and look after as many visitors as we can, giving them a great experience worth travelling for," explained their CEO Niall Macalister Hall. After a gorgeous lunch in the café, followed by a gin tour and tasting I confirm they've heartily succeeded! This is a sentiment that I find ripples through Argyll.
You'll be happy with the hops on offer too
On the beer front Fyne Ales at the head of Scotland's longest sea loch offers a range of delicious ales – their gorgeous hoppy Jarl is a go to pre-dinner tipple for me in Argyll. As well as that birthday gin in Inveraray I picked up a few bottles of Fyne fine ale at their farm base to help ease the pain of Scotland's games at Euro 2020. I love thinking of the fresh waters gurgling down Glen Fyne and ending up tasting so good in my glass. There are myriad venues too where you can make your own personal exploration of Argyll's Beer and Spirit trail.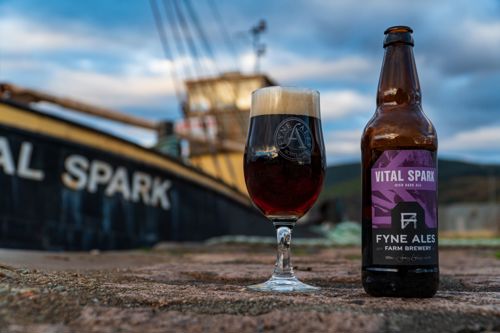 Savour it all with views on tap
More great craic and fine Argyll spirits and beer, along with Loch Awe views, await at the award-winning Ben Cruachan Inn in the village of Lochawe and the old drovers hub, the Whistlefield Inn, just north of Dunoon on the shores of gorgeous Loch Eck. The former – in the tiny eponymous village on the wildly beautiful Cowal Peninsula – is a great place to enjoy the wares of Fyne Ales too, just inland from Loch Fyne, whether it's outside in the sun, or cosied inside by the fire in the cooler months. The latter boasts great views over Loch Sween and an outdoor space too. At Tigh na Mara Guest House on the beach-kissed Isle of Coll you can try Tyree Gin from the neighbouring Isle of Tiree.
As you savour the fine produce of Argyll be heartened by the knowledge that I've only been able here to give you some of my highlights of the Spirit and Beer Taste Trail. What are you waiting for?