12 Woodlands in Argyll & the Isles to Discover
Wood you believe it? There more many magical woodland areas in Argyll & the Isles than you can shake a stick at. So if you can't see the wood for the trees, here's our guide to some of the best woodlands and forests in Argyll. Whether you want to picnic, take a short stroll or head out on an epic cycle, the woodlands of Argyll are the place to be!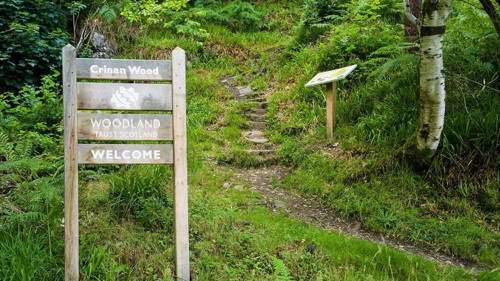 Image: Crinan Woods
1. Fearnoch, Taynuilt
Fearnoch is a tranquil woodland close to Taynuilt and is perfect for a relaxing stroll or bike ride with several way-marked routes. The peaceful forest roads are great for horse-riding too. Look out for woodland birds and red squirrels overhead and you may also notice large piles of pine needles that are home to wood ants. Head to the picnic tables above the car park for dramatic views of Ben Cruachan, the highest mountain in Argyll.
2. Ballachuan Hazelwood, Isle of Seil
The woody wonderland of Ballachuan Hazelwood on the island of Seil covers a low ridge that overlooks the Cuan Sound. It's a rich habitat for butterflies and supports an incredible selection of lichen, mosses and fungi. Turn your eyes to the shoreline and the sea beyond and you may spot otters, herons and porpoises.
3. Glasdrum Wood, Creagan Bridge
Ash and oak dominate in Glasdrum Wood, a fabulous forest near Creagan Bridge. Mosses and lichens cling to the tree trunks, while the forest floor is home to a variety of small flowering plants which support a population of butterflies, including the chequered skipper. You might be lucky and catch sight of an otter as it slips between the woodland and Loch Creran.
4. Shian Wood, Benderloch
Shian Wood stands on a low, flattened ridge jutting out from the southern shore of Loch Creran near Benderloch. It's a great place to explore with a short circular walk. Enjoy carpets of spring flowers and spot marsh fritillaries and other butterflies. Woodland birds dart through the trees and breeding birds nest where wet heath merges into reedbeds and saltmarsh near the shore.
5. Sutherland's Cove, Oban
There's something for everyone at Sutherland's Grove. This fantastic forest at Barcaldine, including perfect picnic spots and a host of forest trails. The woodland offers a range of walks and cycle routes through a landscape of gigantic fir trees, crashing waterfalls and ancient oakwoods. Enjoy a gentle riverside stroll, climb up beside a dramatic gorge or venture deeper into the forest to find Glen Dubh reservoir. You'll be rewarded with stunning views over the Firth of Lorne and its islands.
6. Crinan Wood, Crinan
Crinan Wood is just a few minutes' walk from the Crinan Canal basin. This ancient Atlantic oakwood is a magical place. The west coast climate has created a temperate rainforest, full of fern, moss, lichen and gnarled oak and birch. Follow the way-marked trail and enjoy sweeping views of Jura and Mull. You might spot a red squirrel or two!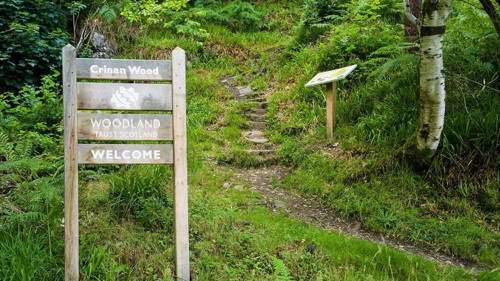 7. Rhubodach Forest, Bute
Community-owned Rhubodach Forest on the island of Bute is a mix of ancient woodland, commercial forest, moorland and coast. Try the Balnakailly Loop, which joins the ruins of the Balnakailly Settlement with the control bunker for a WW2 decoy village. It makes for a scenic and wildlife-rich four-mile forest walk. Kilfinan Community Forest on Argyll's Secret Coast is another great place for walking.
8.Argyll Forest Park, Cowal
Argyll Forest Park on the Cowal peninsula stretches from the Holy Loch at Dunoon to the jagged peaks of the Arrochar Alps. This magnificent stretch of the rugged hill country is Britain's oldest Forest Park. It has so much to offer, from walking routes to cycling trails.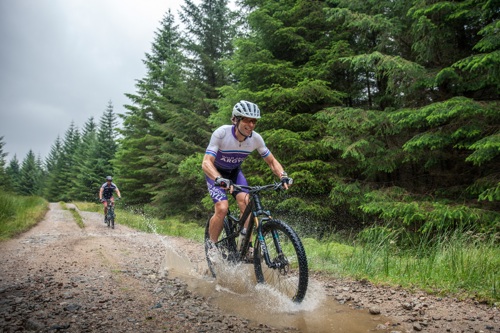 9. Glenbrater, Argyll Forest Park
Glenbranter near Strachur is one of the jewels of Argyll Forest Park. It has trails from a short stroll among ancient oaks to a challenging all-day bike ride. You'll also find a red squirrel viewing camera, giving a fly-on-the-wall view of these cute creatures.
10. Ardgartan, Argyll Forest Park
Ardgartan is another gem in the Argyll Forest Park. It offers brilliant walking and cycling. Enjoy a short stroll through woodland along Croe Water or pick up the network of forest tracks and head down the shore of Loch Long through mixed woodlands.
11. Cormonachan, Loch Goil
Cormonachan, a community-managed woodland on the shores of Loch Goil, is well worth a visit. You'll find Atlantic oak woods with areas of old coppiced hazel. There's a network of walking paths, a red squirrel trail and a resource centre.

12. Duchess Wood, Helensburgh
Set within the greenbelt of Helensburgh, Duchess Wood is a lovely, diverse woodland. Known locally as 'bluebell wood', in the spring bluebells carpet the forest floor. It's a rich habitat for wildlife, particularly small woodland birds. Listen out willow warbler, blackcap, mistle thrush, blue tit, coal tit and more.

Find out more about Argyll's & the Isles Nature and Wildlife. You may also want to check out the walking and cycling routes in Argyll.